If you are a blogger and searching for extra revenue from your blog, I welcome you to MyAdviseNow. Here we introduce Ad-Networks with INSTANT APPROVAL. (This article will be updated upon getting the new and fresh information.)
Many Bloggers who own small websites are NOT ELIGIBLE for Ad-Networks like Taboola, Outbrain, and so on. Because these network requirements are hard to achieve for many blog owners. but DONT WORRY! it is not the end of the world. there are many alternatives for earning from your blog.
Ad-Networks with instant approval and almost Zero traffic
Google Adsense
PropellerAds
Adsterra
PopAds
AdNow
AdMaven
EvaDav
OptiAds
Google Adsense
When it comes to monetization, Google Adsense is the first choice of editors and bloggers. Adsense pays for CPM, CPA, CPC and its fill rate is 100%. There are various advertisers who are working with Google. You can get BannerAds from AdSense for monetization.
Normally Google reviews the submitted URLs within two to four business days. Though the policy of google is very restricted and most of the blogs get rejected, it is worth waiting for the answer from adsense.
Earning with Google Adsense is much better in comparison to another Ad-Networks. for better understanding I will share some screenshots of my earning with this 6 Ad-Networks.
Propellerads
They are popular among webmasters for their POPUP codes. Now they have some other types of monetization for their publishers. you can apply for Propellerads popup and push notification codes with zero traffic. But for Interstitial and in page push notification you must have at least 10.000 page views daily.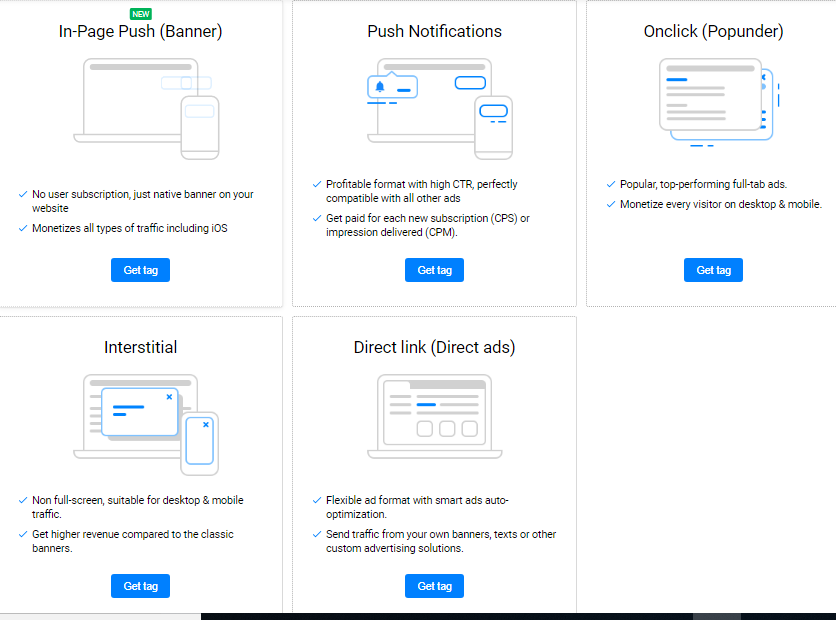 They stopped their Native Banner ads as they were not generating good earnings. See the screenshot to see earnings of propellerads.

When you are using their popads code, contact with their support to ban redirection. as the redirection is not user friendly and drops your views daily. Reports are updated every 60 minutes. Join them to get the benefit of their services.
Adsterra
A growing ad-network in few past years! it doesn't need any requirement! just submit your URL and start monetizing in seconds! But I personally feel their network is not safe, and if you value to your visitors be AVOID of USING their codes. Their reports are updated every 10 minutes.

As Adsterra provides VAST ads code ( pre–roll video ads on media player) they are best choice for movie websites.

POPAds
its fill rate is also good and their user panel gives good control over the ads. Publishers can set up the frequency of the popads. they also pay for CPM, CPA, CPC. Reports are realtime. join them an earn.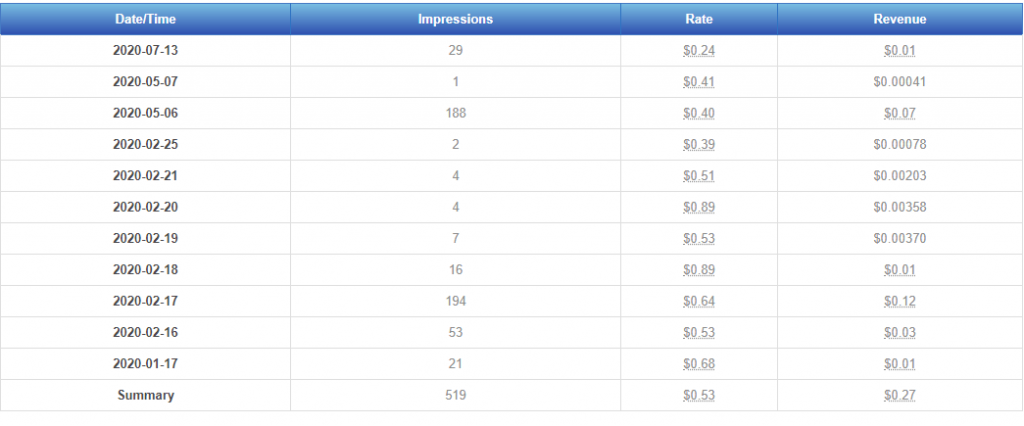 AdNow
It is a native ad-network. Their system is professional and their reports are real-time. They pay for CPM, CPC, CPA. They just provide banner ads which you can set up in your blog. they don't have any specific requirements for their publisher program. Join Adnow. It is the best fit for small publishers who want to have a display ad network.
AdMaven
They are a leading company in the field. Publisher panel gives you full control over ads. The specification of Propellerads and Admaven are the same. Thus the reports in AdMaven is updated once per 24 hours. Admaven is among TOP AD-Networks.
Update on 5th Dec. 2020.
Introducing EvaDav
Another Ad network with instant approval is evadav dot com. This ad network doesn't require anything special from publishers. Just sign up for an account and create widgets and put the ad-codes into your website.

EvaDav is CPM and CPA based ad network. EvaDav offers you Native Banners, Push Notification, Pop up/under, and In-Page Push Notification. The best thing about EvaDav Ad Network is a powerful control panel that helps publishers have full control of the frequency of ads and their settings.
The Statistics are updated in real-time and you will earn well if you have a huge amount of traffic. Don't miss EvaDav and sign up for it. They cover almost all Geos and their CPM rate is medium.
Update on 18th Dec. 2020
OptiAds
Optiads is a native ad network that offers you responsive ad widgets. They also offer you a link with all ad formats like Google AdSense which is called: AutoAds. This network is a good choice for small publishers. There are various types of ads. They offer you: Native Ads, Banner Ads, In page notification, and Messenger Ads.
OptiAds panel offers you full control over ad settings. No minimum requirement for joining Opti Ads. Just submit your website and get the codes and start earning. The minimum requirement for money withdrawal is 10 USD for PayPal. Join Them and earn your profit.
Conclusion: It is preferred to work with Google Adsense as it is paying better in compassion to others. but other networks are also working hard to make their system better and attract publishers. these mentioned Ad-Networks with instant approval are the most used ones in the world. If you know any better, write your comment and I will check it, I promise!