Top-Paying Side Hustles for Students to Make Money in 2023: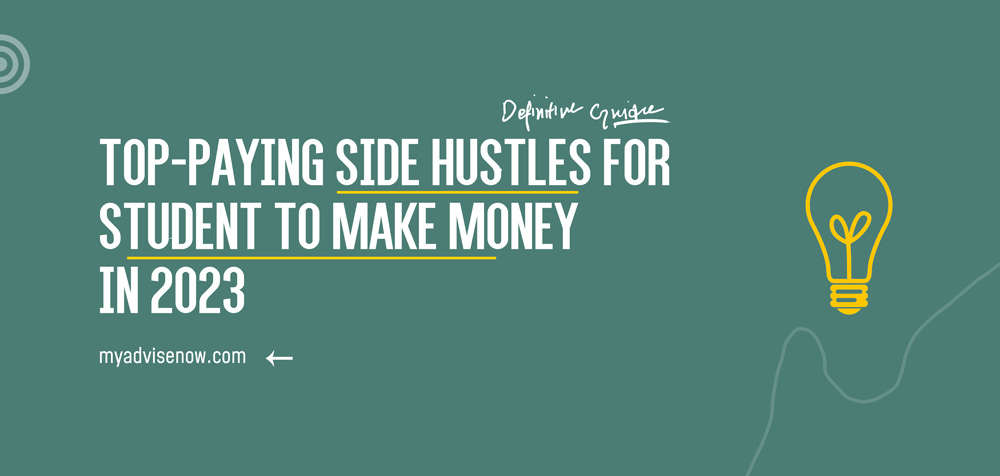 During school or university, many students are looking to make money to support their expenses, or contribute to the family economy.
So, in a world where all teenagers and young people have smartphones in their pockets and bags and have access to various computer systems, the best thing to do is to use the web platform and virtual networks.
This article will introduce you to the best side hustles for students to make money online, where attention and effort can make enough money to cover your extra expenses.
Should The Students Work?
Child labor is one of the controversial and challenging topics today. in this article, we may use this term several times. However, we don't intend to mean to support child labor.
We aim to familiarize teenagers with the concepts of business and entrepreneurship. So, they can draw a correct vision for their future career and experience it in the real world.
Earning money, no matter how much, gives teenagers self-confidence and a feeling of growth and independence, and helps them get to know the concept of money and vocabulary such as savings, earning, investing, etc.
So, this article will give a thorough and up-to-date guide on side hustles for students to make money in 2023.
Should you Study or Work?
You may ask should I continue my studies or think about financial independence? When should I study, and when should I think about work?
Do I work at home all?
What to do with all the homework?
Now, I find work at home. Can I leave the house and turn that work at home into money?
I left this last question to say: Yes, as someone who was once a teenager, I am aware of all the conflicting feelings and thoughts that you are involved in now.
You are working right now, but you don't have any income from what you are doing. And you will continue to learn that with a change of attitude and a little more perseverance, you can be the owner of a job for students at home and maybe join a group of millionaire students.
So, instead of looking for work at home for students, we will address this question: what are the best side hustles for students to make money at home?
How to Get Started?
I believe we all need to be parallel in today's fast-paced world. What does that mean?
In the recent past, for example, 50 years ago, it took ten years of hard work, bitterness, and perseverance to become a professional in any field, but now two years are needed for the same level of skill.
Today's era has made things easier and has taken away the excuses for failure and failure!
In today's era, when everything is compressed in time, and everything feels fast. We must take advantage of the facilities that this fast-paced era has provided us to reach the best versions of ourselves, both in the personal and professional, and social aspects.
So, be happy that you are a student and a teenager in this era because you are several steps ahead of me as a young man 🙂
I am happy that you have so much passion and taste that you have reached this point.
Why Work Online?
Many students consider a career or business for themselves from a young age and begin to acquire skills in that industry. But some others are interested in less frequent and technology-based methods.
We all know that today is the new era of information and technology, and everything ends online. Thus, those students who decide to start a web-based business have to believe that they are not heading in the wrong direction and that they can have a bright future if they are well familiar rules and regulations of the virtual space.
There are also some unwritten rules which are not a problem legally, but by doing them, students can harm themselves and others and make the path of their growth and development uneven.
Therefore, it must be considered that every work that a student wants to do includes specific characteristics and a mission.
Do not forget!
No matter how smart, talented, capable, and alert you are, whatever you do should have the following characteristics.
The important characteristics of side hustles for students to make money:
It has to be completely legal and follow all official and unofficial laws of the country
It should be flexible. So, it may not harm their lessons and homework
It should be varied and interesting so that it does not tire or bore the teenagers
Be available for their age group
It should be simple and easy for a 15+-year-old to understand well
it will achieve financial returns to motivate the student
Don't need to go back and forth in the city and alleys and streets
An initial investment is not required and it is based on the talent, skill, and perseverance of the student
Top-Paying Side Hustles for Students to Make Money in 2023
1. Review Software and Applications
It must have happened to you, that you used a software or application and then wished that someone who had used it before you, had written down its problems and bugs So that you never wasted your time and the internet.
Now think about reporting and starting a blog or an Instagram or Telegram page for writing reports about different applications, which of course will be popular.
After some time, you will see that the owners of this software will come to you and ask you to write a report and introduction about their application in exchange for money.
If you are excited about new applications, programs, and other software and regularly follow the news about techs and software, get started today, write your comments, and get paid.
2. Social Network Administrator and Consultant
After finishing school, many students spend more time on the internet. They have access to smart devices, tools, and computers. And they have the talent and ability to do great things.
So, what's better than selling their services to people who need to constantly monitor their social media pages and accounts?
Business owners, regardless of whether they are aware of the importance of social media or not, usually have busy time and responsibilities that they cannot properly spend time on creating and implementing a social media strategy.
As a young student and job seeker, you can act as a consultant to help them adopt the best plans and strategies and post appropriate content for their target customers on social media.
The more followers you have, the more your business will grow.
So, you can take the advantage of social media as side hustles for students to make money online.
Read also:
3. Create Photos or Manuscripts
Many interested people want to publish motivational quotes with beautiful pictures on a page. Similarly, many want to read romantic, motivational, sad, happy, humorous, etc. manuscripts every day.
Well, maybe it's time for you to create such a page and collect all these texts from all over the web and categorize and sort them for yourself, and create a popular blog where you could earn money after a while.
4. Take Photos and Make Money
If you are interested in photography, start a photography site or blog today. Leave some examples of work to promote it. Keep your price tag lower than others to get some customers for yourself.
Since nowadays in every corner of the city there is party, wedding and other types of special occasions, many people look for a photographer to capture their moments.
Many famous photographers make a good amount of money per session. So, Photography is one of the best side hustles for students to make money.
5. Make an Audiobook
You must have read a book until now, and said to yourself, I wish I had the audio version of this book with me so that I could listen to it on the bus, subway, and taxi.
Well, if you have a good voice (and even if you don't!) choose a short and interesting book, then read and record the interesting parts of the book with the correct pronunciation.
You can start by broadcasting some interesting chapters of the book, and later, with permission from the author and translator, read the entire book in your own voice and sell the audio version. Read also Earning money by teaching online.
6. Create Advertisements and Graphic Banners
Today, learning graphics design is really easy and doable for a diligent and intelligent student like you. So, if you are interested in creating advertising that is attractive to people create a blog, then share your creative designs.
It may take a while to establish yourself and attract clients. But keep your services simple and create more extraordinary graphic designs.
You can offer your service to business owners across the country and help them launch their advertising campaigns. If you succeed in this job, you can earn good money.
Read also,
7. Sell Handicrafts Online
Are you interested in knitting, jewelry making, or other small crafts? If you can produce a lot of items quickly, one option is to open an online store and sell your creations.
The costs of starting this business are very low if you buy your materials in bulk, and if you can prepare orders quickly, you will be profitable in a very short time.
You can even turn your store into a full-time business. An Instagram account can also help increase the traffic of your online store.
8. Be a Virtual Assistant
Almost every small business needs help to manage its day-to-day operations, but it may not necessarily want to hire a full-time employee to do it.
Virtual assistants perform a wide variety of tasks that traditional assistants or secretaries would normally perform, including travel arrangements, paying bills, or managing expense settlements.
Virtual assistants can operate from home or wherever a Wi-Fi connection is available. They usually interact with customers via phone, and email on behalf of their manager.
So, how much can a virtual assistant get paid? It usually depends on the level of expertise and general experience. But it is worth considering virtual assistance as one of the best side hustles for students to make money.
9. Create Educational Content
Do you remember when you were in lower grades, you were weak in some subjects and you wanted someone other than the teacher to help you?
Well, implement the same idea for the lower grades and become a teacher in the school, which of course also means earning extra money.
10. Tell A Story or Recite a Poem
It may be hard to believe, but because you watch a lot of movies and hang out with a lot of friends and peers, you know a lot of interesting, attractive, and funny stories to tell.
Just learn the correct principles of writing and how to write well and strongly. Everyone says that writers and poets are poor, but not in the virtual space of the internet and social networks!!!
Become a writer and see if you can make more money, from content creation for businesses.