When it comes to writing a blog article, the main question of all bloggers is: How can I have a good search engine optimized (SEO) content? MyAdviseNow has figured out some main points for bloggers to write their articles. It may help you to have a better article.
Content in the frame of SEO
Right after the first crawl from Google, Google will grant two months of honeymoon (playground) to you. In these two months, you feel like you are above the clouds. Your webpage (if having good and acceptable content) would be on the first page of Google. Though this page rank is temporary, you can make it permanent by some tricks.
9 Basic points that a Search engine optimized content need:
Having a well-written Title
SEO checklist for new sites related to content
Having At least 300 related and beneficial words in your content
Use Outbound and Inbound links in your content
Use lists
Alt attributions of your Images or files are necessary
Use Headings and Subheadings! H1, H2, and H3
Put keywords at the beginning
Add related Keyphrase
Having a well-written Title
Titles are so important for you and also for your customers. Titles are the first thing that users see from your webpage in search engines and make people choose to click on your URL or not. So in the first step, you must use a powerful title that delivers your message in a few words. A good title results in better CTRs.
CTR – What is CTR and why should I take care of it?
CTR is a Click-through rate. Which means the number of Clicks on displayed times of an URL into 100 (we multiply to 100 for getting the percentage).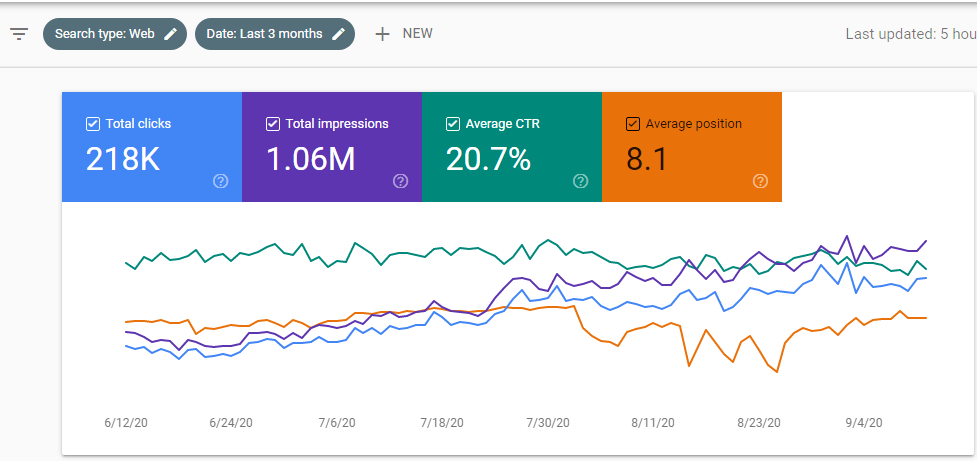 How to calculate CTR rate?
For example, Your webpage is shown 1000 times (it means you have a thousand Impressions), and if you get 100 Clicks,
100/1000*100 = 10%
In this case, your CTR is 10%.
It is obvious that having higher CTR rates is better for a webmaster. The average CTR rate for the first position on the first page of Google is 33, 33%.
SEO checklist for new sites related to content
Create Content daily for 60 days and publish it on a specific hour
We suggest you put at least one content on your website daily at a specific time. Being regular helps Google Crawler to crawl your site regularly. Content length must be at least 300 words long. You can write more if you will. (WordPress has a feature called a scheduled post, use it.
Having At least 300 related and beneficial words in your content
You must use words that are related to your article. Avoid using words that are not necessary for your content. For example: if you are writing about wooden doors, don't jump into Iron or other types of doors unless you are comparing yourself to another. It is not logical for humans and also not for Google which is so smart now.
Remember: some people repeat a word in their articles and choose that as Keyword. It is the simplest way for ranking in Google, but if you don't use it wisely, it results in spamming which can cause Google Penalty for your page.
Put Picture (Image) and Videos in your Content
Putting these instruments in your content makes your article eye-catching. No one likes reading a text whiteout any Image. Video and Image in your content make your Text more readable according to Yoast.
You can put videos from YouTube into your site through embedding them.
You can have non-copyrighted pics from Pixler, Absfreepic and Shutterstock.
Remember: Videos and Images have separated ranks in Google images or Google Videos. So take this advantage and let them be in your text.
Use Outbound and Inbound links in your content
As our simplest definition of the typical meaning of Inbound and Outbound, referring to external webpages (other websites) is called Outbound, and linking to internal webpages is called Inbound.
Your outbound links must refer to those websites which are having more domain authority than yours. (Page Authority and Domain Authority must be checked. Use Moz.)
Use lists:
Building lists help both Google and Users to read your content at the best level. And if your content is unique and strong, may Google ping your webpage on the first page!
Alt attributions of your Images or files are necessary
It is a place to write the title of your images and files and putting some caption, alternative title, and a brief description of your file or image. It helps you much, don't neglect it.
Headings and Subheadings! H1, H2, and H3
They make your content more user friendly and lets them easily find what they want. Most of people, just read headings than goes to read the paragraphs.
Put keywords at the beginning
Let your Keywords be in your Title, Subheadings, and your first paragraph.
For example, your keyword is: "free download". Use Colon or dash in your title.
Like:
Free download: Best Free WP themes
Or:
Free download – Best Free WP themes
This trick helps you use your keyword at the beginning.
Add related Keyphrase
It can help you rank faster. While you are not limited to one Keyword. Use synonyms of your keywords or keyphrase.
Conclusion: writing is a skill, you should make it better by trying more and more. those tips which are mentioned above with a brief explanation can help you have better search engine optimized content and makes your article more readable. No one likes having a blog with zero visitors. so gain them from search engines with these bullet points.