The digital world is growing and every day we work with many digital files with different extensions. People are working and using converter daily on images, videos, audio, documents, and their variety of formats.
Thus, this digital world is growing but limits are always there. You might have seen that particular websites don't accept any file with any format. They even not accept any format with any extension (file type)!
That's why you should always be familiar to file types. For example, you are not able to upload a file ending with .docx instead of .pdf. Though both can hold the same information. Stay with MAN (MyAdviseNow) and learn more about file types and how to convert them and fulfill our needs.
What is a Converter and why do I need it?
A file converter changes the extension of an available file to the desired type. Suppose you have downloaded a YT video song. Most videos on YouTube are ending with .mp4 (a well-known video format).
You want to have this song in mp3 for any reason (a well-known audio format). It means you want to convert MP4 to MP3 (you want to convert video to audio).
Here, the best free online YouTube Cutter and converter, I introduced you to the best online YouTube to mp3 converter. This tool can help you download from YouTube to mp3.
Format Factory, a Freeware with tons of features!
Yes, you read it correctly! Format factory is freeware and ad-supported. This software can be installed on your computer for free.
Main features of Format Factory:
Video converter: converting video files with mp4, MKV, GIF, WebM, AVI, FLV, MOV, VOB, 3GP, and …. It is not just about converting videos. FF will help you to rejoin & Mux Videos together (can be used as a free video joiner), Split videos, record your screen (can be used as a free screen recorder), trim clips (as a free offline video trimmer and cutter), crop videos, put your watermark or logo in videos and clips for free and more….
Audio converter: It can convert almost all audio file types containing not limited to MP3, WMA, APE, FLAC, DTS, M4A, AAC, AC3, MMF, AMR, M4R, OGG, WAV, WavPack, MP2 and…. The best thing about converting with FF (Format Factory) is, you can select the audio quality (choosing your own bitrate).
Picture converter: can cover most image files like WebP, JPG, PNG, ICO, BMP, GIF, TIF, TGA….  Also, you will have the option to decrease/increase image sizes in pixel or put your own label or logo into pictures.
Document converter: can be used as a free and powerful document maker with great features like Pic to PDF, PDF to Pic, PDF to Text, PDF to Doc, PDF to Word, PDF to Excel, Mobi, EPub, AZW3, decrypt PDF file (unlock PDF files), Encrypt PDF file (lock PDF files), Compress the PDF file, join the PDF files and ….
Can be used as ROM device to burn CDs, DVDs, making music CDs, DVD to Video File, Blu-ray Disk to MKV, ISO to CSO and can rename files in bulk.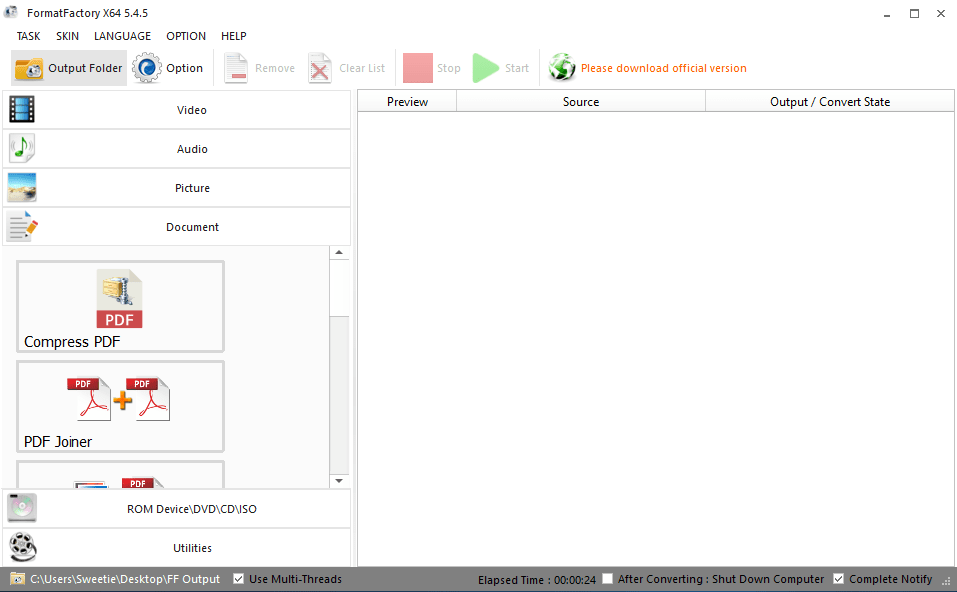 Final talk about FF – Format Factory
The Format Factory is a great freeware to convert our files in offline mode. This means we don't need any internet connection for converting our files.
FF also supports wide ranges of languages and you should not be concerned about it.
The software is lightweight and won't slow down your pc
It is quick in comparison with other converters.
No need to mention it is FREE!
Having notifier
Can shut down your computer when the task is done. (upon your choice)
Keywords to Format Factory Converter:
format factory
converter free
how to convert mp4 to mp3
download converters
document converters
pdf to Word converters
image converters
video converters
audio converters
compress pdf
pic to pdf
YouTube converter (YT video converter)
offline video converters
yt to mp3
video to mp3
mp3 converter downloader
best YouTube to mp3 converters
YouTube to mo3
image format converters
multimedia software
converter software/ freeware
any file converter
any video converter