Only six months after the launch of the first Active Watch model, a new version is on the way. In the new Galaxy watch Active 2, the problems of the previous model are resolved and the spinning edge of Samsung's smartwatches is back.
Earlier this year, Samsung launched the Galaxy Watch Active, a relatively inexpensive watch that focused on sports performance. Now, and only six months later, the company has introduced the Galaxy watch Active 2, an upgraded version of the original model.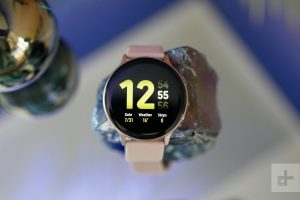 The strange thing about Samsung's new product is that the Koreans do not intend to stop selling the original model; They want to sell both models and there are only differences in their price. And they even intend to replace the older Galaxy One. Keep in the market. The Galaxy watch Active 2 will be available in two sizes 40 milliliters and 44milliliter. And in two different Bluetooth and LTE modes. The sale is set to begin in September. The price will be under $300.
Samsung's biggest mistake with the Galaxy Watch was that it removed the spinning edge of its smartwatch, a component that had been a hallmark of Samsung's smartwatch for years. In the Galaxy watch Active 2, although the software was designed to be peripheral and designed to rotate around the clock. Galaxy watch Active 2 focused more on the touchscreen's ability to navigate. Also, many functions required double-clicking, which resulted in problems with the location.
Fortunately, in the Galaxy watch Active 2, the clock is back, but unlike older versions, this new clock has no physical rotating edge and instead has a black bar on the side of the watch that acts as touch and when your finger is on it. Drag, you can view and select different sections of the menu and page. This feature performs well; however, it seems that if you have gloves on, you can't get it. When you slide your finger on this bar, you will feel a touch vibration that gives you a sense of working with the previous rotating edge.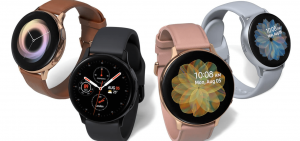 Galaxy watch Active 2 is very similar in design to the original model, with the only difference being in the controller margin. This Galaxy watch Active 2 is very slim and light, And its curved border makes it look lighter than it is. The Bluetooth version of this watch is made of aluminum and the LTE version is made of stainless steel.
Samsung says the Galaxy watch Active 2 heart rate monitor and accelerometer have improved compared to previous models. This is the first hour that Samsung's virtual assistant Bixby has used. Galaxy watch Active also has ECG capability, but Samsung says it's not active at launch. It has the fifth version of Bluetooth and uses NFC for payment. Also, with this watch, you can use GPS for positioning without the need for a mobile phone.
Active – as its name implies – focuses on exercising, but does not forget about health and rest. The Calm app This time it has meditation programs and checks your bedtime. This feature is available in English, Spanish, and German. In addition, Galaxy watch Active 2 can measure and build your stress history. In Active 2, the waterproof property has been upgraded to 5ATM, making it ideal for swimming. Also, this SuperMold screen features Gorilla Glass protector.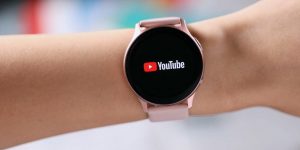 Like other Samsung smartwatches, Active 2 uses the Tizen platform and is compatible with Android and iOS devices. Another new feature on this watch is a feature called My Style that lets you change the look of your watch based on your wardrobe. You can take a photo of yourself and use that photo with your phone. In Active 2, Spotify's playlist is synchronized offline and can play YouTube videos on its small screen.
Since Google's wearable operating system has been struggling to complete for years, Samsung's smartwatches can be said to be the best choice because they work well with the Android handset. These clocks are not perfect, of course, because they are heavily dependent on Samsung devices. But they are well designed and can be easily worked with. In Active, many of the problems with the original version of Error have been resolved. And although they are more expensive, they will be affordable given their new capabilities.
Before You Go:
This article was about Galaxy Watch Active 2 New Release of Samsung Smart Touch with a rotating dial. Also, this article and others like it were created to help you, it would be nice if we had your feedback to see how well or how bad we did with this tutorial. So go ahead and share in the comments.
Suggestion For You:
Reset Samsung Galaxy s10 Password