Learn how to create a new apple id for free without a credit card on your device. If you experience the use of devices manufactured by Apple, you should know that Apple's id is one of the essential things for everyday use of devices. In general, Apple Id is a unique account that each user must have to use Apple software and hardware products, such as the iPhone, iPad, iPod Touch and Mac computers.
In general, the use of all Apple products requires an Apple ID. Each user should have an Apple Id for her and set it up on her official email. For this reason. Every new user who experiences the first use of an Apple product, Apple must have its own ID.
In general, the Apple id is free and does not cost you. All users around the world make an id for free. The Apple id process is free and there is no need to pay. Of course. It should be noted that the process of making Apple Id in Asia due to limitations and sanctions is somehow difficult. Therefore, Asian users are faced with a lot of troubles in creating Apple's ID. For this reason, many of Apple's after-sales service centers offer Apple's in service. In fact, the cost users pay for service on Apple id will include Apple's id revenues. You can go to the NIC for the Apple id purchase page to purchase Apple ID.
To create an apple
Id does not necessarily need a card or credit card such as a master card or a visa:
Many profitable people are unaware of the user's knowledge and usually, get a great deal of extra money to create an Apple ID with special tricks. These people are trying to convince users to pay more in ways that are not fair. Most often, people who are profitable are saying. That the Apple id requires a card or credit card such as a master card or a visa, which is by no means correct. Users can create their own ID without the need to provide any kind of cost.
Apple and official sources do not sell id at all; Apple's ID is unauthorized!
Many inefficient service companies are creating a massive Apple ID and putting them on printed cards. These Apple iPhones are by no means valid. The Apple Card creates a mechanism is that their vendor will initially purchase a dedicated email server for a while and begin to massively create Apple's ID. The seller of these non-valid user accounts will ultimately print the information in special cards and will no longer renew email after selling them. However, the information contained in the Apple ID card does not include information about signing in to the email.
Apple will periodically check the email server for Apple's built-in ID. And in the event of the inactivity of servers, Apple will block the IDs. This ultimately causes users to experience a lot of trouble. In addition, some other profitable people have just announced that they have access to the Apple E-Mail Mail servers and can fix the device's problems, which many doubts about the validity of their claims.
In general, you should be aware that Apple ID must be set up on your personal email. And you must always have the information about this account and its email.
How to make Apple Id for free
As said, Apple Id create is free and does not cost you. You can use several different ways to create an Apple ID for free. These include the Apple id display of Windows and Mac Apple id create through the Apple id create with the iPhone and iPad, and eventually, create Apple Android with Android phones.
The Apple id creates a method is similar in almost all of the above and you do not necessarily have to use a particular option. Let's look at how to create a free Apple id.
how to create Apple id 2018 for free
In general, the Apple id create is easy and does not necessarily require a complicated process. We will continue to teach the most useful way that users use to create the Apple ID:
It's worth mentioning that this method is identical to the Apple Id in Windows and Mac without the need for operating system changes. Follow the steps below to create the Apple ID: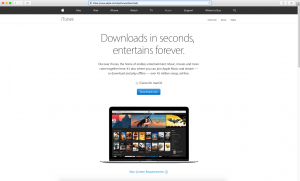 Download the iTunes app to create apple id
In the first step, you must download and install the iTunes software for your Windows or Mac. To do this, just go to the iTunes download page on the official Apple website and click Download Now. After you finish downloading iTunes, you must install it on your device and then run it.
create Apple ID with iTunes
After installing iTunes, do the following:
Start iTunes first
On the top bar of the software, find the Account section and then click Sign in
Once the Sign In to iTunes Store box opens, just click Create Apple ID to enter the Apple id page.

On the front page of the Apple, ID creates, you must enter information such as your email address and password, along with your desired country. The information provided should be as follows:
The email address must be specific to you; otherwise, other people can access your personal information.
The email address provided does not have to be set to other devices; otherwise, iTunes will not allow you to register.
Your choice should be complex enough. This password must contain at least 8 characters, including numbers, uppercase letters, and lowercase letters
Be careful when choosing a password and typing it because, in the event of its oblivion, the password recovery process is very difficult.
In the selected country of choice for making apple Ideas, you must select the country that you choose to purchase the card.
Your chosen country must be one with the IP modifier
Your chosen country must be one with the IP modifier that you use. For example, if you choose the United States, you must select the US IP (preferably California). Your IP, in addition to the country, should also be equal to your state and city, because in the next steps Apple will ask you for the state and city address. Prior to any action, be sure to check out the IP address checker websites in order to avoid further troubles. whatismyipaddress.com is one of those websites.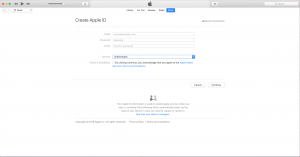 After importing information, click the Apple id customer statement and then click Continue and go to the next step.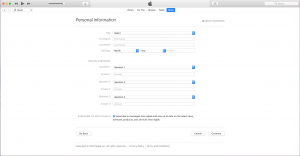 At this point, Apple will ask for your general information, which will be followed by each of them.
Fill the blank to create apple id
-Title: Sir, Miss, Miss, and Doctor
-First Name: your name
-Last Name: Your last name
-Birthday: Your birth date must be accurate. If you do not know the date of production for yourself, go to conversion databases such as Timing and get your date of birth. The important thing is that Apple considers your production history as a security issue in the future and asks you for it. So be sure to enter the correct information and remember it.
-Security Information: This includes three security questions that Apple asks you. You can select these questions and then respond to them. Remember that these responses will be needed later to authenticate you. So be sure to remember their answers and how to type them.
After completing this step, go to Continue and go to the final step of the Apple id create.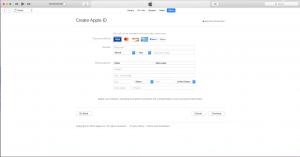 On this page you should provide more information including:
Payment Method
Payment method for making your apple id: This includes choosing your payment method. If you have a Visa or MasterCard credit card, you can enter this section. But as we mentioned in this article, you need to create an id for free. That's why you have to select the None option.
-Billing Address: Includes a real country-IP address as described in Step 4. Below you will find an example application from this address, which contains the US address, state of California, Cupertino Street, Infinite Loop Street 1 and Apple Headquarters:
Street: 1 Infinite loop
City: CUPERTINO
Province: CA
Zipcode: 95014-2083
Tel: 031 1298567
The second address also refers to a location in Miami, Florida:
Street: 9592, Harding Avenue, Surfside
City: Miami
Province: FL
Zipcode: 33154
Tel: 305-8611077
In addition to the above address, you can also use other addresses. If you want to create an id from Australia or any country other than the United States, you must use fake identity website websites. The website fakeaddressgenerator.com is one of the most used websites.
After entering the above information, click Continue and then go to the next step.
In the final step, you must confirm your email identity. Accordingly, Apple will send an email to the address provided by you, and you must enter the code provided in it on iTunes. After entering the confirmation option, finish the process of creating the Apple ID.
Say your Apple id was made!
create Apple id 2017 for free
In 2017, Apple had not yet removed the App Store from iTunes, for that reason, users had to create Apple's iPhone in a different way.
The overall methodology of Apple id 2018 does not differ much from the current method, however, the two stages are different from its current day.
The first difference: In step 2, described above, instead of entering the Account> Sign in, you must go to the App Store in iTunes, then select one of the free apps and finally click Get.
Second Difference: At the end of step 10, instead of entering the code, you must enter the email sent from Apple and then click Verify Now.
This method can be used for iTunes 12.0 before.
create an Apple ID with a computer or laptop
Making Apple ID with a computer involves two methods. The first method of Apple iD vision is through iTunes, which is described above, and the second method is to create Apple Id through the site, which we will further explain.
create Apple ID through the site
If you do not want to create Apple iD with iTunes, you can create Apple Id through your site. To do this, follow these steps: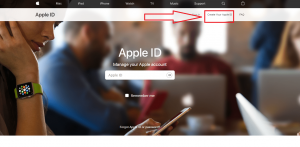 Visit Apple's official website at Apple's official website
Select the Create Your Apple ID option
In the next step, a form will be submitted to you, all of which are described above. You must fill in all of these and finally click on Continue.
After completing the steps, Apple will send you an e-mail containing a code for you to enter the Apple ID box.
Ultimately, your ad will be built, however, at the first login of this model from Apple IdoniTunes or other devices, you need to enter information about Step 8 as described above.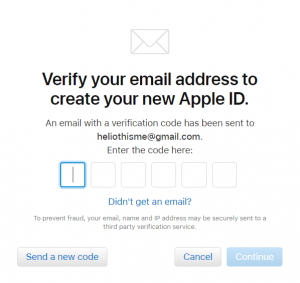 create Apple id without iTunes
If you do not want to use the iTunes software or you do not have a computer, you can use one of the other methods described in this article. You can use iPhone, iPad, iPod touch and Android phones in addition to making an id with iTunes computer. In addition, you can also create Apple Id through the website.
Learn to create Apple id without limits
Generally speaking, the Apple id does not have any limitations in the above ways, which makes it easy for you to create an Ideal id without any hassle.
Learn how to create Apple Id with iPhone
To create an Apple ID with your iPhone, just follow these steps:
Open up a store on iPhone
Go to the bottom of the App Store and click Sign In
Create a New Apple ID
Perform information registration steps that are similar to steps 7 and 8 of Apple revision with iTunes
Ultimately, the Apple id will be built.
Apple ID create Cost
As stated above, Apple Id is free and requires no cost. However, if you want to order id. You can purchase your account at the lowest possible cost by visiting the Apple id purchase department on the Apple NIC website. It should be noted that Apple's built-in NICs are built solely on your personal email to ensure full security.
Apple id Layout | iCloud Removal Service
If your Apple ID is locked and you can not recover your password through rescue email. You can not fix the problem with your new Apple ID and import it. You must first use the iCloud Removal Service before doing anything. The services of the iCloud removal service are provided by the NIC in the iPhone and you can contact the company's office to charge and receive these services.
Preventing Apple id Cards
As explained earlier, the purchase of Apple ID Card is by no means advisable because Apple IDs are locked out after a while and there is no way to retrieve them, or that the process is extremely difficult and costly. Accordingly, if you have installed the Apple ID card on your device, be sure to change the original email address of this account before the device is locked. Contact the NIC to get this service.
Open an id with a phone
The method of making Apple ID using the iPhone is described above. However, you can use this method to create apple id on the iPad. Also, if you want to create an id with Android devices, you can visit Apple's Android-powered tutorial page.
Before You Go:
This article was about how to create an apple id for free without a credit card. Also, this article and others like it were created to help you. It would be nice if we had your feedback to see how well or how bad we did with this tutorial. So go ahead and share in the comments.
Suggestion For You:
Video editing software for ios
Fix the problem on macOS Mojave