Earning money by teaching online is one of the world's most profitable jobs, and anyone with particular expertise can start their activity in the virtual or internet education field. In these ways, MyAdviseNow (MAN) will review the methods of generating income through online teaching and then introduce a free introductory article to start your activity in this field.
Tips for Earning money by teaching online
To start your activity in the field of online teaching, you need to create an account on social networks or launch a website to attract your audience through these platforms. Also, your online education can be in the following different ways: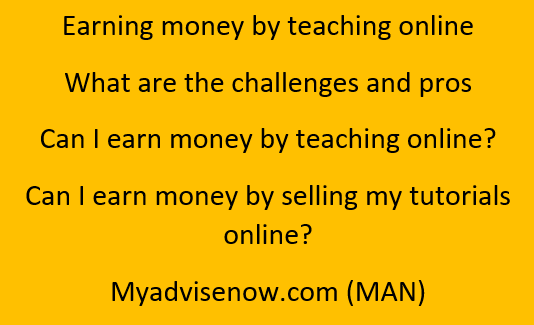 Holding webinars or online classes
In this method, you use online video presentation platforms such as Adobe Connect or electronic learning systems (LMS stands for learning management system). In this method, your students attend the class at the same time as you, and you have the possibility of audio and video interaction with them.
It is also possible to record it during the class so that students can access the recorded videos later. In this method, you only need internet with a suitable speed, a microphone, and a simple camera such as a laptop or computer webcam.
Publication of educational videos
In this method, you must record and edit your teaching videos in advance and then publish them on an internet platform such as a website and social networks so that users can view and receive them. There is no possibility of immediate interaction between the teacher and the student in this method.
Still, you can allow your students to ask you their questions in different sections, such as the comments section of the site and social networks, and communicate with them. Stay The most crucial point in this type of online teaching is the preparation of high-quality educational videos.
For this purpose, first of all, you need a suitable microphone to record your voice. In the next degree, if your training video is going to include your image, you need a video camera or mobile phone with a high-quality camera and a space with a suitable background and lighting.
Still, if you are going to record your computer or laptop screen, you will need screen recorder software. Finally, you must edit the recorded videos; for this purpose, you must know how to work with this software.
What are the challenges you might face?
As you have seen in the previous sections, ways to earn money by teaching online can have specific difficulties and challenges that prevent you from continuing this path. For example, at the beginning of the journey, you may be unable to do the necessary advertising to attract traffic to your social networks or website.
In this way, you will not be able to sell your training or fill the capacity of your online classes; Because managing a page on social networks or managing a website and attracting customers requires marketing skills, especially digital marketing.
The next possible challenge in front of you can be the lack of access to the necessary tools, facilities, and skills to record and edit educational videos.
Here are some websites that you can sell your educational courses at: