Is generating long-form content (Skyscraper content) a part of your SEO strategy? Ever written a piece of content or a long e-book with 6,000 words or more? If not, then you are certainly not aware of the benefits of this type of content and you are losing this potential. This article, MyAdviseNow (MAN) has brought you 11 key points of SEO strategies for long-form content (Skyscraper content.)
But if you have ever written such content, you know that although it takes a lot of effort, the result can make a big difference in getting rankings in search engines. So far, we have said some important points in the field of SEO strategy that makes your website rank well. In this article, I will tell you 11 key points about long-form content SEO (Skyscraper content).
Now, suppose you want to start your own business. You fall asleep every night for fear that your business may eventually fail.
Then, one day, a step-by-step guide to starting a business will come to you, and fortunately, this guide will dispel all your doubts and help you get started. This guide contains all the information you need and after you read it, you will trust the people who wrote it.
So the next time you need something for your business, such as project management software or advice on how to manage the balance between life and work, you have a reliable source that you can trust completely.
This is the advantage of creating complete, accurate and long-form content (Skyscraper content).
Simply,  long-form content increases the results you expect from your business. That is, more clarity, increased customer engagement and social sharing, more back-links (which means better ranking in search results), and most importantly, such content makes your audience consider you as a credible and important reference in the industry in which you operate.
However, this article is not about the importance of long-form content. In fact, I wrote this article to introduce the important points that you can use in your SEO strategy.
10+1 techniques in an SEO strategy to get long-form content rankings
1. Start by researching keywords
Before writing your long post (long-form content), take the time to search for the best keyword in the topic, and also choose a keyword that is less competitive.
Just be careful to do this step very carefully and precisely, because at the end this step will make your content successful in search engines.
There are many great tools on the Internet that can reduce the hassle of searching for your keyword.
Two of my favorite tools are:
2. Target long keywords
Now you know that you need to have a focal keyword to post content on your website. But what many people do not follow in their SEO strategy is that they have to target long keywords.
These are the types of keywords that are very common in different topics. Long keywords are usually ranked much easier and drive a lot of targeted traffic to your site.
Below is an example of these keywords I got from the popular keywordtool.io tool: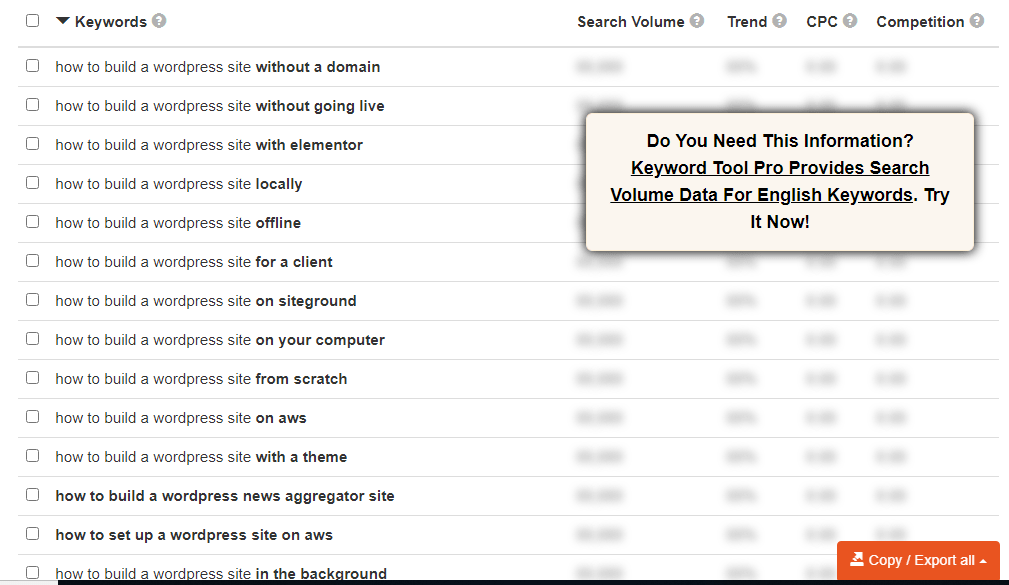 You can use the same tool to get as many long and long keywords as you want. However, if you are having trouble finding more of these keywords, another good place to look for such keywords is in the "related searches" section of Google: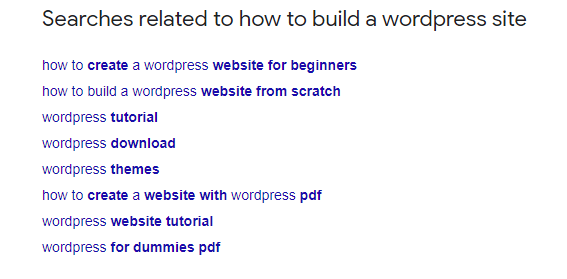 3. Optimize and shorten URLs
Shorter, more consistent URLs have been shown to help search engines better understand the topic of your article or post, as well as provide a better user experience.
You should also make sure that your URL contains the keyword you want. This will make your article rank better.
The shorter, the better.
4. Use a suitable H1 tag
Your H1 tag is always the first thing people see when they enter your site content.
Usually, your H1 tag is the same as the title of your post.
A good H1 tag can have a significant impact on your search engine rankings and enable them to better index your content.
Ideally, your H1 tags should:
Be concise and helpful
Clearly state what the post is about.
Have a long, long keyword (the keyword you want)
When your headlines have these qualities, you did the right thing.
5. Add good subheadings
In an article posted on LinkedIn, I read that "Your headlines may be good and impressive. Your pen may be wonderful. You may have put the words together well, made good sentences, and been able to satisfy your readers' desires well. But if your website post is more than 150 words, you should add subtitles to it! "
The use of good subheadings is one of the most important points in SEO strategy and is because "it is very difficult to read long and long paragraphs".
If you do not know, I have to say that subheadings h2, h3 and tags h4 are usually inserted in the posts of the website.
Use subheadings to break and break down your content into shorter, easier pieces. This will help your readers to better explore and study different topics in your content.
6. Add internal links
Internal links are links that point to a page on another website from the same website. This is one of the methods that webmasters and smart content marketers use in their SEO strategy to display content related to Google and website readers.
There are many benefits to internal links. Some of them are:
Helps improve rankings for specific keywords.
Helps search engines search your site much easier.
It can be a way to make money (by subscribing to the site and accessing specific content).
Provides more topics for your audience to read.
7. Add external links to long-form content
Just like internal links, creating an external link to pages related to your subject and field tells Google that your page is one of those high qualities and standard pages. It also helps search engines find your exact subject. So be sure to include this in your SEO strategy.
"Failure to create external links is probably the number one mistake in-page SEO, which is often done by people," said Brian Dean, webmaster of Backlinko. I personally try to use 2 to 4 external links for every 1000 words of text. "This is a good rule that most sites should follow."
8. Optimize your title tag
Titles are very important. A well-optimized title greatly increases the chances of your content being seen in search results. Titles are usually the first thing your audience encounters when they see your content in search results, and if they are written in an attractive way, they will attract more users and get more clicks. That's why I mentioned this as part of my SEO strategy.
When writing your page title, make sure that the titles include your focus keyword as well as a description of the benefits of reading your article.
9. Optimize the meta description for SEO
A meta description is a 160-letter snippet that summarizes the content of the page.
Just like the title, explaining your page meta will make your post more visible in search engine results.
An optimized meta description should:
Include a keyword.
Be concise (about 160 characters)
Be clear and precise.
Invite to Action (CTA)
Be stimulating and convince the visitor to read the whole page.
10. Use images, video in your long-form content
You already know that content marketing is not just about text. The text alone can only advance you to a certain extent. But if you want to go the rest of the way to success, you need to use video, images, screenshots, diagrams, and various charts in your SEO strategy.
Thus, multimedia files:
Increase the time each reader spends on your site.
Reduce the bounce rate of your website.
The above are two important user experience ranking factors that Google has recently used to judge the quality of your website pages.
You must have noticed that I usually use a lot of images, charts, and screenshots in my website posts. This is because I am aware of the benefits of adding them to the content. Aside from increasing the time a reader spends on the site and reducing the site's bounce rate, adding these also increase the value of each page, which naturally increases the likelihood that readers will link to our content.
So when writing your content, try to add as many multimedia files as possible.
10+1. Add the desired keyword and related keywords to your long-form content
Inserting a keyword in the body of the post is very important. However, you should not overdo it – just be sure to use the keyword several times in the text.
This will make Google realize that the keyword you are looking for is important as you search through your content.
Also, it is good to use some relevant and less competitive keywords in your content so that you can better rank in using long keywords.
Finally, it is recommended that you refer to your keyword again in the last paragraph of your article. It is also a good idea to do the same in some subheadings. However, always remember to be balanced in everything you do and do not overdo it.
SEO strategy for long-form content
long-form content (Skyscraper content) is really important and effective in getting you to a reputable reference position in your field and also has a great impact on improving your search engine rankings. However, this is only possible by applying important SEO practices actions such as the 11 points made.
Keep in mind that this list is not exhaustive and does not include all the tips you need to have a great SEO. These topics are just the basics that will help you write the best long-form content (Skyscraper content) on any topic.
As you know, search engine optimization is a long-term strategy and it is not something that can be expected to quickly affect the final results.
You need to be patient to see the best possible effects of this SEO strategy.
Use these techniques and then wait and see how your ranking skyrockets.