An important part of site management goes back to updating your audience information with new and fresh content. All webmasters are faced with the fact that we have no idea about our next post. Have you ever considered accepting guest posts on your website? In this article, MyAdviseNow (MAN) brought you some points about considering guest posts.
Most of the time we do not have much idea to reach the average content production, which is 5 posts per week. This is where guest posting comes in handy. Simply accepting guest posts means accepting posts written by other authors on your website.
Most people think that there is no point in accepting a guest post, but they are unaware of the benefits. If you are one of these people, be sure to continue reading this article. In the following, I will list the benefits for you that make you convinced to add the guest post section to your site.
Why should you accept guest posts on your website?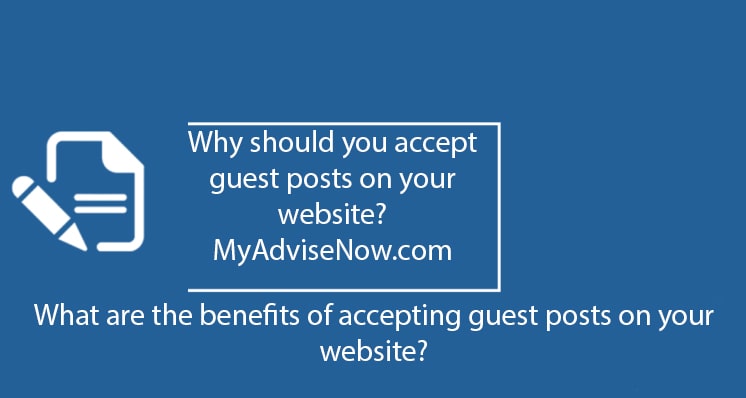 The above question is in the mind of most people.
What are the benefits of accepting guest posts on your website?
it is good? Is it safe?
In the following, you will read the benefits of the guest post to resolve your doubts.
1- Keep your website up to date for free by publishing guest posts on your website
The main reason for accepting guest posts on your website is to update it for free. The more readers of your site know that you are accepting guest posts, the more people will ask you to write to them. The guest post also reduces many of your mental worries. The guest post helps your website to be updated regularly and this is done for free.
Many webmasters are excluded from the competition because they have no particular idea of ​​delivering new and creative content to their users. The guest post helps you avoid this danger. If your website is popular and talked about more, you will also receive better guest posts.
2- Having an active community
As I said before, you can increase the popularity of your website and create an active community for it. This is the main advantage of guest posting that helps your community grow. In this way, it helps to brand your website and make an impact on the world of internet.
It can even help you build an active power on the internet that consists of lots of guest writers writing for you. The good thing about having an active community is that if visitors find out that your website is an active community with a lot of writers and guest posts, they will want to join.
3- Get more targeted traffic by guest posts on your website
Every webmaster wants traffic to their website. But accepting guest posts can drive more targeted traffic to your website.
How ??
First, guest writers introduce new content and bring variety to your site content with different writing styles. This will make the regular visitors of your site happy to come to your website.
Secondly, when a guest writer writes for your website, he/she naturally wants more traffic for his/her website, so he/she also advertises the content that he/she has published on your site on social networks. This will add new visitors to your website and increase site traffic.
4- Building relationships
Accepting guest posts on your website will help you build relationships with affiliate webmasters. Even if you write to them or they write to you, this process can even be a two-way exchange of information and help you make friends with your colleagues.
So this will help you to have more friends in your field that you really need. Once your circle of friends has expanded a little, you can see how much building relationships helps you solve your problems, because you can use the help of your new friends.
5- Improving SEO, advertising, newsletter members, social media fans…
Many guest writers only like to write to you if your site has acceptable traffic and rankings, and if your site meets these conditions, they will even become a member of your newsletter and you will find a whole new fan on social media.
This helps your site grow well and can make an impact in the world of the internet. Therefore, accepting guest posts will help to increase the SEO and advertising of your site.
How ??
Most guest writers write for themselves for advertising purposes. This will allow them to share what they publish on your site with their friends and this will also help your website grow and develop.
Now the main question arises – where to find quality guest writers?
Finding quality authors for a site is very difficult. But in the following, I will tell you the solution to this problem.
A few days ago, I was looking for websites from which I could get quality and passionate readers for my site. I was looking for a website where I could select articles based on my needs and publish them on my site after contacting and getting permission from the authors.
Guest Crew is such a website and you can interact with advertisers and writers according to your needs. The best thing is that you can earn from $ 1 to over $ 500 just by publishing 1 article on your site. This price increases based on the quality and traffic of your site.
Working with Guest Crew is easy. After registering (as an advertiser), you will be given a management section where you can campaign and specify the target groups you want to publish the article. Based on your needs, you can choose the right websites and check their quality. This website is free for both webmasters and advertisers.
Advertisers can launch free campaigns that do not require a fee. But webmasters have to specify the cost, so if they set the cost above 0, it means they are not posting an article on their site for free.
As a webmaster, you can make money by publishing articles on your site. One of the great things about this site that makes you happy to hear it is the free work that you do to gain credibility. In fact, you can earn credit by doing different things and then use your credit.
If you want quality guest posts for your website and you want to make money from your site, check this site.
Conclusion
Guest posts have great potential for making money online and can also create an identity for you in the Internet world in no time. Use it wisely and then see the growth of your website.