Increase YouTube Visits, Do you also have a YouTube channel where you post your videos? No matter how much time you spend creating videos! If you do not market your videos, your work will never reach the majority of your audience. Increasing YouTube views is an art that everyone can learn. It just takes a little discipline. Stay with MyAdviseNow (MAN) and learn these tricks.
In this article, I have outlined strategies and techniques that you can use to market and increase your YouTube traffic.
These tips have already been tested, proven, and worked well for videos on almost any topic and context. Consider this post as a checklist that you should do when producing a video.
So without any hesitation, let's start learning how to increase YouTube views.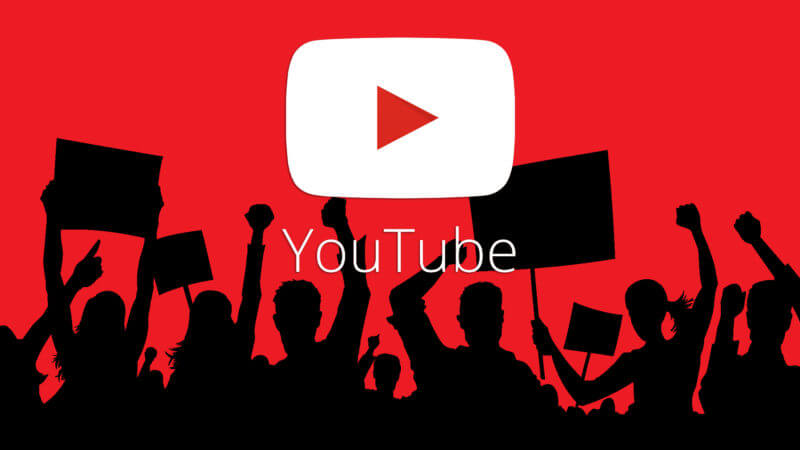 How to increase YouTube visits and get more traffic?
I have listed all the main video optimization techniques below.
Note: In the future, I will explain these tricks in more detail. If you are a professional YouTuber or you want to become a professional, then it is better to monitor the free training section of a good site so that you can use them whenever new posts are published.
1- Video title is very important to increase YouTube Visits
One of the main differences between the videos that are widely viewed and shared on the Internet or those that are optimized for more clicks.
Searching for the right keyword is a great idea for finding the keywords that people are searching for them, and once you find that keyword, you need to combine your video theme or title in some way.
Here are some tips for writing great video titles for YouTube videos:
Keep titles short and get to the point quickly.
If possible, add the current year as the title (for example New Pranks videos of 2021).
Do something to attract attention.
Insert keywords at the beginning of the title (wherever possible).
Use powerful words (for example best, wonderful, incredible).
Use emotionally provocative words (such as emotional, lonely, hot, censored).
Write your headline or title in capital letters. (Of course, if your title is in English)
2- Video tags helps us to Increase YouTube Visits
One of the biggest mistakes you can make to increase your YouTube traffic is using inappropriate tag or tags.
Using tags on YouTube is different from using website posts. If you have never shot one you owe it to yourself to give it a try. Now is the time to start. You can even go back to your previous posts and modify their tags.
Here are some rules for using YouTube video tags:
Use a unique tag to display your videos in the Related Video section of your other videos. Example: Use your brand name in all videos.
Use keywords as video tags.
Use different types of keywords you want in the tag field. (Get help from YouTube's auto-suggest feature).
Find the tags used by the most viewed videos and use them in your videos. You can use the Google Chrome plugin called TubeBuddy to find tags used by others.
Keep in mind that YouTube video tags are an important factor in ranking videos.
3.Use a custom Thumbnail (video cover image) is useful to Increase YouTube Visits
Valid YouTube accounts can use the custom Thumbnail feature. A good video thumbnail will help you to distinguish between related videos and suggested videos.
Here are some tips for Thumbnails:
Have a resolution of 1280 x 720 (with a minimum width of 640 pixels).
Upload them in JPG, GIF, BMP, or PNG formats.
They are less than 2 megabytes in size.
Try using a 16: 9 aspect ratio as most players on YouTube use this aspect ratio.
I do not want to confuse you with these technical issues, but they are important in that you can create a Thumbnail that works well on both home computers and mobile phones.
see more at support.google.com
Video cover image on YouTube
You can use Canva or YouZign to quickly design a Thumbnail for YouTube videos in just a few minutes.
4.Focus on the brand or branding your channel to increase YouTube Visits
There are a few things you need to do about branding from now on, and these tips will assure you that your video will rank well. One of these points is the display of the initial and final introduction of the brand.
Initial introduction: A 3 to 5-second clip that runs at the beginning of the main video to show your brand.
Final introduction: This item runs at the end of the video and can be an introduction to your other videos or a request for users to like or join your channel.
Creating the initial and final introduction to YouTube is easy, and you can create them yourself using Camtasia, or you can create projects on freelancing websites like Poonisha for a freelancer to do.
If you do not have a logo for your channel yet, you should design one too.
5.Share videos on social media channels to increase YouTube Visits
If you are a video content producer, then you should have several social media channels for your YouTube channel. This opportunity gives you the opportunity to create a group outside of YouTube and direct traffic from other popular social media channels to your YouTube channel.
Here are some social media channels you should create (if you don't already have one):
Facebook page
Twitter profile
Google Plus page
Instagram profile
Pinterest profile.
6.Create a website for your YouTube channel
If you are a full-time YouTube user, then you must create a website for your YouTube videos. These days, putting YouTube videos inside a website is very simple and you can build your website on any free or paid content management system.
I suggest you create your website using WordPress and use a special WordPress video template. It is also better to use managed WordPress hosting so that you do not have to worry about maintaining and taking care of your website. Professional site design is easily possible using this content management system.
You can also use the following plugins:
Yoast SEO WordPress plugin – This plugin is related to SEO and will increase the ranking of your website.
YouTube Viral Subscribe plugin – Automatically creates a "Subscribe to Channel" tag after each video.
If you do not use WordPress, you can get help from other platforms, some of which are:
Tip: You can also buy a domain and redirect it to your YouTube channel. In that case, when someone asks you, "How can I find you on YouTube?" You can easily introduce the domain to him.
Create a playlist or add your video to an existing playlist
7.A YouTube playlist is a great way to increase YouTube views.
When you upload a new video, add it to a playlist (whether you created the playlist yourself or it already exists).
If you want to create a new playlist, follow these steps:
Give the playlist a meaningful name and insert the keyword you want in the title of the playlist.
Add a detailed description of the playlist and put your keywords in it.
Put all the same videos in one playlist.
A video can be in more than one playlist.
YouTube playlists are also displayed in search results. By doing this, people will find more videos of you.
8.Use the Invitation to Action (CTA)
On social media sites, you need to ask them what you want your visitors to do.
At the end of the video, or even in the middle, ask the visitor to like or subscribe to your channel. At the same time, you can ask them to share the video with other people who may be interested in watching it.
Most undisputed YouTube stars make the most of their visitors with this technique. If you have never shot one you owe it to yourself to give it a try. You will be amazed at how much the number of subscriptions increases with a simple request.
9- Interview influential people in your field
This is not a direct technique to increase YouTube traffic, but it does have a direct impact on the overall strategy of increasing YouTube channel traffic.
Interviewing an influencer gives you the opportunity to reach a thriving community in your field. By doing this, you will not only get the attention of other people who follow that particular person, but also the attention of all those involved in your industry.
You can find the most influential people in your field and interview them using Google Hangouts or Skype. You can also use tools like Ecamm call recorder.
10.Spend time learning and teaching at the YouTube Creativity Academy
One mistake most growing marketers make on YouTube is that they focus only on posting more videos and no longer go into teaching and learning ways to increase YouTube traffic.
YouTube is one of the fastest growing platforms and it is important to learn about all the tips and tricks available and emerging.
You can use YouTube Creativity Academy to learn more professional tips to get the most out of your YouTube videos (and eventually your channel). When I started my tutorial here, I was amazed to learn so many tips and tricks that I did not even think existed.
Start tricks to increase YouTube traffic and get more traffic
Well, here are some simple advertising strategies and techniques that you can use for your YouTube videos from now on.
These tips and tricks will definitely help you get more traffic and ultimately more members.
Now it's your turn to tell us what ways you use to increase YouTube traffic after you publish your video. I would like to see your ways in the comments section and update this article with the best ways you introduce.
Since its inception in 2005, YouTube has become a permanent online destination for video content. For small businesses, YouTube offers unique opportunities (from video marketing for a particular product to monetization services through the YouTube Affiliate Program).
YouTube status in 2019
Below are some statistics and trends that may be interesting for founders who are looking to gain power and increase views on YouTube.
The popularity of YouTube
YouTube has more than 1.9 billion registered users who visit YouTube every month.
YouTube adds 900,000 unique hits to its total monthly views.
In 2019, YouTube is expected to become one of the most popular online platforms for teens. Eighty-five percent of teens say they use the platform.
In addition, 32% of teens say they use YouTube more than any other platform, making it the second most popular teens after SnapChat.
Eighty-one percent of parents with children aged 11 or younger said they would allow their children to watch YouTube videos.
And 34% of those parents claim that YouTube has become their daily routine.
A variety of popular videos on YouTube
Entertainment videos have an average of 9816 views per month.
Videos related to how to do a particular task or technique get an average of 8,332 views per month.
Science and technology videos get an average of 6638 views per month.
Pet and wildlife videos get about 6,542 views a month.
Videos related to cars and vehicles have an average of 5673 views per month.
Educational videos get about 4872 views per month.
Videos related to travel and various events get about 3070 views per month.
Related videos Video games get an average of 3050 views per month.
Videos related to people or vlogs get about 2354 views per month.
35% of adults come to YouTube for videos on how to do work or training.
Ideal videos in terms of YouTube
70% of YouTube users watch videos on their mobile devices. Therefore, videos that fit mobile screens are extremely important.
It was discovered that short videos are very popular on YouTube. Research has shown that the ideal length of videos is between 1 and 2 minutes.
In fact, 56% of all videos posted online last year were 2 minutes or less in length.
YouTube algorithm is designed to show more interest in people who are constantly posting new videos. Also, those who use common and related keywords are in the center of attention of this algorithm.
Optimal thumbnails for YouTube videos should be 1280p wide by 720p high.
Marketing on YouTube
Every minute, 700 YouTube videos are shared on Twitter.
YouTube videos are watched daily on Facebook for as long as 500 years.
And 100 million people a week like, comment on, or interact with at least one YouTube video.
19% of YouTube users claim that YouTube videos have a significant impact on their decision-making process to buy a product.
YouTube revenue from ads
YouTube generates at least 3 billion video views per week.
The revenue generated by video makers from YouTube is 6 digits, and it increases by 40% every year.
Last year, about 250 brands removed their ads from YouTube because they found that their ads were being published with content they had not intended.
There have also been changes to YouTube that require video creators to have at least 1,000 subscribers and 4,000 views per hour (for one year).
The last word
These statistics show how powerful and effective YouTube can be for small businesses. Whatever your goal (from marketing a product or service to making money from the video content you post), at least one audience for your brand will be found on the platform.