How to earn money from YouTube ; A topic that we hear a lot about these days. Since 5 billion videos are viewed on YouTube every day around the world, and every YouTube user spends 40 minutes a day watching and browsing this website. It might be a good idea to look for a way to make money from YouTube.
Many people are making money from YouTube right now. Suppose you are also interested in ways to earn some dollars. In that case, you will thoroughly learn How to earn money from YouTube in this article. Stay with MyAdviseNow (MAN).

Joining YouTube and publishing videos on it is often done to earn money from YouTube. But how can you make it from YouTube by working on this site? In the following, we will explain all the necessary things about How to earn money from YouTube and the various methods of generating income on YouTube.
YouTube monetization is attractive because you can create video content on any topic you're passionate about and share it with people worldwide. After that, it doesn't matter where you are in the world, penetrate the hearts of your audience by producing pure content and experience the joy of earning from YouTube.

Man (MyAdviseNow)
Read Also:
YouTube Monetization, terms & conditions
1. Start making money from your YouTube channel by joining the YouTube Partner Program.
Of course, to earn from YouTube, your channel must meet the following conditions:
In the last 12 months, your videos have been watched for at least 4000 hours.
Have at least 1000 subscribers or active members on your YouTube channel.
No active Community Guidelines strikes.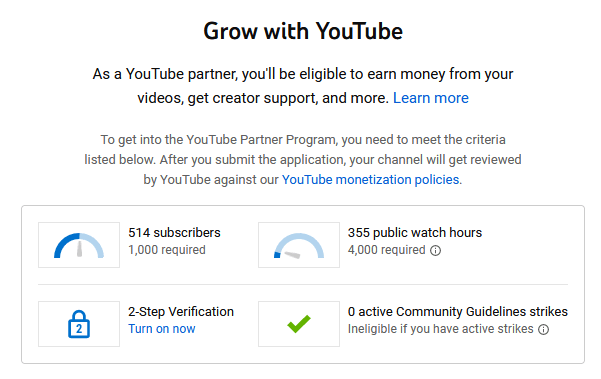 By fulfilling these terms, you are allowed to show ads on your videos and earn money by views. Just enter your channel and go to the "YouTube Studio" section.
Then, you have to accept the terms and conditions in the monetization section.
By enabling monetization for each of your videos, you allow YouTube to display ads in your videos and earn money from YouTube based on the number of views and clicks on ads.
2. Verify your channel.
Suppose from the beginning of membership in YouTube. You've been putting off verifying your YouTube account and channel. In that case, this is where you hit a dead end. You must verify your channel by entering your country of residence and mobile number to earn money from YouTube.
3. Connect your channel to your Google Adsense account.
The last step to start making money from YouTube is creating your Google Adsense account and connecting your YouTube channel to it. Google AdSense is a system that helps websites earn money through advertising without directly interacting with advertisers. Google Adsense provides a large part of Google's income.
How much can I earn from YouTube?
Advertisers use Adsense to budget for some videos. The advertisers will select these videos based on factors such as your audience, video topic, and relevant keywords.
In general, the income from YouTube is determined based on the number of video views of each channel. Money is added to your account when someone views and clicks on an ad displayed on your video or channel.
Since youtube may not always show the ad to the user or the user may leave your channel before the ad is shown, each view does not mean an increase in your YouTube income.
The income tariff from YouTube is as follows:
Google pays 68% of AdSense revenue to the channel owner as revenue from YouTube. It means that if the advertiser pays $100, Google pays the channel owner $68.
The advertiser's actual rate will vary, usually between 10 and 30 cents per visit. But on average, each view will cost 18 cents. A YouTube channel can earn $18 per 1,000 ad views. It equates to YouTube making $3-$5 for every 1,000 views of a video.
Different ways to make money from YouTube
There are many ways to make money from YouTube. The first method is to join YouTube Partner and monetize your channel. But there are other methods on the table!
Join YouTube Partner
As we said earlier, people will see the advertisement inside your video content in this method. As a result, you will earn money from YouTube.
You need to know that the more videos you have, the easier it will be to reach the watch hour threshold and start earning YouTube. High-quality videos attract more viewers.
Selling goods or services.
If you already have a product to sell, you can design a marketing strategy for YouTube and sell your product in this way. Selling goods is one of the best ways to earn money on YouTube.
Attracting sponsors and producing content for them
It is interesting to know that it is possible to produce sponsored content on YouTube, except on Instagram. The advantage of having a sponsor on your videos is that you can negotiate with them directly for the price of the ad. It is precisely why this method has become the most popular way of making money on YouTube.
You can also produce more comprehensive educational content on some popular topics in addition to free videos. Then by selling this content as a training package or holding a webinar, earn money directly from your audience.
Earning money from YouTube by attracting sponsors.
Suppose you can get a large audience to a brand, and your content is relevant and matches that brand's target market. In that case, that brand will probably be interested in partnering with you. This way of making money from YouTube will be permanent for you.
The last word
Making money from YouTube is a smart way to make money worldwide. You should also note that the competition for producing video content on YouTube is very high. You need to plan and create high-quality video content to be seen. Also, having discipline and continuity in content production is one of the principles of success in making money on YouTube.
In this article, we have explained all the things related to making money from YouTube, from how to start and the minimum conditions for making money from YouTube to the different methods available to make money from YouTube.
If you also have experience making money from YouTube. In that case, We will happily share your experience with us in the comments section.
Read Google supports for more: