Step-by-step guidance to make money online without investment.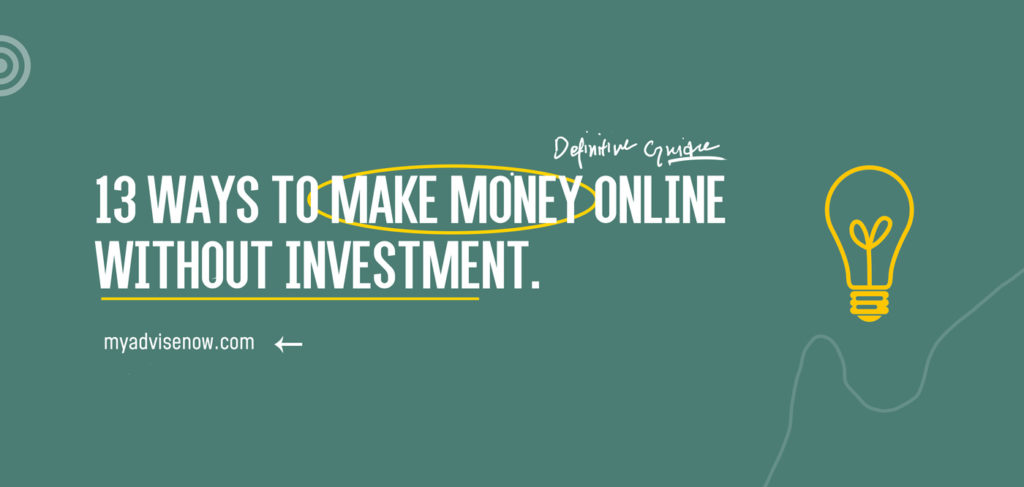 In this article, we are going to go over in detail how you can make money online without investment. This article aims to give you a clear idea that will set you well on your way to passive income without investment.
as I am writing this article, I know more than 10 people, who have been able to reach millions of dollars only from home. For example, a costume designer working from home now has more than 50 orders per month, and he is the owner of an online store. He makes a good amount of
money while he is asleep.
Back a few years, if we heard about the ways to earn money at home, we would think of carpet weaving, cooking, and making handicrafts, which mainly used to be done by women. But now things have changed.
Today if you're a student, businessman, male or female you can make money from your office, classroom, or home anywhere in the world without or at least investment.
As I mentioned investment, I remembered many of your concerns. A worry that has prevented you from starting a business for a long time. Just by a sample thought, that to begin any sort of business requires an investment!
Of course, you are right, because you probably don't know things how to start.
Well, now let's see what are these ways of generating income at home with minimal investment. This is a practical tutorial and we are going to see real examples.
What are the ways to make money online without investment?
All the methods in this article have been proven and there are a lot of people who are
making a good amount of money
using these methods. The plus point of these methods is that they don't require any sort of special tool or investment. The only thing you need is a smartphone or computer.
1. Make Money with Artwork
Talking of artwork, I don't mean creating artwork like Van Gogh's paintings or making a sculpture like Michelangelo's works. Below you can find all artworks that can help you boost your income.
For example,
You have a special skill in cooking and baking;
You make jam and pickles well;
You have participated in a sewing and costume design training course for some time;
You have the skill to make handicrafts related to your city;
You have completed a photography training course, or you would like to learn it;
You know painting and drawing and you like to teach it to others;
You have good skills in making jewelry and rhinestones
Sometimes you have the talent to do something, But you have not been able to discover it yet. Think a little more about yourself, Or even ask others what things you are good at.
Considering this let's go to the next point how you can make money online without investment.
2. Making Money by Freelancing
Sometimes, for whatever reason, you prefer to work at home to earn money instead of leaving the house. For example, you don't have a company to do the work. You don't want to leave your child alone, or you are bothered by being in a crowd and…
What does freelancing mean?
Freelancing means earning money independently, at home or elsewhere, without being employed in a company. Many platforms can help you find a job as a graphics designer, copywriter, architecture, or whatever skill you offer.
For example, you can do the following work remotely as a freelancer:
Advertising and marketing (such as SEO, channel, and social media management)
Writing, typing, and translation (such as creating content for blogs, editing text, and converting audio to text)
Graphics (such as image editing, logo, and banner design)
Programming (such as web designing and development, application development)
Animation (such as making ads and animation)
Audio (such as transcription, video recording, and podcast)
Training (such as educational courses, webinars, and virtual training courses)
If you have any of these skills you can offer them to other people who might need them through a freelance platform such as Fiver, freelancer, or Upwork without any investment. Especially, if you are a good writer, you can make good money as a freelance content writer.
3. Making Millions at Home by Setting Up an Online Store
This is a type of work that does not require special skills or a lot of investments. you may think, I don't have the technical knowledge and experience to work with the site, nor do I have a product to offer. It is because you don't know much about online marketing and business.
What products to sell in an online store?
If you have your product to sell (like, a physical shop in the market, make products, artworks) you can offer them to other people on an online store like
Amazon
,
Shopify
, or Alibaba. But if don't own a product to offer, you can still sell products on your online store.
How?
The answer is straightforward. you can advertise or promote a product or service of another retailer by sharing it on your website, blog, social media accounts, or podcast.
This way can redirect your customer to the company's offerings via a unique affiliate link. as result each time someone does purchase via the affiliate link you provide, you earn a certain amount of commission.
The commission percentage may vary depending on the company and the product. On the low end, you will earn at least 5% of the sale, whereas on the opposite you can earn about 50% or more. Again, remember it varies for different companies.
Quick Review of Affiliate Marketing.
You show an ad or a link for Store X on your website, blog, social network, or podcast.
A customer clicks your affiliate link.
The customer purchases Store X.
The affiliate network records the transaction and confirms the purchase.
You get paid a certain amount as a commission.
4. Make Money with Instagram 
Did you think one day you could earn millions a day from social networks like Instagram?!
Millions of revenues!
Millions may not but billions are definitely.
For example, Christian Ronaldo is an influencer whose good source of income is Instagram.
So, let's talk about how you can earn money with Instagram. It does not matter who is, as far as you target the people with the right product.  Here are some examples of how you can make money with Instagram.
You can,
Selling products and services
Affiliate marketing on Instagram
Become an influencer
Become a blogger
Advertising for others
Managing others' pages
Creating content for Instagram
Do you remember early at the beginning I said there is a way to sell artwork to make money online without investment? This is another way to sell your products. Instagram is like a store, where you can offer products to earn a good amount of money.
5. Earn Money at Home with a Website
Previously I explained how you can make money within an online store. But here I want to guide you about making money from your website.
Let's assume that you have skills and information or are interested in a specific niche. For example, you have good information about skincare or cosmetic brands.
So, start sharing good content on your website talking about such things. You can make content in the form of text, photos, or video, then share them on your blog. Of course, do not expect people to rush to your website the moment you post an article. It takes time but you will eventually learn
how to rank your content.
Hopefully, if you could get enough audience on your blog, then you can think of selling products and services of your own and make money online without investment. Besides you can also earn some extra money with google AdSense by displaying some ads on your blog.
6. Make Money at Home with Telegram
A telegram is a popular tool for making money online. But if you want to get a good result, it's better to have another platform like a website besides Telegram. However, here are some examples of how you can earn make with the telegram.
Set up a specialized training group or channel
Sale of a product or services
sale of digital files such as videos, PDFs, or podcasts
Set up a channel for others to introduce themselves (for example, put people's resumes in it, etc.)
7. Make Money from Your Garden
So, one of the interesting and exciting you can do to make money is growing flowers and plants at your home. Of course, sometimes it requires special circumstances, and it is easy to consider very light. But it has a huge capacity to make money online.
If you don't know much about growing plants, just spend some time searching the internet, and ask friends or nurseries. Then buy some flowers and pots, and Take a few cuttings of each.
you can sell plants in several ways:
Selling the flowers on an online store site
Selling the flowers and plants on Instagram
or go old school to sell the followers on the street, your income may be lower than two others. But in the end, money is important, it does not matter how you do it.
8. Make Money as a Web Designer 
You may think "I can't do this one, I don't have the technical knowledge or coding; I don't have the experience. Besides, I must have a company and I don't have money to invest."
Until a few years ago, you could be right. But now things have changed! Because you can design or develop a website at home or in the park.
In addition, there is a method where you don't need to know to program. You just need to represent a portal agency.
what does it mean? With the help of the portal agency, you can work like an independent website design company and have your clients. It means that the portal agencies allow you to present the site and the store to others and return a percentage of it to yourself.
9. Making Money as a Graphic Designer 
If you remember, I made a small reference to graphics design. So now let's see how we can make money from it.
Some companies or people do not have the skills or time for designing their office stationery, posters, and banners. They prefer to hand the graphic works to someone else. You can easily get orders from others and get paid for your work.
10. Invest in stock and shares 
This is another way to earn money at home. The only tools you need to do it are a laptop and the internet. In addition, you can learn in while about financial analysis and activity in the stock market without any problem.
Read more here
11. Make Online Courses to Earn Money Online
What skills do you have that you think you can offer to others? Music, drawing, math, programming, sewing, etc. are some of the skills you can teach others. Because a lot of people are just looking to learn.
So, make some quality courses and share them on Udemy or YouTube premium channels. This way you can have your students, and they will pay the money.
12. Making Money with Marketplace Sites
Finally, if you don't have the patience to set up an online store, website, or Instagram page, there is another way (although with less income): "Selling your products on large marketplace sites"
what does it mean? It means that you can share your product in big stores like Amazon. For example, you can buy 100 mobile phone cases and share them on Amazon, and in return, in exchange for the sale of each one, you will receive a profit from this collection.
Of course, if you are looking for a good income, be the main seller yourself and start your site. Because you don't have to give a percentage of the sales to others.
13. Make Money as a Content Creator
Creating Content is a high-paying and excellent job that can be easily earned at home with minimal facilities.
If you are facing the question of "how to make money online without investment at home?" One of the answers is content making. To start this work, first of all, it is necessary to learn the basics and principles of content creation.
After that, you can either create content for yourself or others. There are different ways to make content, for example, you can write articles for different sites and platforms.
However, the best way to make money from content making is to create content for yourself. For example, you can create a site and produce different articles for your site. Or start an Instagram page and create content. this way, you can gain an audience and make income online.
How Much Do you Need to Make Money Online without Investment?
Let me put your mind at ease. Making money at home with "nothing" is possible! Because you can do many things with just a laptop, computer or mobile phone.
You can't do much without investment, But some methods do not or require the least investment.