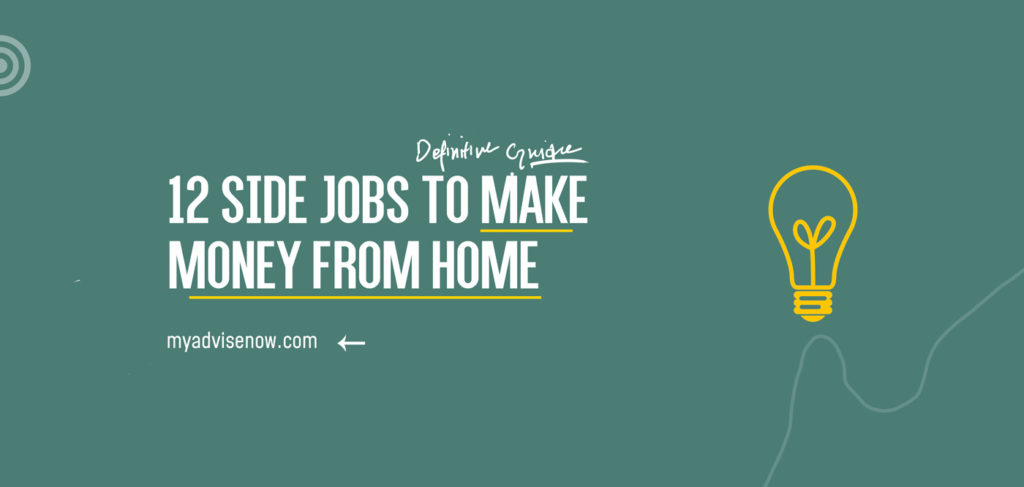 12 legit jobs to make money from home: Today, the economy has endured many changes. you don't require to be physically present in a particular place daily to earn money. infect, most successful companies do not pay for your presence, but they prefer to pay you for your positive performance and the value you bring to the company.
Also, your absence from the office allows you to cooperate with different other companies and greatly reduces your transportation costs. But this work system is in transition and still few people take home jobs seriously.
In this article, we (MyAdviseNow) are focused on familiarizing you with 12 side jobs to make money from home for free. It is noteworthy, that if you choose these high-paying home jobs, you can also advantage of full-time work outside your home, and do other work alongside.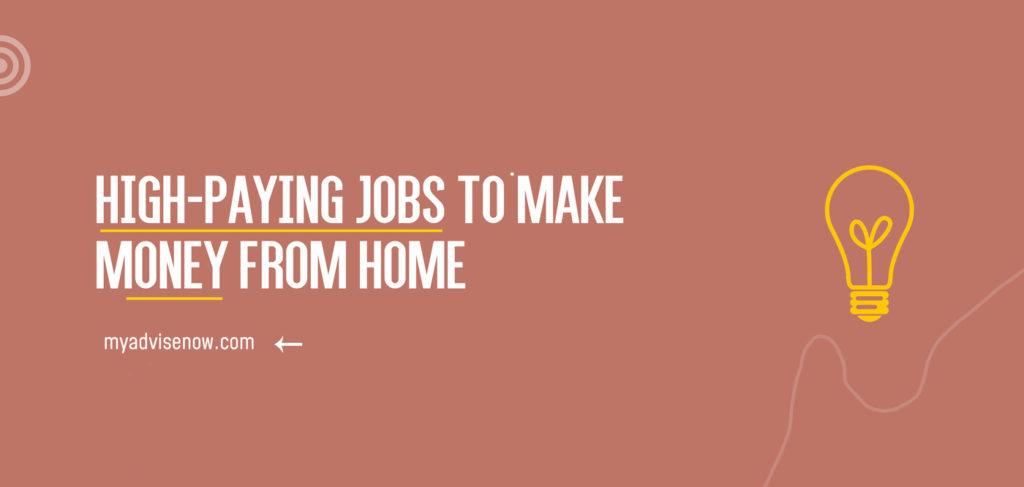 High-Paying Jobs to Make Money from Home
The main feature of these jobs is the time flexibility, and comfort of home. Thus, these jobs are suitable for those of you who don't want to be in a specific workspace, or who want to adjust your sleeping and waking hours according to your taste.
In addition, working at home could be very appealing for creative people, because being forced to follow office rules could reduce the level of your creativity.
Today, the existence of internet infrastructure and various social networks have made it possible for you to control and manage many businesses at your home. Here we are going to introduce you to high-paying home jobs and also show you the amount of income and the equipment you need to start. If you are planning to start a new home business, this article is for you.
1. Management of Social Media
Estimated monthly income: $100-$1000 per month
Equipment needed: computer, smartphone, internet access
Required skill: knowledge of internet campaigns, content creation, and graphics
Nowadays, many people chose online businesses for money making. As their business expands, they will need someone like you to manage their social media accounts.
Social media management has become a popular job in recent years, and many people make money from home only from managing social media. The main advantage of moderating social networks is that you can manage different accounts at the same time and thus increase your income. To start your work as a moderator, you will need to prepare a resume and send it to various brands.
There are platforms where you can find a job as social media moderator. You can look upon Freelancer, Upwork, and fiver to find the job that suits you.
2. Website Design and Coding
Estimated monthly income: $200-$500+ (vary upon projects)
Equipment needed: laptop, smartphone, internet access, coding software
Required skills: coding and programming languages, English language
If you are creative in web design and programming, it is time to offer your services to implement new web designs as well as update and maintain existing sites. There are many remote positions as a web developer where you can work independently while collaborating with the project management teams and a brand to deliver web projects and applications. This way you only don't have good flexibility of time but also you can make money from home.
When you are collaborating on a project, the project manager of the company may ask you to provide the following additional information:
What are your contractor rates?
How much time can you devote to this role either weekly or monthly?
What other experience do you have with other platforms and coding languages?
Do you have any server management experience?
3. Website and Application UI and UX Design
Estimated monthly income: $500-$10000
Equipment needed: smartphone, laptop
Required skills: Programming and coding, web design, and communication design
Modern UI and UX design are demanding jobs over the internet. there are thousands of jobs announced every day. Established to new startups are looking for UI and UX designers to create modern user experiences and user interface webs and applications using prototypes, mockups, and storyboards.
If you are creative with wireframes, prototypes, workflow, and seamless designs there are huge opportunities for you to offer your expertise and make money from home. The good thing about UX and UI jobs is that most of them demand a designer who can work remotely rather than in an office. You can find a job as UX and UI designer on freelancer, Upwork, fiver, indeed, and more….
4. Mobile Phone Application Design
Estimated monthly income: $500-$10000
Equipment needed: smart mobile phone, laptop
Required skills: good knowledge of Application development, Android and IOS coding
Today, almost everyone uses smartphones and computers. Each of us uses a special application on our mobile phones and computer for our daily needs. If you take a look at your mobile phone, you will notice that you have installed and used more than a dozen different applications.
So, applications and programs are a solution for most of our daily tasks. For this reason, different companies and brands are looking to develop applications and software so that they could fulfill the demand of their clients. Most companies don't want you to occupy a space in the office but prefer to work as a remote employee.
As a result, if you are good at application design and development, just google the phrase "mobile application developer job", and you should be able to find hundreds of jobs on various platforms to make money from home.
Besides contributing to the project, you can also develop applications that you might think companies may need, and later sell them to those companies.
5. Animation and 3D
Estimated monthly income: between $200-$2k
Required equipment: heavy-duty computer
Required skills: good knowledge of Maya, 3D max, Blender, Adobe software, other animation software, and creativity
If you look closely, you will notice that most of the videos uploaded on Instagram are animations. Even sometimes Hollywood's best-selling movies are animations. So, this proves that the need for animation is increasing rapidly.
If you have creativity in digital art, you can work in this specialized field and make money from home. The animator is considered to be one of the lucrative home jobs that you will only need a powerful computer to start. To get started, you can create several animated characters and write stories for them to gradually gain fame.
6. Make Money with Music Composition
Monthly income: varies
Required equipment: a computer and needed software
Skills needed: skills in musicology and music production software knowledge
Music these days has become more of a hobby than a job. On the other hand, in the past, to make music, you needed a lot of people and different equipment. But with the advancement of technology, you can create the sound of all musical instruments with computer software.
Today, composing has become one of the most profitable home jobs that you can start with a little practice and participation in training courses.
So, if you feel you have the necessary skills and creativity, you can make some good music and put them in your resume.
7. Film and Video Editing
Estimated monthly income: between $100 and $500
Required equipment: heavy-duty computer
Required skills: Editing, mixing, color correction, color grading, special effects, and motion.
In today's world of advertising, text plays a much lesser role compared to visual content. Most of the audience prefer watching a video rather than reading a boring text, that's why the market for making motion videos and editing has become very popular.
If you are interested in motion and videos, you can start working with training courses to catch the modern trends and creativity. In addition, you must understand that video editing is not limited to advertising videos, rather, you can expand your work to music clips and professional occasional video editing.
To find a job as a video editor you can google the phrase "video editor job" and you should be able to find plenty, or visit the popular freelance website such as fiver, freelancer, or Upwork to make money from home.
8. Translation and Transcription
Estimated monthly income: $100-$1000 per month/project
Equipment needed: computer and internet access
Required skills: good writing skills, English language skills, and MS. Office skills.
If you are fluent in English or any other foreign language, why not use your skill to make money from home? Currently, with the increase in international trade and the translation of various texts from foreign sources and their publication into another language, the need for an expert translator is strongly increased.
The most important thing about a translator is that you will not need to be physically present for the job. You can receive the translation file from your clients remotely, and refer the translated file to your audience via email or social networks.
You can do all the steps and make money from home without any further effort. To begin with, it is better to cooperate with contracting companies and collaborate with them on a percentage basis. After a while, when you are well established and you find your resume qualified enough, you can sign contracts with other companies on your own. Therefore, translation can be considered one of the most profitable home jobs.
Besides, you can also work on movie subtitles, which could be considered a good source of free income for you. it may require a good command of the English language, but it is worth it.
9. Invest in Stock and Shares
Estimated monthly income: depends on the product
Required Skills: computer knowledge, internet access, and communication skill
the stock market is one of the most valuable sources of income for many people. Even if you are busy throughout your day but you are not satisfied with your income, you can earn a decent amount of money by participating in the stock and share market.
Stock trade is not the same as in the past. Fortunately, with the help of online platforms and smartphones, trading stock and shares have become super easy.
To know more about stocks and shares and how you can earn money online with stock we have a brilliant article for you on the MyAdviseNow blog post, read here.
10. Digital Currencies Trade
Estimated Monthly income limits: variable and dependent on the amount and market fluctuations
Necessary equipment: computer, smart mobile phone, internet access
Required skills: mastery of using the Internet
So, if you do a little research on the modern economy, you will find that digital currencies have a huge impact. It has been about 10 years since one of the most reliable digital currencies, Bitcoin, entered the market. But in a such short period, we have seen its growth several hundred times. Therefore, buying and selling different digital currencies such as Bitcoin can be a good option to earn money online.
It is also interesting to know that currently, using special equipment, it is possible to mine Bitcoin even for ordinary people without investing any money. To start, just get a digital wallet and start trading cryptocurrency, after a while, you should be able to make money online for free.
You can get to know about the value of Bitcoin with the help of different sites. and even with the help of real and digital exchanges, you can buy and sell and earn profits in the shortest possible time.
11. Making Handicrafts
Estimated monthly income: between $100-$2000
Required equipment: varies depending on the type of craft
There are many people who, alongside the different jobs they do, have the ability and art of making different kinds of handicrafts such as dolls, pottery, ornaments, sculptures, paintings, traditional bags and shoes, paintings, and many other works. If you are one of these people and you have the expertise that you can offer to others, just start working now to make money online.
You can sell your products on Amazon and Shopify, or you can build your own to sell your products.
12. Text and Video Content Production
Estimated monthly income: between $100-$1000
Required equipment: computer and access to the Internet
Required skills: good writing skills and computer workflow.
One of the things that are growing rapidly with the expansion and influence of the Internet is creating content. Any product that is sold on the Internet, or services that are provided, or even sites that are designed to inform and educate in various fields, need someone who can express their desired content in a concise and useful manner for the audience.
To create content, you don't need any investment except knowledge and expertise. you can write content for different sites and companies with any system that connects to the Internet.
Of course, writing content requires it to be attractive and encourages the user to join the site or buy, which is necessary for a successful content producer.