LinkedIn Marketing Strategies in 2023: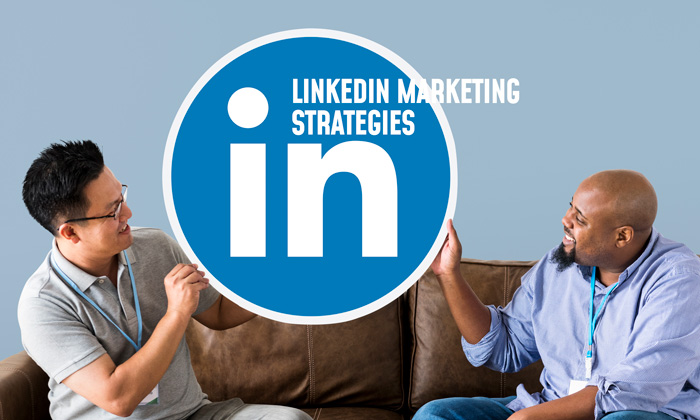 When we talk about professional and specialized social media and groups, the first thing that comes to mind is LinkedIn.
However, we need to pay more attention to the possibility of marketing on LinkedIn when planning and formulating a social media marketing strategy.
Meanwhile, LinkedIn is a robust social network with more than 645 million users worldwide, which can play a significant role in branding and brand growth if appropriate strategies are used.
LinkedIn can be considered a social media of professional relationships, a place full of expert potential customers and decision-makers from various organizations who can help grow your brand and advance your business goals.
In this article, we will go to the critical topic of LinkedIn Marketing strategies until the end:
Get to know LinkedIn marketing and its principles and subtleties;
Be able to produce targeted and strategic content that strengthens the position of your business in your field of activity;
Be able to evaluate your performance and determine your actions' success percentage.
With this information and knowledge, you can develop a targeted strategy for marketing on LinkedIn, which will ultimately lead to the success of your business.
So, if you never thought about LinkedIn marketing, or if you are looking to strengthen your business marketing and grow your brand on this professional social media, stay with us in the rest of this article.
20 LinkedIn Marketing Strategies in 2023
– Create a company page for your business
To start LinkedIn marketing strategies, you first need to create a dedicated page for your business.
For this purpose, you must first register on LinkedIn and then from the top of the page, by clicking on your profile photo, go to the bottom of the menu that opens and select Create Company Page.
Then on the next page, you need to specify your business type.
After choosing the type of business, a page will open where you need to enter your business information:
You can also upload your profile picture in this section, which we will explain more about in the following areas. Please pay attention that it is necessary to complete the starred parts.
After completing the mandatory fields, check the box at the bottom of the page and click the Create Page button.
After creating a Company Page, you can use the Page Admins option in the Admin Tools menu on the top right side of the page to enable management for employees or other company officials.
Read also: How to Make Money on LinkedIn in 2023 
– Define your marketing goals on LinkedIn
Before proceeding, it is necessary to define your goals for LinkedIn marketing clearly. The first step in the goal-setting process is identifying the company's overall goals. For example,
Do you want to generate more interested customers?
Are you looking to attract more traffic to your site?
Want to increase content sharing?
Are you looking for credit in your field of activity?
– How can LinkedIn help you achieve your business goals?
After you have determined the business's overall goals, consider how LinkedIn can play a role in realizing them.
At this stage, you should remember that according to the available statistics, LinkedIn has a much better performance in achieving some goals:
Generation of interested customers: LinkedIn visitors are 277% more likely to become interested customers or leads compared to visitors of other social media
Recruiting and attracting human resources: LinkedIn social media is considered one of the essential sources of providing high-quality and capable human resources;
Increasing awareness of the brand: LinkedIn is built based on creating a network of professional relationships that can help grow its fame and reputation by exposing your brand to these influential people;
Increase credibility: LinkedIn, with its specialized and professional basis, has allowed publishing content for users, which can help increase business credibility if appropriate content is used. The following parts of this article will explain how to prepare such materials.
Depending on the strategies or goals you have chosen for LinkedIn marketing, you can determine how to use this social media to achieve them and evaluate the process of achieving those goals. But how?
Tracking the conversion rate caused by LinkedIn in Google Analytics
Before determining the number of target leads, you need to choose the current situation or starting rate.
To do this, go to Google Analytics, select Acquisition, and then Social.
In the Social section, first, select Conversions and then LinkedIn. In this section, you need to set the date and collect the conversion information made during the last six months.
To monitor this data, you must set a goal in Google Analytics for when the conversion takes place.
For example, if a potential customer fills out a contact form on your site and this person enters the form page with one click from your LinkedIn page, then a potential customer has been generated.
The statistics of this department as MB It considers your performance criteria and makes it possible to accurately and efficiently determine the growth percentage.
For example, if we assume that we have converted 1,000 leads over the past six months and are now looking to increase charges by 25%, we need to acquire 250 more leads over the next six months.
In addition, LinkedIn has also provided a tool known as Lead Gen Forms, which means interested customer generation forms, a simple and efficient way to collect information from interested customers who refer to your profile.
– Determine the amount of traffic received from LinkedIn
In addition to the conversion rate, you can also see the traffic received from LinkedIn through Google Analytics.
For this purpose, refer to the Acquisition section and select All Traffic. From the All Traffic section, select Referrals and scroll down until you find LinkedIn.
In this graph, you can see the total number of visitors who entered your website from LinkedIn and their percentage compared to other sources.
To determine the Goal, you must use the same mentioned for the growth of interested customers. Therefore, review the data of the last six months and set a reasonable growth percentage as a target.
– Track the number of content shares
To view the number of content shares, select Updates from the Analytics menu at the top of your business profile page. Then, in the Metric section, select the sixth item, Shares.
To determine the Goal, calculate the average number of shares during the last six months and consider a reasonable growth percentage based on that.
– Using LinkedIn to increase business credibility
How can you establish a position as a reliable and professional business in your field of activity?
For this purpose, you need to publish more and higher quality content on LinkedIn (we will discuss this topic later) or seek to increase engagement with LinkedIn professional groups.
At the same time, you should remember that interacting with a group or posting more will not automatically increase your credibility.
The content of your writings and interactions must be informative, thought-p, provoking and original.
Although there is no specific index through which the credit of the business can be accurately determined.
But by monitoring indicators such as the growth rate of the number of followers and shares, as well as the volume of interactions, we can be aware of the relative status of the growth of the business credit.
Why can such indicators represent the distinction of your business?
Because the increase in audience interaction with the content shows that your content was valuable and valid from the audience's point of view.
But how can you track the status of these three indicators and set goals around them?
For this purpose, it is enough to refer to the profile Analytics menu mentioned above. By selecting Followers, you can see the growth rate of the number of followers, and by selecting Updates, you can see the amount of sharing and the total number of interactions.
To set a goal, you can consider the average growth of posts in the last six months or weeks and set your Goal based on this average.
Related: 
– Specify your audience
After creating a dedicated page and setting goals, in this part of planning for LinkedIn marketing, we focus on knowing the target audience.
Because if we don't know our audience, we can't produce appropriate and efficient content to present to them.
The vital thing to note is that LinkedIn is a professional and mainly B2B social network. Therefore, you cannot copy the same content that you publish on Facebook and other social media on LinkedIn and expect a particular result.
Make sure your LinkedIn audience is a specific audience with its own needs and tastes.
To identify your target audience, you should answer questions like:
Who is my target audience?
What problems does it face?
Where and to what extent is he involved with these problems?
At what time or times does he experience these problems?
Why are these problems bothering him?
– Complete and optimize your LinkedIn profile
To be seen more and to be able to attract the audience's opinion more and better, it is necessary to have a complete and attractive profile with all its dimensions optimized to attract the audience's view.
– Set your profile picture
Your profile picture should be the same as the business logo and in the appropriate dimensions for LinkedIn. The standard LinkedIn profile picture size is 400 x 400 pixels.
– Use a suitable profile cover image
Using a suitable cover image can add personality to your LinkedIn page. For example, you can use the image of your workplace.
– Complete all fields of your profile
By clicking on the pencil icon under the cover image of your business profile page, a window will open where it is necessary to fill in the information.
Through this window, you can:
change the profile image and page name and write a 120-word tagline that will appear right below your logo
In the Buttons section, a button to be displayed next to the F button Choose Elo
In the Overview section, enter contact information and the necessary explanations
In the Location section, specify the location of your business;
In the Hashtags section, create up to three specific hashtags for your posts
Add up to 10 groups to your profile page in the 'Featured groups ' section
And through the Manage Languages section, translate your profile information to display to foreign audiences and customers.
The Tagline and Overview section in the About section of your profile is among the most important parts of LinkedIn marketing strategies that should be addressed.
These sections are each an opportunity to impress the visitor and initiate an interaction.
The tagline (or headline) is one of the first things that comes to mind when checking your LinkedIn page. The tagline is something like an elevator pitch or an elevator introduction and should show your business identity in a few words.
In this section, you should be creative and write and concisely. You can put more explanations in the Overview section. For example:
A brief introduction of the company: no one knows your business better than you. Therefore, use the available space to introduce your business. Do you have a mission statement or values that your company is governed by? Mention such cases as well.
Information about the products and services you offer: Answer the question: What do you do in your company that sets you apart from others? How can you help your customers?
Statistics of successes and recommendations of others: the vast majority of people trust the advice of others more than they pay attention to advertisements. Therefore, in this section, you can also mention the positive comments of previous customers. If someone is hesitant to use your products or services, they are likely to be convinced by seeing the approval of others.
In addition, do not hesitate to use keywords specific to your field of activity. Because, in this way, the probability of your company's LinkedIn profile appearing in related search results on Google will increase.
Suppose you need help choosing the right keywords. Consider your LinkedIn business page a secondary site where you should implement SEO principles along with the leading site.
Therefore, the keywords of your website can be an excellent option to include in your LinkedIn profile.
Related:
– Specify the voice and tone of the brand
LinkedIn marketing requires a professional voice and tone, which you need to establish here. But what is meant by voice and style?
The voice is the brand's personality, described as an adjective, and the tone adds a unique flavor to the brand's say depending on various factors and situations.
First, let's talk about brand voice. What is your brand's personality? Is it informative and knowledge-oriented, thoughtful, political, or decisive?
To determine the brand voice on LinkedIn, ask company employees to write three adjectives that best describe their brand. Then, with cooperation and consensus, choose three items that embody your brand from among the adjectives written.
After finalizing the three main attributes, you can move on to creating an appropriate tone for LinkedIn. Your brand's tone is essential. It determines the style and fashion of your brand's voice on LinkedIn.
Be careful when choosing the brand's tone. It would be best if you also considered your audience.
For example, if the overall style of your brand voice is supposed to be humble, how will that sound to the professionals you're looking to connect with on LinkedIn? Do you want your humility to look professional, or do you want to sound humble but excited?
In this section, instead of choosing three adjectives, you select the dominant tone with which most of your LinkedIn messages will be presented.
Remember that your style will change from time to time, depending on the situation in which you are posting.
Develop a purposeful and intelligent strategy for content production
A lack of planning in creating content and publishing aimless posts will not bring unique benefits to LinkedIn marketing strategies.
Therefore, the content and everything you want to publish on LinkedIn should be prepared and produced based on your goals.
In addition to the quality of the content, the type and format of the content you share are also necessary.
For example, you can publish things like case studies, expert articles, blog posts, slideshows, videos, and infographics, all of which perform well on LinkedIn.
– Establish your business position as a specialized and professional brand
If you want to become an authority in your field, LinkedIn is a great place to start. At the same time, remember that this expertise and ability is not created overnight, and its acceptance by others also requires planning and careful consideration.
– Help solve the problems of your audience
One of the effective ways to prove and establish business credibility is to show how you can solve people's specific problems better than your competitors.
Note that, as we mentioned earlier, LinkedIn interactions are often B2B oriented. Therefore, your target audience is not like ordinary customers, many of whose decisions are spur-of-the-moment.
At the same time, showing and proving your points of distinction will be very effective in attracting their attention.
But how can you stand out in the eyes of your potential audience? For this purpose, you must answer the following questions:
Is there a sign of understanding of the existing problem and a feeling of sympathy in the content?
Does the content emotionally connect with the prospect's position in the customer journey?
Does the content draw a line from point A to point B that links the audience's problem to the business solution?
If your content doesn't answer at least one of the above questions, you probably need to start over and see how you can help your audience decide to choose your company to solve their problem.
– Share your knowledge for free
To increase the effectiveness of LinkedIn marketing strategies, and establish your position as a reliable brand, you must be ready to share your knowledge in your field for free and unconditionally.
Such a policy may not seem logical and raises the question of whether we should keep our specialized knowledge to ourselves.
The answer is that you can do this, But this method will not help strengthen your brand's credibility. Of course, not all brand information can and should not be disclosed.
In general, share your knowledge with others when:
It is elementary; That means sharing information that you and your colleagues know about but not something that your customers know about
Your customers regularly experience a problem that you can show them how to solve. Why waste your time fixing a problem when you can teach how to solve two thousand toman problems? This way, you can save your audience's time and focus on solving more significant issues.
But you should not share your knowledge when:
It is part of the company's secrets. If your company or brand has a secret way of doing something (for example, a proprietary recipe), you shouldn't reveal it
It confuses your audience. If your solution is highly complex and challenging to implement without specialized knowledge and skills, you should keep it to yourself and ask customers to contact you for help.
Related: 
– Share the most valuable content possible.
To succeed in marketing on LinkedIn, you must provide your audience with the best, most high-quality, and most helpful content possible.
Such content should have the following characteristics:
Be written based on research. Quality content relies on reliable and up-to-date analysis and sources
Be informative: Your content on LinkedIn should be unique and valuable to your readers. If you produce and offer a range that is only repetition, you do not give specific information to the audience, and therefore your content will not have value
Valid: It may seem that the article's validity is the same as being based on research, but it is not. Valuable content refers to the fact of your posts, not just one specific position. In other words, when your audience sees one of your newly published articles, how much do they trust its authenticity? To earn this credit, it is necessary always to publish reliable content based on research and reliable sources.
– Publish topics of interest to your target audience
If your audience is interested in something other than the content you publish on LinkedIn, why should they take the time to read it? Now, the question is how to find the topics important to the audience.
You can refer to the page of influencers in your field of activity on social media to find suitable and exciting topics for your audience.
You can also visit active LinkedIn groups to see which topics are most popular and engaging. If you want a more direct method, you can poll your audience on your LinkedIn page and ask them what topics they are interested in.
For this purpose, you can use survey tools such as SurveyMonkey or Google Forms. For example, you could use questions like the following:
Which topics we've published so far do you enjoy the most?
What topics would you like us to cover more?
What information are you interested in obtaining regarding our products, services, or company?
– Develop a schedule for publishing content
There are many and varied recommendations regarding the right time to post on social media, But in the end, it all depends on your audience.
Your audience determines the right amount and time to publish with the amount of their interaction with the content.
For example, if you post five times a day and get three reactions, but with three posts a day, you get ten reactions, your audience has effectively determined the correct number of posts per day for you.
Please note that the holidays for the audience of this research are Saturday and Sunday, and three days in the middle of the week, you can use as more suitable days for the experiment.
– Create showcase pages
Showcase pages on LinkedIn are like sub-categories of your company page, allowing you to showcase specific areas or sectors of your business, such as Peru.
They provide current or specific brand affiliation. LinkedIn members can follow these tabs based on their interest in one or more particular aspects of a company.
Just select Create a Showcase Page from the Admin Tools menu to create a showcase page. For example, consider Adobe's showcase pages:
– Use the LinkedIn advertising system
LinkedIn is one of the few networks where users update their factual information in full detail regularly.
As a result, LinkedIn has an exceptional and very accurate performance in targeting the right users with its advertising mechanism.
Therefore, consider the possibility of using LinkedIn ads in your plan for marketing on LinkedIn.
LinkedIn offers several different advertising solutions, which we briefly mention:
Sponsored content: using this service, you can expose your content to more people
Text ads: click ads that appear in different parts of the LinkedIn user interface
Sponsored InMail: InMail is LinkedIn's internal messaging system that allows sending advertisements tailored to each user. These messages are sent when the intended user is on LinkedIn, so the probability of being seen is very high.
Using these ads can get much better results from your LinkedIn marketing efforts.
– Check the data of analytical tools to identify strengths and weaknesses
To determine the strengths and weaknesses and adjust the actions and policies you have followed for LinkedIn marketing, you must constantly monitor the analytical statistics and information of the interactions on this social media.
The most important of these statistics are:
Engagement: the amount and number of likes, comments, or content sharing
Conversion: the rate of performing the desired action by the audience. For example, buying a product or registering to receive an email newsletter
Traffic: the number of entries to the desired site or page from LinkedIn.
But where you can obtain this information? You can use two sources to get LinkedIn analytics.
The first source is the LinkedIn Analytics tool located in the management section of your business's LinkedIn page.
Each of the three LinkedIn Analytics menu options provides you with a different set of information:
Visitors: number of page views and demographic characteristics of visitors, such as occupation and workplace;
Updates: indicators related to interaction for posts;
Followers: the growth rate of followers, their demographic characteristics, and the companies considered your competitors.
Another way to monitor LinkedIn statistics is to use Google Analytics, which we mentioned extensively at the beginning of this article and in the goals section.
Conclusion: LinkedIn Marketing Strategies in 2023
As a specialized and professional social network, LinkedIn is one of the best marketing places.
Still, many brands need to pay more attention to planning for marketing on LinkedIn and strengthening and growing their brand using the power of this unique social network.
Meanwhile, LinkedIn provides brilliant opportunities for gaining and establishing credibility, creating a targeted and efficient communication network, as well as exploiting the expertise and skills of capable people, which does not exist in any other social media.
Therefore, if you have not yet had the plan to use LinkedIn to advance your business goals, according to the explanations and items listed above, start and take firm steps toward the growth and development of your business.