The Best eCommerce Marketing Strategies You Should Use in 2023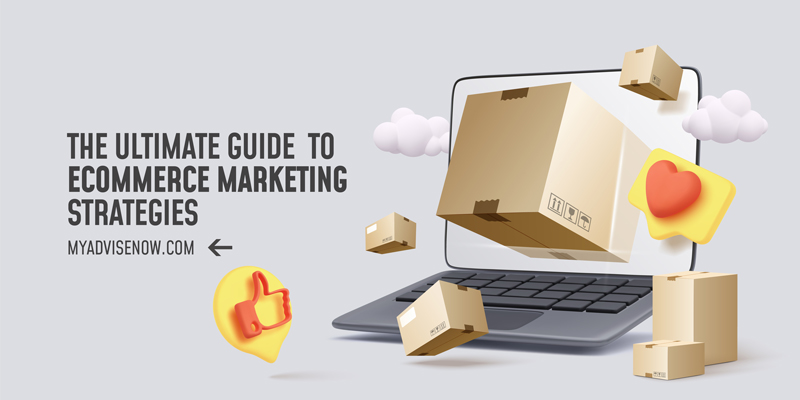 eCommerce Marketing follows the path of traditional tactics by using all digital channels to promote your products and services.
Since everything is online nowadays, it is impossible to differentiate the different digital marketing types people use today.
For example, consider eCommerce marketing. What does it mean? And how does it compare to social media, search engines, or e-mail marketing?
eCommerce and digital marketing are not mutually exclusive. eCommerce platforms are to promote the product and help grow their business using digital channels.
So, eCommerce marketing is the practice of awareness and action toward a business that sells products or services online.
eCommerce marketers may use different tools such as social media, digital content, search engines, or e-mail campaigns to draw audiences and facilitate online shopping.
eCommerce marketing is just one community of marketers who can use digital and inbound strategies to convert visitors into customers.
However, eCommerce marketers use these channels differently than traditional brands or content marketers.
This article will teach you the types of eCommerce, tools, and eCommerce marketing strategies.
What is eCommerce Marketing?
Basically, it creates awareness toward a business that sells products or services electronically.
eCommerce marketers can use tools such as digital content, social media, search engines, and e-mail campaigns to propel more traffic and increase online sales.
Before we talk about the meaning of eCommerce marketing and its impact on creating a personal strategy, let's define eCommerce advertising and the impact of advertising on online businesses.
eCommerce Advertising
Just as advertising is a subset of marketing, eCommerce advertising is also a subset of eCommerce marketing when you use it together.
It allows you to reach your audience, increase conversion rates, and improve brand awareness.
As mentioned, eCommerce marketing means informing customers and motivating them to step in and use your products and services.
Meanwhile, eCommerce advertising includes advertising methods through which you can promote your product.
These ads will be available in eCommerce or online sales through display ads, web banners, or rich media ads.
The bottom line here is that eCommerce advertising effectively complements and develops your eCommerce tactics in 2023. So you can focus on promoting your product or service.
Now let's get back to eCommerce marketing.
Types of eCommerce Marketing
To show you what eCommerce marketing strategies look like, we will introduce you to common marketing channels and how to create an online store.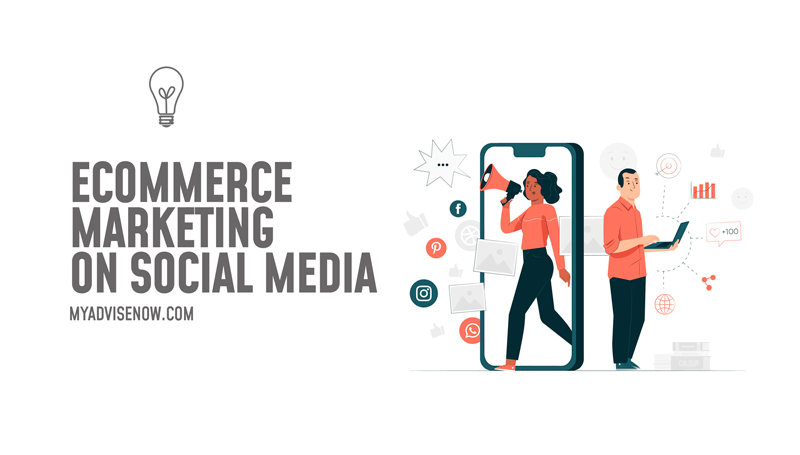 1. eCommerce Marketing on Social Media
Daily, people spend at least two-three hours on the internet. Therefore, social media is an ideal place to promote your eCommerce business.
 So, almost all brands have pages on social media that provide content of interest to the audience. You can do the same as an eCommerce marketer.
Of course, each social media serves a specific purpose. It would help if you chose your business niche because only some social networks could be right for you.
On the other hand, eCommerce platforms are visual and need to show your product.
So, your success on social media depends on visual content, such as images or videos, to draw attention and traffic to pages related to your product.
Social media, such as Instagram, Facebook, and LinkedIn, are excellent platforms for an eCommerce business.
Because they allow you to share impressive photos of your product and let customers access it beyond the purchase page.
Instagram marketing is one of the popular electronic methods these days.
You can take your eCommerce marketing strategies one step further by creating content that gives customers access and the ability to buy directly on social media. This content will help the visitor now purchase the product.
Related articles: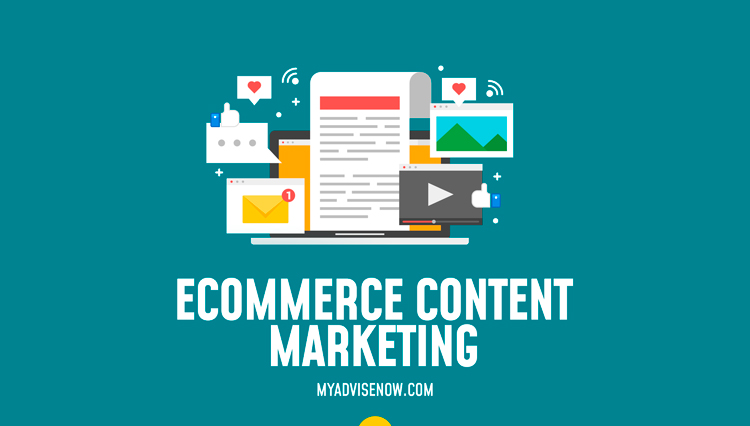 2. Content Marketing for eCommerce
Content marketing is the strategic tactic of creating content to drive more traffic and build brand awareness and sales.
When people think about content marketing, they think of blogging and video to increase website ranking in search engines.
But as a content marketer, do you need to make such content?
Well, since the purpose of content is to drive more traffic and more sales. Yes, you do need it!
Here are some ways to use the content for eCommerce store.
Optimize the Product Page
Keywords are king in eCommerce marketing. Therefore, you should optimize the product page by using short and product-related keywords that include the product name.
For example, if you sell formal shoes, a Google search for "casual shoes" can lead people to your page if that phrase results from the search.
eCommerce Marketing follows the path of traditional transactions by using all digital channels to promote your goods and products.
If you have an online car showroom, writing blog posts about cars can drive people who wish to buy a car to your page.
Of course, two or three article does not make any difference to you. So, make sure to write different blog posts that cover different eras.
Create Guest Posts for Other Websites
Guest posts can promote your product to a relevant audience. Creating guest posts will also increase your eCommerce site dominance and show search engines that you are a reputable site.
It would be best if you were looking for places that rank for keywords related to your product. Sometimes you can create only part of the post.
If a site has a related post, take advantage of it by creating additional content, such as a video or infographic, that links back to your site.
Make Product-Related Videos for YouTube
YouTube is the Second most significant search engine, with 2.1 billion monthly active users worldwide after Google.
If you are looking for mass traffic for your eCommerce business, YouTube is the option you may consider seriously.
Using highly searched keywords to define the product and then sharing product-related videos helpful to the audience can make a difference.
You can make videos about product specifications, features, and consumer wants. You also need to describe the products thoroughly as there is no question left. Read also how to make more money on YouTube.
Consider creating a holiday gift guide if you sell products that customers can buy as gifts. Don't just share your creation. Be sure to share different options to add value!
Share Frequently Asked Questions:
If your audience asks questions about the product, you should answer them yourself.
FAQ pages can improve user experience by providing quick information that your customers need.
It can also reduce support requests for your business. FAQ pages are also great for SEO optimization, and eCommerce marketing strategies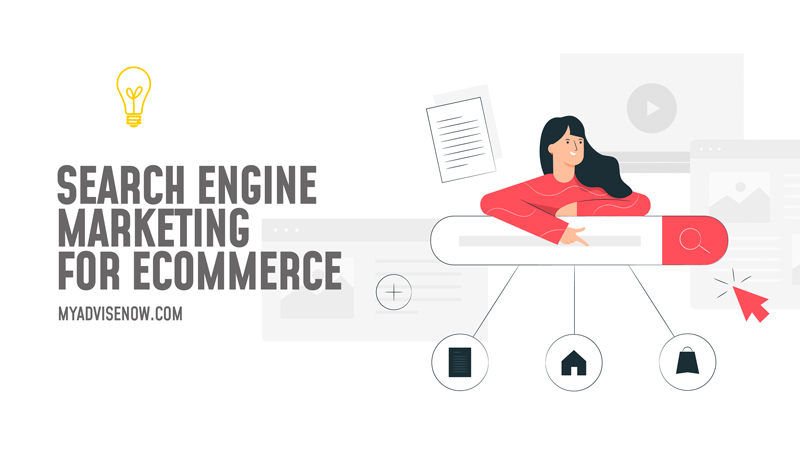 3. Search Engine Marketing
Search engine marketing (SEM) includes search engine optimization (SEO) and paid advertising.
While SEO optimizes content with the Google ranking algorithm, search engine marketing can consist of pay-per-click (PPC), campaigns, display campaigns, or product-based advertising campaigns (such as Google Shopping), which allow you to Pay to get a high position in Google results in pages.
In Google, PPC campaigns guarantee that potential buyers will enter your page through a link by entering a phrase similar to your campaign phrase in the search engine.
But you have to pay Google for every user who clicks on your link, and your payment to Google increases.
This is why e-commerce marketers use Google AdWords to promote their product pages through PPC campaigns.
Click-through campaigns take the customer right to your business's product page, so it's more likely that the user will purchase before leaving your website.
 Here are some search engine marketing strategies to try:
Add original content to product pages: Create new content that describes your product or services that users may search for.
Improve your site speed: Google prefers websites with speed. Use Google's PageSpeed insight tool analysis and improve your website speed.
Use unique meta descriptions for each page.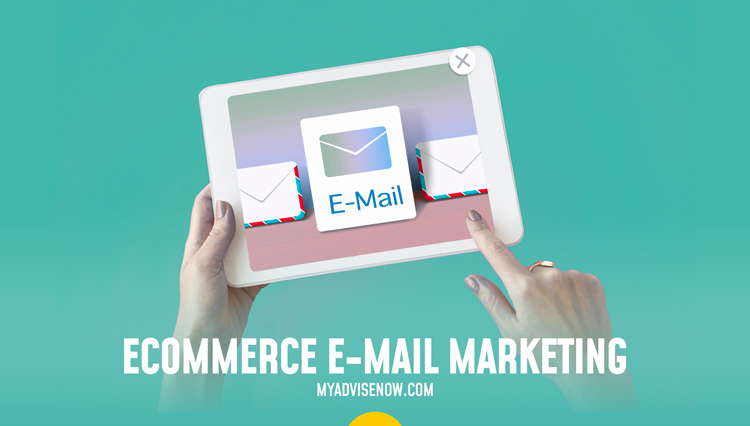 4. E-Mail Marketing for eCommerce
E-mail marketing is one of the most popular formats of digital tactics. Believe it or not, email is essential in eCommerce.
E-mail can build brand awareness, promote sales, launch new products, host giveaways, or recover abandoned carts.
What is the advantage of e-mail marketing? It can be automated. Automation means you can create a drip campaign for subscribers who have the potential to become buyers. This is one of the eCommerce marketing strategies that must be on your to-do list.
Also, it would be best if you were specific about your e-mail list to build trust. When a person's data is a priority, he avoids seeing advertising e-mails.
Therefore, eCommerce marketers should be careful about when and how to add website users to their e-mail lists.
Here are two ways to use e-mail marketing for eCommerce.
Suppose a user buys from your website and agrees to receive an e-mail from you during the purchase process.
In that case, you can continue the conversation by sending an e-mail a few days after the purchase and attracting them to your product line in the future.
After-sales follow-up also shows you care regarding customers even after the sale and that your company wants to know whether the customer is satisfied with the product.
So this will help you to get customer feedback about the purchase process and reduce customer churn in the future.
The best thing you can do with these e-mails is asked the customer to write a review about the product or read content about how to use the product (YouTube videos you've made about the product can be used here).
So, they remember to come back to you and search your store.
Users abandon their shopping carts for various reasons, and e-mail can save their business by finding out the cause and making the difference between sales and lost customers.
In the following, we will introduce you to ways to prevent the customer from abandoning the shopping cart.
If the user cannot complete the transaction after specifying the shopping cart, send them a polite e-mail asking them to complete the purchase process, guide them, or introduce similar products.
5. Influencer Marketing
Influencer marketing focuses on people or brands that influence the target market. This term is mainly used for Instagram accounts that have thousands of followers. Read how to make money with Instagram. 
Still, it can also refer to a celebrity or association the target audience follows or belongs to.
Influencers gather around a community of people who know, like, and trust.
For this reason, they draw the audience's attention to your product by recommending or introducing a "sponsored post."
 6. Affiliate Marketing for eCommerce 
81% of brands use affiliate marketing, and eCommerce sites are good options. These intermediaries (representatives) are the same people or businesses that sell your product online in exchange for a sales commission.
Unlike social media influencers, intermediaries draw attention to your product through old (but effective) eCommerce marketing strategies.
They often drive traffic to your product pages using paid ads, content marketing, or other tricks. So, it's like having a remote sales team.
7. Local Marketing
Local marketing is an often-overlooked trick for eCommerce businesses. It allows you to focus on areas of your business where your potential customer density is highest and motivate potential customers.
How to use it?
By tracking cookies, you can identify areas of potential customer density. Then you can offer the potential customer a discount or free shipping where you have stock or shipping options.
With this motivation and encouragement, you can find new customers.
The Impact of Ecommerce on Marketing
Electronic methods have positive effects, including an increase in the promotion of products and services and communication improvement with customers.
A new channel and way of communication will be created to present products and services. The time cycle of sending the product is reduced, and customer satisfaction with the service increases.
eCommerce Marketing Tips
Personalization
Focus on user-generated content
Create a loyalty program.
Invest in live chat.
Pay attention to the shopping cart.
Build a website with a practical design
There are thousands of tricks for e-commerce, with the help of which you can attract users to your online store in addition to the old methods mentioned above.
In the following, we will discuss these eCommerce marketing strategies individually.
1. Personalization
Companies that use the personalization trick have a 6-10% increase in revenue.
What is the secret of their success?
Personalization means finding ways to draw people to your product, such as writing the customer's name in the e-mail title, recommending products based on the user's behavior, or even displaying creative content on the website on the user's second visit to the website. Or during the purchase process, are among these tricks.
Personalization increases the purchase process. Instead of searching for the product, you put it right in front of consumers' eyes. So they can safely reach their desired goal.
2. Focus on User-Generated Content
How about having clients do the marketing for you for free?
That's what user-generated content does. In this way, it allows the customer to find new ways to advertise and introduce your business. So, you should consider user-generated content as an eCommerce marketing approach.
This method will help you in several ways. For example,
Drive traffic to your eCommerce store
Build a group of followers interested in your product.
Coca-Cola did the same by creating the "Share a Coke" campaign, producing special bottles based on people's names, which gained attention on social media.
Here are some practical ways to focus on user-generated content:
Customers try to win contests by displaying your products in different ways.
Feedback pages: where customers share their feedback about the product.
Hashtags on social media: users create content using hashtags of brands.
3. Create a Loyalty Program
A loyal customer is a repeat customer, and who doesn't like that? A loyalty program allows you to continue your relationship with the customer by offering discounts.
Although launching a customer loyalty program requires planning and work, it also leads to continuous purchases, access to user-generated content, and customer retention.
Here are a few things to consider when setting up a loyalty program for your eCommerce business.
First, you need to create different ways for the customer to show their loyalty, for example, through repeated purchases, mentioning you on social networks, or sharing content.
In addition, you should also respond to customer loyalty through rewards, discount codes, or exclusive benefits.
Here are some loyalty methods you can use for your eCommerce marketing strategies.
Create Mouth-To-Mouth Marketing
Mouth-to-mouth is one of the most effective marketing tools in which people recommend products to each other.
Although you can achieve this goal by creating a good customer experience, mouth-to-mouth marketing can be just as effective.
Do you remember we said that customer trust in companies is getting less and less? The reviews come directly from people who are not invested in the company.
So, sometimes they give thoughtful comments about the product and how to use it that can help the customer.
Reviews are an eCommerce marketing strategy that mentions your product and often sells it for you because people think, "if it works for them, it works for me."
Encourage the customer to leave a review, and the post-purchase e-mail we discussed can also come in handy.
When customers encourage their friends, family members, and colleagues to buy from you, they refer them to you.
They will do it if they are thrilled with your product, but you can also get them to do it through referral marketing.
All you have to do is ask the customer to encourage others to buy so that either they get something in return (such as a discount, money, gift card) or a new customer, or both.
For example, Dropbox uses the same strategy, and when a friend you refer signs up, you get more cloud space.
The customer can recommend the product to others in his own words. These recommendations can be in the form of interviews where you ask the customer specific questions so that their answers will help the potential customer.
If you have an eCommerce store, you should ask questions in the interview about the ease of the purchase process, the level of customer support, and easy shipping and installation methods.
A case study allows you to bring a potential customer closer to a purchase by introducing them to customer success stories. Since this should help increase the number of buyers, you need to find customers more similar to your target demographic.
In the case of researching the customer's life before purchasing the product, show its improvement after the purchase.
4. Invest in Live Chat
Chatbots, which you've probably heard of, are one of two ways to use a live chat strategy. Depending on the size of your business, you can have a live chat with customers in your online store.
Live chat, whether with bots or real people, can directly help visitors get answers to their questions as soon as they enter your store or fix them if there's a problem while shopping.
5. Pay Attention to The Shopping Cart
As we discussed earlier, the reasons that cause cart abandonment, in many cases, are related to the customer's trust in the business, product, or delivery system.
It would be best if you eliminated any reason for hesitation to buy to address the customer's fears.
Some ways to prevent cart abandonment include:
Money-pay-back guarantee
Simple and convenient refund policy
Normal delivery
Quick access to customer support
6. Build a Website with Effective Design
No matter which aspect of the eCommerce marketing strategies you pursue, you must have a responsive website. So that your eCommerce business is accessible on all devices (such as a laptop, smartphone, iPad, or tablet).
Today, people need to be able to access content from different devices and read it easily.
eCommerce Marketing Strategies in 2023
Now that you are familiar with eCommerce marketing, let's put it together and look for a good plan for successful online store.
Targeting Based on Industry Benchmarks
Depending on your industry, location, business size, and more, you can set goals with the help of different industry benchmarks.
Consider objectives such as website visits, click-through rate, conversion rate, and customer acquisition cost. Take and compare with other eCommerce businesses.
Dividing the Strategy into Small Tricks
When planning marketing for an online store, we introduced different paths earlier. You may want to follow all of them, but it will not be effective.
First, choose a few strategies you think are more manageable for you and consider each activity.
For example, suppose you focus on a paid advertising strategy to attract users to your store.
Some of the activities you should consider are: creating a Google Ads account, specifying an ad budget, creating ad groups based on target keywords, and monitoring your account daily.
This is simple; first, you should follow one eCommerce strategy and, after getting results, move on to another method.
Delighting New and Regular Customers
eCommerce marketing also continues after the sale. Once someone becomes your customer, you need to keep in touch with them and make them happy.
In this case, you will support the customer's long-term success, and the customer will remain loyal to you.
This makes the customer introduce your product and company to others through case studies, comments, recommendations, and mouth-to-mouth advertising.
Conclusion: eCommerce Marketing Strategies in 2023
eCommerce businesses can use different marketing tools. With the proper use of digital and leveraged marketing, you can launch campaigns that attract customers and grow with the help of your online store.
You can target consumers using different standards depending on the industry, location, and business size.
Remember personalization to attract people to your product.
Writing the customer's name in the e-mail title, recommending content or products based on the user's behavior, or even displaying creative content on the website with the second visit of the user to the website or during the purchase process, you can provide personalized feedback to the customer.
Frequently Asked Questions
What is eCommerce marketing?
it creates awareness and activity toward a business that sells its product or service online.
What are the best eCommerce marketing tools?
eCommerce tools are:
E-Mail Marketing
Search Engine Marketing (SEM)
Google Traffic Analysis
Commission Marketing
SEO Tools
Google Ads