How to Make Money on TikTok in 2023: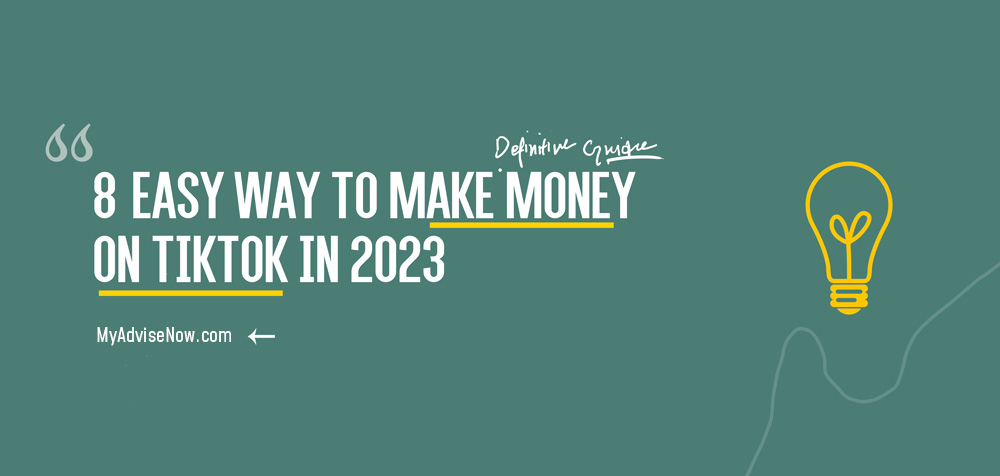 This guy below is a TikTok influencer. His name is
Kody Antle
, and he has approximately 29 million followers and makes $20K to $30K per post. If you think 29 million followers is too big and unattainable, look at the image below: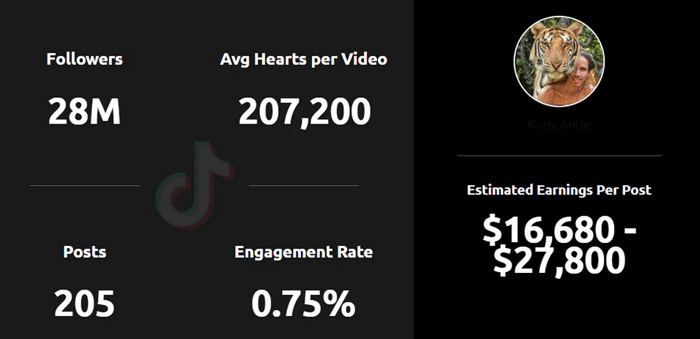 Of course, making money on TikTok is a little different compared to other social media, but in any case,
TikTok
can be chosen as an excellent and
promising source of income. 
However, is making money on TikTok for you, and how does it work? That's exactly what I'll talk about here.
TikTok Business Model, How it Works?
You probably know that other platforms such as
YouTube
gives channel owners commission for the ads displayed on the videos of a publisher. The commission rate is approximately 68%.
Whereas, Instagram pays well-known influencers a fee for each post they publish. But according to the latest information,
TikTok has such a revenue model only for US residents and does not pay its publisher in other countries for the content they produce.
Content Is King
Remember that the key to success in any social media including TikTok is only exceptional content and your continuity.
The content you make should always be attractive, creative, and entertaining. These three features can help your content become trending and make you more presentable.
There are always certain things you can do to create better engagement on your videos, let's talk about it.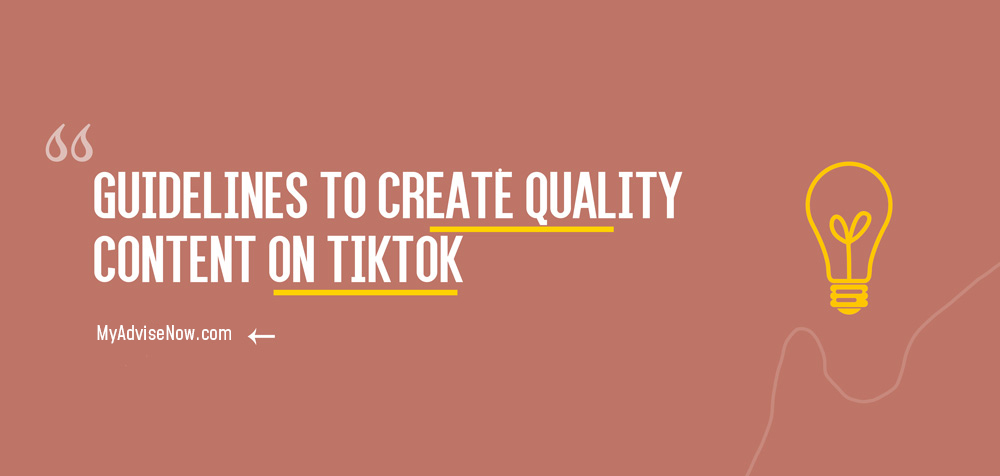 Guidelines to Create Quality Content on TikTok
Check the content of your competitors and get inspiration. It never means copying them, just get an idea to improve the quality of your content.
 Don't stop making quality content. The most important you can do is make as much content as possible, and keep your continuity always going. I suggest publishing at least one video every day so that your growth rate can multiply.
To generate unique content, choose the topics and multimedia that are trending on the Internet, and are popular among the audience.
try to engage your audience, it helps you have a loyal audience. To engage your audience, you can do things like reply to comments, ask questions, or write captions for your videos.
While making content, you must first define and clarify your goal. Choose what you want to publish and then do the related work continuously. Try to choose a subject in which you have expertise and interest, so if you would spend hours on it, it is still interesting for you. Because if you are not interested in your chosen topic, it will be a little difficult for you to continue.
Always use hashtags. Adding hashtags to your videos will help increase the traffic of your videos. You should always use appropriate hashtags, for example, use hashtags that describe what your video is about. Many TikTok audiences look for specific types of content, and hashtags are a way to find the desired the look for.
Collaborate with other publishers who are engaged on TikTok like you. If you work with an influencer who is bigger and more experienced than you, you can significantly increase the number of views of your videos.
Use TikTok effect presets. In the Effects tab on the TikTok application, you'll find a range of effects that you can add to your videos.
Enjoy content making process. This may be the strangest thing you have heard about content-making. But interest in the topic you're creating content about will multiply the speed of your progress.
You know that there are different categories of videos on TikTok, and some of them are way more popular. But all successful videos have in common is that they are entertaining for the audience.
Many popular videos on Tik Tok have a streak of comedy. You should try to use this element in your videos.
Another good feature of Tik Tok is "Duet". In duet, you can use others' videos to create a new video only putting two videos together. Reaction video is popular on Tik Tok. You can express your feelings with a duet together; TikTok users are eager to watch such videos.
Remember TikTok audience enjoys following challenges. So, you can take this opportunity and participate in these challenges and ask your audience to cooperate with you. Of course, this is possible if your challenge is interesting for your audience and has a level of difficulty that makes people willing to take risks.
Have a coherent and regular content production plan and schedule. Considering all these points you should make money from TikTok.
Does TikTok Pay the Publisher?
TikTok pays the publishers directly. However, it is not yet clear how and according to what principle TikTok pays the influencers and how much.
But to make money on Tik Tok, you must be 18 years of age or older, have 10,000 followers, and 100,000 views in 30 days, and be a legal resident of the United States, England, Germany, Italy, France, or Spain.
The amount of money you can make on Tik Tok varies, but just like any other social media, if your content is trending and popular, it can be profitable.
So, to
make extra money
on Tik Tok, you need to increase your views significantly. As a result, more ideas translate into more followers and higher engagement rates.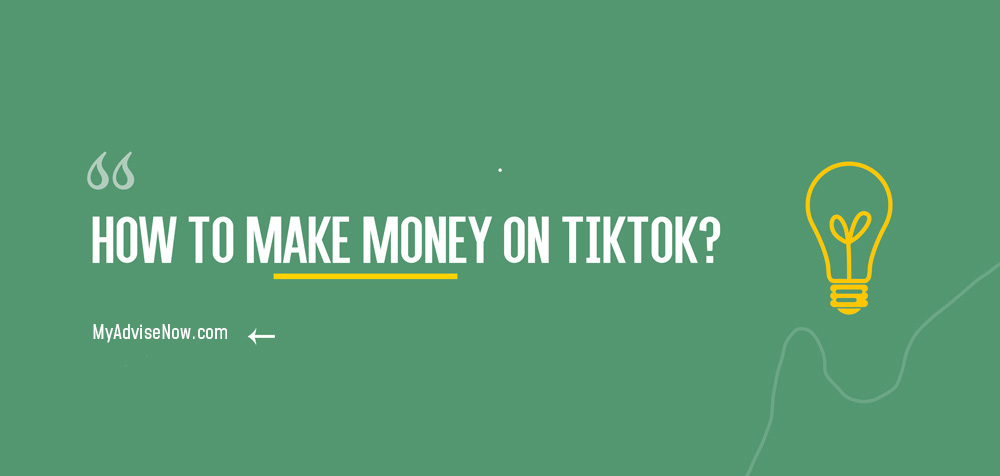 How to Make Money on TikTok?
So, there are two general ways you can make money on TikTok. The first method is common among TiTokers, where you can make money by selling products,
advertising
and etc.
Don't worry about things everything is discussed thoroughly below.
the second way to make money is "Diamonds". In TikTok, there is something called diamonds that users can buy and then give these diamonds to their favorite content creator. So, you can convert these diamonds into cash and earn money on TikTok.
In this way, if you publish content that your audiences really like, it can persuade them to give you diamonds.
8 Ideas to Make Money on TikTok In 2023
All the methods that I introduce in the following are efficient and effective for Iranian users. But before that, remember that Tik Tok does not have a large Persian audience yet, and you should not expect as much from it as Instagram.
1. Sale Products on TikTok
One of the most common ways to earn money on social networks is by selling goods and services. You don't need thousands of followers and thousands of hours of visits to sell your products and services.
So, you can promote your business for free by creating content. Create attractive content that attracts customers to your page.
For example, you may be wanting to sell beauty products. So, make quality educational videos and publish them on TikTok. In the last seconds of the video, add an advertising banner of your products and contact information.
Starting your own brand can help you earn money on TikTok. Start using your products in videos and introduce them to your audience.
The first thing you should ask yourself is what age and gender the products and services are suitable for, and choose your target audience and create content in line with their tastes.
You need to constantly make videos that show your products are attractive enough. And This is critical to the success of TikTok because users don't want to see boring videos that aren't entertaining.
Music plays an important role in TikTok. And it is a complete music album and you can choose to add to your videos. So instead of making videos that have a lot of conversations, it's better to use good background music.
2. Grow and Sell TikTok Accounts
Another way to make money on TikTok is to grow and sell a TikTok account. This is currently one of the most popular ways to
make money from Instagram
. So, this strategy can also be used in TikTok.
To get started, pick a topic and start creating content about it. Once you get more followers, you can sell your page to others. They are plenty of people who may want to buy your TikTok account.
The most selling type of accounts that produce content in a specific category. Whereas, personal accounts are harder to sell because the audience can't relate to the new person.
For example, if you create a TikTok account about travel and adventures, you can easily sell it to companies that offer travel services. You can also do this for other industries like fashion, food, fitness, beauty, etc.
The key to creating a valuable account is quality content. The more followers you have and the better the engagement rate, the higher the price you can sell it.
3. Become TikTok Consultant
If you are specialized and have good skills in TikTok, and you are familiar enough with its algorithm and rules, many people are willing to pay for your services and knowledge.
4. Management of Advertising Agencies
You can mediate between people and brands, and collaborate with them to elevate their business by managing influencer campaigns to
make money
on TikTok.
Your agency will help companies implement their strategies and manage campaigns with influencers and act as an intermediary between the audience on Tik Tok and companies that are looking for these people's services. In this way, you help companies to implement the best work and advertising strategy in TikTok and help them advance their goals by creating a social marketing strategy.
Currently, many Instagram advertising agencies help you
earn money
from
Instagram
. You can do the same for TikTok.
Setting up an effective and reputable agency takes time and effort. The good news is that you don't have to limit your services to just TikTok. You can also run influencer campaigns for other social media.
5. Get Sponsorship to Make Money on TikTok
Considering what kind of target audience, you have on Tik Tok, some businesses may be willing to sponsor you to create content.
For example, imagine that by releasing a music video, a large number of young people aged 18 to 25 have followed your account.
Now, a brand selling clothes or handkerchiefs and accessories will pay you to publish some content and introduce it as your sponsor. This way you will be to make extra money on TikTok.
6. Become a TikTok Influencer
As with other social media, one of the ways you can earn money is by becoming an influencer. While becoming an influencer isn't easy, it's definitely worth the effort.
7. Cooperation with Different Companies and Brands
To start earning, you need to let other brands know you're interested in working with them. You can introduce brands and companies to your interests through your biography.
You can also start an advertising campaign or join a marketing agency to reach potential customers.
8. Making Money from Live Broadcasting
You can earn money by collecting donations from your viewers on Livestream. TikTok allows creators to receive virtual gifts with monetary value via Livestream.
Any user 18 years or older can buy coins and gift them to their favorite influencer to show their appreciation. They can support the publisher with this gift by clicking the "Gift" button below the relevant user content.
The gifts that publishers receive from their fans turn into diamonds. Later, you can convert the diamonds into cash, which can be deposited directly into your PayPal account.