Can I make money on WhatsApp among all the options? What are the ways? And what is it like? In this article, we will discuss the answers to these questions.
As you know, Facebook bought WhatsApp a few years ago. Facebook has now allowed content creators to monetize their content, but this has yet to extend to WhatsApp.
But the fact is that people engage more on WhatsApp than even on Facebook during the day.
So, there is always a way for those who are determined. While WhatsApp does not provide a direct route to earn money, there are some definitive ways you use it for this purpose.
So, let's get started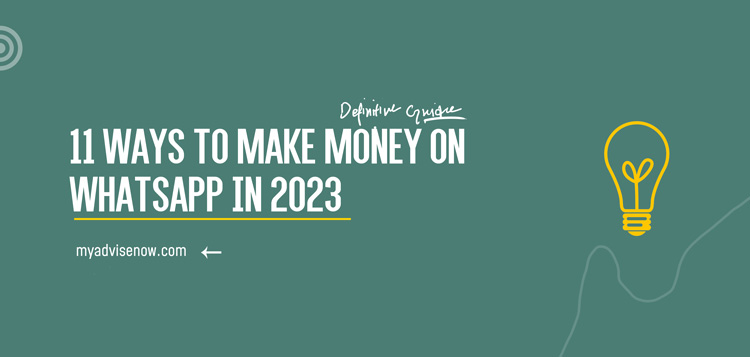 1. Make Money with YSense
Have you ever heard of pay-per-click websites? Many of them are scams! They never pay for clicking on the link they deliver to you. That's why we tested ySense for payment, and it worked.
ySense is a website that pays you to take surveys, watch videos, play games, and more! But why did we include it in this list?
While ySense pays you for taking surveys, watching videos, and more. It also pays you a commission for referring your friends.
When you sign up for ySense, you will get a referral link, and then you can log in to WhatsApp and share the link with your contacts. The more people register in the system, the more points you earn.
The good thing about ySense is that it is free.
There are many ways to get paid. We recommend you use digital payment services, such as Skrill, PayPal, or Payoneer, which operate worldwide. Then you can deposit the money to any bank account.
2. Make Money on WhatsApp Through Short Links
The easiest and most popular way is sending short links. You may have already been sent a short link, clicked on it, and never knew that the person who sent you the link was making money.
What is a short link?
Short links are web addresses of a website. In other words, a short link is a shorter version of a long web address.
Both links direct the user to the same site, but one is more extended, and the other is shorter.
Using this method, you must look for news, tips, or any information your contacts or group members would like to read. You need to copy the web link, then go to an URL Shortener to convert it into a short version of the same URL.
Then copy the shortened one, open your WhatsApp and share it with your contacts and groups. When your contacts click on the link, they will be shown ads before the actual content. This way, you can make extra money.
If you have a group with enough WhatsApp audience interested in reading your content, it will bring you a lot of income. Using a link shortener is easy, and many sites operate in this field.
3. Make use of affiliate links
Affiliate marketing is the most profitable method you can think of. This method can bring you good profit if you have a large audience.
If you belong to a group that focuses on a specific topic, for example, fashion, you can talk to the group about a fashionable dress. Tell them how people like the dress and what celebrities wear it.
Then go to an affiliate network, and look for a company that sells such clothing. You need to copy the link and share it with the group members.
Anyone who purchases a product through the link you provided will receive a commission—many eCommerce companies selling products or services online support this method.
Read more:
4- Offer Your Products or Services
Instead of sharing affiliate links, you can offer your products or services to others. This is one of the ways you can make money on WhatsApp.
If you have products or services, you can make business cards and send them to your contacts or groups and tell them how much discount you are giving them.
Always make sure that the people or groups you are approaching are interested in your type of products.
If you don't own the product, all you have to do is create an online store. Share products from suppliers in your online store. Then post the links of these products to your WhatsApp contacts.
If any of them clicks on the link and goes to the online store to place an order, the suppliers will ship the goods to them, and you will get your commission.
So this way, you don't have to worry about shipping the product.
5. Drive Traffic to Your Blog
Many bloggers make money on WhatsApp by driving traffic to their blogs. So, this step involves having a blog.
Blogging is one of the best ways to make money online, but you must get visitors to blog first. Traffic means people who visit your blog. This is where WhatsApp comes in.
For example, let's say your blog is about communication groups. You can create a communication group on WhatsApp. Invite people and tell your friends to invite others. Make the group very attractive.
Then whenever you publish something on your blog, share a compelling summary of your post with a link at the bottom of your relationship group.
You will have visitors to the WhatsApp group, and the WhatsApp contacts may click and send your summary to their contacts. It can go viral on WhatsApp, which means lots of visitors and money!
6. Earn Money WhatsApp for Every Download
This is one of the great ways,  but it needs to be used properly. You can upload files like photos, videos, music, games, etc., to these websites, and they pay you for each download.
Before a person downloads something, sites show them surveys or ads; after taking surveys or seeing ads, they download the desired app.
So, if you want to use this method, you must join groups or connect with people interested in a particular content. Then share the content in each of them. Upload sites, share the link, then they download, and you earn.
7. Become a WhatsApp Marketer
It sounds unbelievable, but people get paid to advertise jobs on WhatsApp! To do this, you must first be in groups with many contacts.
Then use forums, social media, and whatever platform you have to promote yourself. Use tags like "I can help you get 1000 new customers through WhatsApp groups. If you are interested, contact me.
It will surprise you that you will find people who will help you if you do it right.
After receiving it, you must plan how to introduce their product or service to your WhatsApp audience.
8. Make Money With Clixsense
Many websites claim to offer this service, but the truth is that not all of them are legit. Most of them don't pay. That's the annoying part, so we took our time investigating. This website is 100% real and works effectively.
ClixSense is a website that pays you to take surveys, watch videos, play games, and more! But why did we include it in this list? Read more
While ClixSense pays you when you take surveys, watch videos, and all that, you also pay for referring your friends.
When you sign up for CliXSense, you will receive a referral link. Then you can log in to WhatsApp and share this link with your contacts. The more people you sign up with, the more points you get.
9. Earn Money Through PPD Networks
Another easy way to make money on WhatsApp is PPD Networks. Now you are wondering what PPD means. Do not worry; It's not a technical thing. It's just an abbreviation for "pay per download."
You have to boost downloadable content, and you will get paid for each download. "Pay Per Download" is the best site for this worldwide.
Getting started is easy; go to the website and register, upload the file you want to start sharing and share the link with your WhatsApp contact.
When someone downloads your uploaded file through your link, you get paid. You get some money for each download, which can vary depending on the download capacity.
10. Expand Your Network
You can work for yourself. That's why I'm coming to my favorite method to show you. As you know from entrepreneurs. Today it is developing in a wide area. This is what you can do through WhatsApp.
You can advertise your business. You can share features with your networks if you sell a product, app, or anything else. In this way, it works as an online store.
In WhatsApp, you have many chances to earn significant profits. The reason is your relationship with your audience. You and your audience have a good understanding, trust, and confidence in each other.
So, you can expand your business with the help of WhatsApp.
Read Also:
11. Make References
Some apps pay you a small token if you refer your other refer to it or offer a recharge card and various rewards. All you need is to get the app and invite your friends. , direct, and earn.
Conclusion
What is the first thing you do after waking up? A study found that 80% of smartphone users check their phones within 15 minutes of waking up. But what's the first app you open?
Most people open their favorite messaging app to check their messages at the beginning of the day. For a large percentage of people, this application is WhatsApp.
With 2 billion monthly active users, WhatsApp is the world's most popular mobile messaging app.
So, you use WhatsApp for a passive income to add some more money to your balance.