How to Make Money on Shopify in 2023: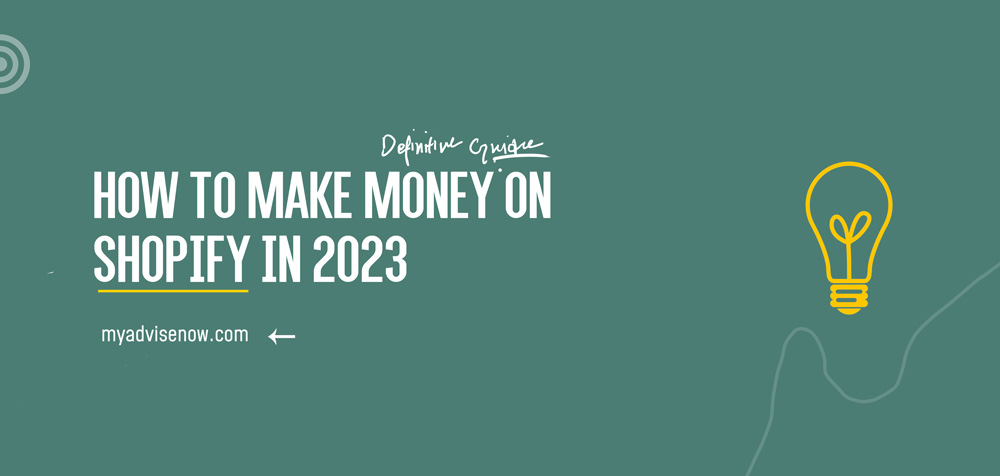 Shopify is an e-commerce platform that is growing every day. The growth of online shopping platforms and international payments worldwide has been effective in e-commencers success.
Basically, Shopify offers different services for all types of investments. If you are planning to make a new investment and bring your small business online, Shopify will help you with its various services and tools to grow.
In this article, you will learn thoroughly about Shopify, the ways to Make Money on Shopify in 2023, and strategies you can use to sell your products and services on Shopify.
What is Shopify?
The story of Shopify goes back to 2004. When Tobi Lütke, a young programmer who had just moved to Canada, was trying to establish his own business.
Lütke first decides to build a snowboard store website. For this reason, he designed a store for his own site, Snowdevil. Soon became clear that Lutke's platform was worth more than snowboards.
That is why Lutke and his development team decided to work on their platform to make money from it. Lutke's efforts led to the launch of Shopify in 2006. Now Shopify is one of the players in e-commerce in the world.
More than a million stores have been built with Shopify.
Different stores in 175 countries use Shopify services.
The total sales of stores built with Shopify are about 230 billion dollars.
Shopify has more than 5000 employees.
The role of Shopify has increased, and many stores have reached millions of dollars. The main feature of Shopify is that it provides you with a store site very easily and quickly. So, you can have a store without coding, hosting, domain, or even installing software.
One of the success factors of Shopify is that it is not just a simple seller, rather it supports its customers in various aspects. Shopify does not just give customers an online store but helps you grow your business.
In addition, it also provides you with various tools such as online chats, and payment methods, and is always ready to support and fix the problem of your site.
These features have made Shopify the first choice of many people in the world for setting up an online store.
So, basically, Shopify is an online shop-building platform. All those who plan to have an online store can start Shopify to build and design their store. Setting up a store on Shopify is simple and hassle-free.
You can easily upload your products to your store and monitor them directly from within the platform. All payment technologies and site security issues are managed by Shopify.
In addition to online payment, Shopify also provides you with a POS that integrates all face-to-face and online payments, and you can easily make money on Shopify.
Read also,
Shopify Account Plans and Fees
Like most e-commerce platforms, Shopify offers different services and plans to its customers, and each one has a different price. All these services meet the needs of a typical business.
1. Shopify Lite
Shopify Lite is one of the simplest and cheapest services offered by Shopify. This plan costs only $7 per month and allows you to have a selling store for your products. You also get a card reader for purchases.
Thus, Shopify Lite allows you to integrate your different social media pages such as a Facebook page with your business. So, you can easily communicate with your customers through chats.
2. Classic Or Basic Shopify
This plan is designed for larger businesses. By paying a $30 subscription, Shopify Basic allows you to sell unlimited products and categorize your goods and services. This plan also offers you POS and social media integrations.
3. Standard Shopify
The cost of a standard Shopify subscription is $79 per month. This plan has all the basic services of Shopify, and in addition, it supports gift cards and helps you to manage your sales and transactions, so making money on Shopify is easier and more regular in this plan.
This plan offers services such as 5 user accounts for employees, a POS terminal, barcode scanners, receipt printers, and integration with other POS devices.
4. Advanced Shopify
This plan is designed for much larger, and higher-volume businesses. This plan helps you get more support for your site, and keep your customers integrated.
Advanced Shopify has all the features of the previous plans, and in addition, it has the possibility of logging 15 employees at the same time.
Tracking of shipping and advance rates and sales and performance reports are more accurate than other advanced features of Shopify.
Read Also,
How to Make Money on Shopify in 2023?
There are many ways to make money on Shopify. All kinds of products and services such as clothing, consulting, artwork, and can be sold through Shopify internationally.
So, let's jump into it.
1. Start an E-commerce Store
One of the best services and features of Shopify is the possibility of setting up an online store. Through the store, you can sell everything, from handcrafts to second-hand items.
So, Shopify allows you to manage your online store comprehensively. So, without wasting time go to Shopify and start your store right away.
2. Start Drop Shipping
Drop shipping is one of the newest phenomena in selling online and making money with Shopify. In this method, you do not need to buy or store products in a warehouse.
Rather you offer the products for sale on your site, and the ordering and shipping of the product are outsourced to local or international companies.
This makes you in no need of a warehouse for your products. Also, you do not need to worry about selling or shipping your product.
It is very easy to understand drop shipping through Shopify. You just need to enter the product details and prices and receive the orders through Shopify and then through your drop shopping deliver the item to your customer.
3. Marketing for Shopify
Here you do not need to sell products and services through Shopify. If you attract a customer for Shopify from your account or site, you can earn a good amount of money. Simply, the more you bring customers, the more you get paid.
So, If you are a blogger with a lot of audience and followers, you can probably make a lot of money through marketing for Shopify.
4. Make Money on Shopify through Your social media
Today everyone has a social media account. So, you can the advantage of your social media audience and turn it into a profitable business.
Therefore, another way to make money on Shopify is to promote this platform on your social media account. Advertising products and services on social media such as Instagram and Facebook can be suitable.
The Best Ways to Earn Money on Shopify
Making money with Shopify is more than just setting up an online store. You must consider these points to have a successful store and sell your products and services.
1. Display And Describe Your Products Thoroughly
The products you plan to sell should have appropriate and high-quality photos. People in online stores need photos and detailed descriptions of your products. So, they can know what exactly they are buying.
Your products should have high-quality photos so that they can be seen easily. A detailed description of the product is also essential.
All technical features, dimensions, and specifications of the product must be written for the customer. Color, size, special features, and anything a potential customer needs to know should be clearly included. The FAQ section also helps you to answer customer questions easily.
2. Research about Customers
So many people use this platform to sell their products online. So, you have potential competitors on Shopify.
It is better to do enough research about your customers before starting to work. For example, What the customer is looking for in your store, and how they can be useful for you.
Competitive pricing is also very important in attracting customers. This makes you compete better with other sellers.
Research your competitors and their pricing to find the right price for your products. To achieve profit, it is necessary to have a balance between the prices.
3. Provide Quality Services to Your Customers
The more excellent and high-quality your services are, the more people will become your potential customers, and the easier it will be for you to make money with Shopify.
So, make multiple ways to communicate with your customers so that they can easily ask questions and access after-sales services. Social media messengers such as Facebook Messenger, Instagram, and WhatsApp can do the job for you.
Another thing you could do is share your contact numbers or email on the site. And hire trained staff to answer questions and provide after-sales service to ensure customer satisfaction.
4. Be Flexible and Up-To-Date
The demands and needs of customers may change quickly and day by day. It is better to change your store products regularly so that you can meet the needs of customers.
Also, be flexible about pricing and marketing methods. Have up-to-date market analysis and communicate effectively with your customers.
What do you think about making money from Shopify? How useful do you think Shopify is? If you plan to have an online store for yourself, you can get help from Shopify to build and design your store.