Earning money from Telegram has made many people rich in the past years. Maybe if you told this story to someone 5 years ago, they wouldn't believe it! But many young people and start-up businesses used this platform and had significant growth. Stay with MyAdviseNow (MAN) to read more about Telegram working strategies to earn money.
Social media marketing is a very important strategy that provides many opportunities for marketers. But we all know that the main purpose of a medium like Telegram was not buying and selling or growing businesses; It was intended for people to use this platform to improve their communication with others. But little by little, we saw that many people considered Telegram activities more serious than others! These people are the ones who predict the future in the best possible way.
In any case, the point is that if you see that earning money from Telegram is booming now, you should know that there was no plan for this in advance and people took this action spontaneously.
In the continuation of this article, MyAdviseNow is going to express the mechanisms that by using them correctly, you can even earn daily income from Telegram.
Status statistics helps users earning money from Telegram
Here are some general statistics about Telegram that marketers may find useful:
About 15 billion messages are sent daily in this application.
This application does not charge you the lowest cost for advertising.
About 85% of Telegram users use the Android operating system.
Telegram program is active for 13 living languages ​​of the world.
About 67% of Telegram users are men and 33% of them are women.
38 percent of these users are in the age range of 25 to 34 years and 27 percent are in the range of 18 to 24 years.
What makes Earning money from Telegram easier?
There are many ways that people can make money from Telegram. But what feature caused this to happen? Here you can see features that made Telegram the best earning app.
Telegram users are active, educated and well mannered.
Marketing on Telegram is a new strategy . there is not much competition.
The conversion rate of users to customers in Telegram is much higher than other marketing methods
Telegram's marketing strategy allows marketers to create a seamless user experience
Telegram allows marketers to provide relevant content to their members
Creating a channel in Telegram is free and does not require any special skills. You can access a limited number of users and present your messages to them.
You can create a chat with customers to achieve your marketing goals. Using bots can help improve your branding status on Telegram. For example, you can collect the information your customers need using Telegram bots. and finally have a better performance in earning money from Telegram
You can manage your earnings in a better way by creating private channels in Telegram
User information in this program is protected in the best possible way
Telegram application is very user friendly
You can use an automatic timer to delete some of your messages that you only need for a limited time from your channel.
You can pin your messages in your Telegram channel group. Many marketers believe that finding messages is one of the best opportunities that Telegram has provided to marketers.
You can transfer all kinds of files in different formats in this application
We have said all this, so that you know what a wonderful application you are facing, now we want to introduce the first and clearest way to earn money from Telegram without any capital, and that is to use a Telegram channel.
Telegram channel growth and development training
After you have launched your channel, it is time to implement important and effective measures to grow and develop it and literally earn money from Telegram messenger.
The more contacts and members of the channel, the more possibility of earning daily income from Telegram.
So here you have one goal, increasing the number of members.
To achieve this goal, the smartest way is to use all the following tips:
Choose a name for your channel that is easy to remember and you can easily do your branding process later. Don't think of copying your competitors; Always being unique has helped a lot in promoting businesses.
Make sure that your logo is easy to remember so that users can immediately understand which Telegram channel they are following after seeing your logo image.
Write the benefits of your brand in the channel description section.
Produce high-quality content that communicates directly with your audience and precisely targets their core problems.
Create watermarks for images and videos of your channel
Post consistently; Be sure to have a detailed plan for the date and time of publication of each post.
Make sure that there is no irrelevant and unnecessary content in your channel; The existence of such contents is so called to the taste of new users. If you find bad content in your channel, delete it immediately.
Promote your channel on social media and Q&A platforms like Quora.
Start a blog and publish content on it; After some time, from all the contents in this blog, give a link to your Telegram channel.
Offer gifts and special discounts to your users for different reasons.
Join groups related to your work topic and participate in discussions; Finally, by using recruitment tricks, invite group members to join the group naturally.
Try not to change your channel format less than once a year. Format means the type and structure of sending channel contents.
In the channels directory, put the link and name of your channel.
Be moderate in publishing your posts; There was no channel that posted too much or rarely produced content and achieved success.
Differentiate your Telegram channel by using exclusive stickers that you have produced yourself.
How to Create a Telegram channel and earn money from telegram channel:
Earning money from Telegram through Telegram channels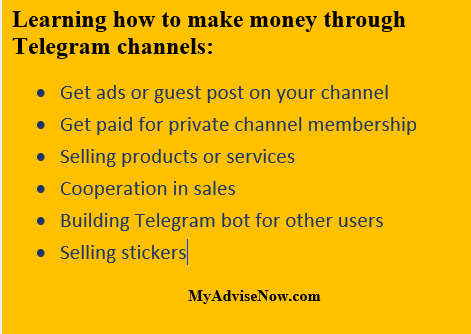 Well, before reading the rest of this section, make sure you have read the above thoroughly.
You now have a well-developed channel.
So it's time to make money from Telegram using the following methods; Of course, if you act smartly.
Get ads or guest post on your channel
As you know, Telegram does not have the feature that newly launched channels can advertise themselves. In fact, Telegram has entrusted everything to the users themselves.
This issue has made admins think of advertising their channel through other successful channels. If you check your Telegram right now, you will see many targeted ads on multiple channels. If you have a good growth, you can receive a fee from other channels according to the fair tariff that you specify. The more feedback your channel has, naturally, the higher the fee you will receive.
Get paid for private channel membership
Another way to make money on Telegram is to start a channel that has very useful information and start promoting it. Then you can specify tariffs for the membership of different people in that channel.
To accomplish this, you need to have set up a public channel first; After this channel is somewhat successful and you have found your target customers, it's time to monetize your private channel.
For example, we all have different exchange channels in Telegram; Most of them, after the number of their members reaches the limit, they start a channel and put information and signals of buying and selling in it, and they charge a fee from interested people to join it. This also applies to educational channels.
Selling products or services
Today, people trust the web space more than before. We see a lot of online shopping every day. From buying small life items to cars and even in some cases houses! So, if you intend to earn money from Telegram by selling your products, it is not difficult for you; The only problem is that you have to be smart.
Telegram has provided you with a platform where you can easily multiply your sales by implementing some advertising techniques. If you have a website or application, you can draw users from Telegram to your website and application by creating advertising content about your product.
Collecting money by accepting donations
Making money from Telegram does not necessarily have to be for yourself; You can use this platform to do good and humanitarian work. If a reputable brand is behind your Telegram channel, you can easily collect a lot of money and spend it on charities and things like that. Be aware that earning credit for this issue requires regular activity over a long period of time.
Be sure that collecting money for charities, in addition to being a humanitarian act, will greatly improve your brand image and will cause customers to have much more confidence in buying from you in the future.
Cooperation in sales
Sales cooperation has always been one of the things that, if done correctly, is very profitable. You can sell products, services, etc. of various other brands in your Telegram channel by specifying your commission for sales and receive the commission. In other words, you will be a representative of a brand that for every purchase made through your Telegram channel, you can receive a commission according to the contract you signed with the target brand.
This method is one of the best strategies for earning money from Telegram or in other cases. Because you will receive a commission without any trouble, just because of the credibility and reputation of your Telegram channel and the number of members you have.
Building Telegram bot for other users
If you are good at it, you can build robots for other jobs. Creating a robot is not difficult, but it requires technical knowledge and creativity. For example, robots that manage Telegram groups have been very well received and many groups are using the services of these robots. You must have come across this group of robots in the groups you have been in so far. Of course, this is only one of the ways to earn money from Telegram by making a bot.
Selling stickers
If you remember, one of the reasons why Telegram seemed so interesting to Iranians and many of them decided to come to Telegram from the Viber application was the attractive stickers that were in this messenger. With the increasing popularity of Telegram and its stickers, gradually many groups decided to make their own stickers. It can be easily said that Iranians performed much more and stronger than other Telegram users.
However, you can gain a lot of popularity by making some free sticker packs that people like. Then, it's the best time to sell your new packs or make custom stickers for different collections. The way and method of making stickers in such a way that it is possible to earn good money through Telegram, must be learned completely professionally. So, to get started, do a Google search right now on how to make stickers.