Ways to earn money through Facebook: Facebook is one of the popular platforms that become famous worldwide and currently has more than 2.79 billion monthly active users. Most people use Facebook to share photos and keep in touch with friends; For this reason, it is one of the best options for earning money from the Internet.
In this article, MyAdviseNow (MAN) will introduce you to methods of making money from Facebook so you can earn it without investing.
Advantages of using Facebook to earn money
Using Facebook as a way to earn money can be valuable and viable. Many people worldwide are now using this social network as a tool and method of making money. Earning money from Facebook has many advantages, which are listed below.
Greater access to potential audiences and users
Dollar income and appropriate
The possibility of providing services and interacting with businesses
The principles of making money from Facebook
Making money from Facebook is not a simple process and requires time and constant effort. To make money from this social network, You must follow a series of principles and rules that we will mention below.
Creating a specialized page on Facebook
Your page should have valuable and attractive content to attract the audience's attention. The more appealing your page content is, the higher the CTR rate.
Your page should have at least 1000 targeted followers.
Publish exciting and relevant posts daily and regularly.
Increase the number of likes. In the beginning, invite your friends to like your page. It increases the trust of the audience.
Read Also:
Ways to earn money through Facebook.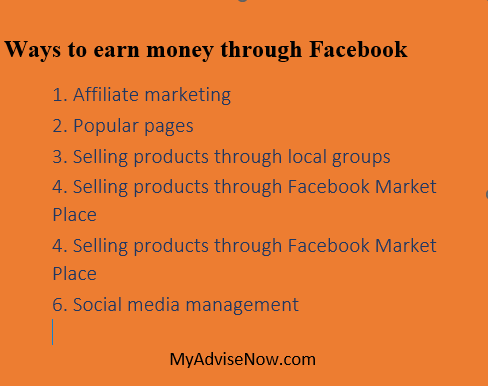 In this section, we will introduce the techniques of making money from the Facebook so that you can make money through this social network.
1. Affiliate marketing
Affiliate marketing is a technique by which you promote the products or services of other companies. If you don't have a product or service to sell, you can earn money from Facebook using your page as an affiliate. Also, Facebook groups are a great way to implement affiliate marketing; you can find related groups, join them and send affiliate links inside the group.
As a result, every time someone uses your link to make a purchase, a specific commission will be deposited into your account.
2. Popular pages
One of the techniques to earn money from Facebook is to create popular pages. Fun pages gather millions of followers and get lots of likes quickly. You can publish brand ads on these pages. Also, placing a link to different websites encourages users to visit the sites. The website traffic will increase by clicking on the links, and you will also get paid.
3. Selling products through local groups
Another way to earn money from Facebook is to join local groups. Find groups that match your area of ​​expertise and spread the word about your products and services. By doing this, you can encourage users to visit your website link. Increased website page views mean more traffic, potentially increasing your search engine rankings. Before joining local groups, you should know that each group has different selling policies, so read the group guidelines before posting products.
4. Selling products through Facebook Market Place
One of the techniques to make money from Facebook is to use its free Marketplace. Users can buy and sell products through this market. Since everyone has access to the Facebook marketplace, you can sell your products and earn significant money. If you want to use this method, you need to take high-quality images of the products and publish them on Market Place, along with full descriptions.
5. Publish video content
Facebook allows you to advertise and earn money automatically on the videos you upload. In this case, unlike YouTube ads, the ad is played in the middle of the video. If you want to use this method to earn money from Facebook, you should pay attention to a few points, which are:
Get more than 30,000 1-minute views on your videos.
Publish from your Facebook page.
The time of videos should be 3 minutes or more.
Videos should be unique and add value to viewers.
6. Social media management
Another way to make money from Facebook is to manage its pages. You can get hired as a social media manager for companies that plan to use Facebook as a marketing tool and earn a lot of money. Some of the duties of this job include:
Scheduling social media posts
Responding to user comments
Create and publish high-quality images
content management
Monitor advertising campaign metrics
final word
Although the use of Facebook is limited these days, it is still known as one of the ways to earn money from the Internet. In this article, we tried to introduce ways to make money from Facebook and explain the principles of using it to get started.
Please let us know in the comments section if you have any questions or doubts.