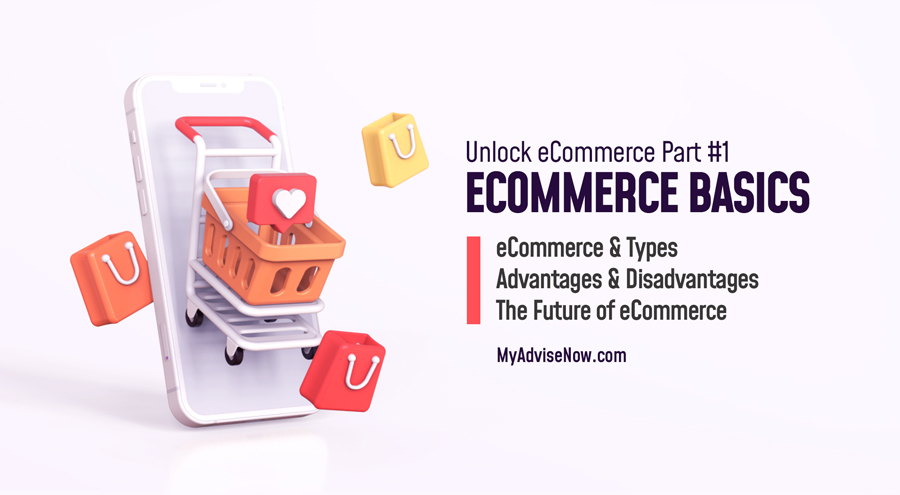 Unlock eCommerce is a series of thorough articles where I discuss the basics of eCommerce, eCommerce marketing, eCommerce SEO, eCommerce platforms, eCommerce channels, and more.
We are starting with the basics of eCommerce and its advantages and Disadvantages. But before that let's talk about some general information about eCommerce.
We all know that the emergence of eCommerce giants, such as Amazon and Shopify has completely changed the face of the retail industry.
With this in mind, it is clear that the highly competitive nature of eCommerce will continue to change the retail sector and influence customer behavior further.
Starting an online business seems like an attractive idea to many entrepreneurs today. But to avoid drowning in this dynamic business, it is necessary to familiarize yourself with its tools and techniques.
This article will take an in-depth look at the eCommerce industry. So, if you are the one who is planning to launch an eCommerce business or have already started one and want to know more about eCommerce to build up a solid business, stay with us until the end of the article.
Let's get started!
What is eCommerce?
eCommerce stands for Electronic Commerce. eCommerce refers to any business activity using the Internet. This business can import, export, or exchange goods, services, and information.
eCommerce often refers to selling products online, but you can use it to describe any business transaction online.
The history of eCommerce began with the first online sales. In 1994, a man sold a Sting CD to a friend through his website, NetMarket. He was the first consumer to buy from a business unit through the Internet.
Since then, eCommerce has expanded to make products more easily discovered and sold through online retailers and marketplaces.
So, freelancers, small businesses, and large corporations have all taken advantage of eCommerce to sell their products and services on a scale that would never have been possible using traditional offline retail.
Types of eCommerce
There are many ways to categorize eCommerce. eCommerce can be classified based on the type of product or service it offers, the people they do business with, and the platform they run on.
In the following, we have briefly discussed the types of eCommerce businesses from all three perspectives to create a clear picture for you.
4 Types of eCommerce
eCommerce has four main models that describe transactions between consumers and business entities.
1. Business to Consumer (B2C)
B2C is a business unit that sells goods or services to a consumer. B2C is one of the most widely used sales models in eCommerce.
When you buy a pair of shoes or a bag store, you make a transaction between the business entity and the consumer.
2. Business to Business (B2B)
B2B is a business unit that sells products or services to another business unit. For example, when a manufacturer supplies products to retailers or wholesalers.
3. Consumer to Consumer (C2C)
When a consumer sells goods or services to another consumer is called C2C. An excellent example of C2S is eBay, where a person can sell a product to another consumer.
4. Consumer to Business (C2B)
C2B is when a consumer sells goods or services to a business entity.
Different Forms of eCommerce
eCommerce can have many forms, including various transactional relationships between business entities and consumers and multiple goods exchanged in these transactions.
1. Retail
Retail is the partial sale (in small quantities) of a product by a business unit directly to a consumer without any intermediary.
2. Wholesale
Wholesales refers to bulk sales of products, often to retailers.
3. Drop Shipping
It relates to the sale of a product made by a third party and sent to the consumer. In other words, drop shipping is a retail method in which the business unit does not keep the goods it sells in its warehouse.
Instead, the customer buys the custom goods from a third party (supplier), and the same third party sends the goods directly to the customer.
As a result, the business unit does not have to have a warehouse or capital to manage the goods. In this method, the business unit's profit is the price difference that it buys from the supplier and sells to the consumer.
4. Crowdfunding
It means collecting money from consumers before a product is available to increase the initial capital to supply it to the market.
In other words, Crowdfunding is a financing method in which many people are asked to invest or donate a small amount of money.
In its traditional method, large amounts of money are requested from a small number of people.
Still, with the arrival of the Internet, investors found the ability to negotiate with at least thousands of people, and finally, this method was utterly transformed.
Today, this work is mainly done through the Internet. This way, people looking for investment can be financed by creating a profile for their desired idea or project.
Crowdfunding or collective investment has its types: investment-based, loan-based, donation-based, and reward-based.
5. Subscription
In this method, a subscriber's automatic purchase of products or services will continue until the consumer cancels the subscription.
In other words, subscription-based eCommerce is a business model in which the consumer pays a membership fee (monthly or annually) to take advantage of specific products or services.
6. Selling Products
It refers to the sale of tangible products that must complete the stock of goods and the shipping order to reach the consumer.
The sellers of physical products are the same online retailers that you are probably very familiar with and that you or someone close to you has bought from them at least once.
Physical products include clothing, home appliances, digital devices, stationery, and tools.
Buyers can get the physical products they need by visiting online stores and adding products to the site's shopping cart. When the purchase process is completed, buyers can receive their purchases at their doorstep.
It is also possible for them to make the purchase online and go and pick up their purchase from the store. Some famous online stores are Amazon, Alibaba, and Shopify.
7. Selling Digital Products
It refers to selling digital products, such as e-books, software, online courses, licenses, and any downloadable product.
We can mention Amazon as a platform for selling e-books and Udemy as a platform for selling online classes.
8. Service
Service offers a skill or a set of skills to satisfy the needs of consumers. Along with products, they can also sell services online.
You are dealing with service-based digital businesses whenever you hire a coach, freelancer, or consultant through online platforms. The process of purchasing services varies depending on the provider.
Some of them connect buyers to a network of freelancers so that they can choose the right freelancer according to the service they want and reach their goals.
But to receive benefits on other websites such as Fiver, buyers must first register their order on the site so that the freelancers can accept and carry it out if they wish.
How Do Social Networks Facilitate E-commerce?
Popular social networks such as Facebook, Instagram, Twitter, and Pinterest are usually not a substitute for online stores. Instead, sellers use social networks to showcase their existing products in their online stores.
They use visual content, such as photos and videos, to attract customers and audiences. Consumers who come across an attractive item on social media are directed to the online store to make their purchase.
Advantages And Disadvantages of eCommerce
The Internet plays a leading role in all sectors of eCommerce. Therefore, it is not surprising that the benefits and advantages of eCommerce are widely evident. Understanding them can help you grow your business.
Advantages of eCommerce
1. The Possibility of Quick Purchases for Consumers 
eCommerce platforms make it possible for consumers to shop at any time. That means consumers can purchase the products faster and without any time limit (even outside the store's working hours).
Think about those who don't have regular working hours or are too busy to visit stores in person. So, eCommerce makes it easy to shop without any limitations.
Because online stores are available to customers around the clock, seven days a week, and all months of the year (even on holidays).
In addition, with online stores equipped with fast and express delivery systems, even the time it takes for the order to reach the customer has been minimized.
2. Stores Can Easily Find New Customers
Despite the widespread use of online trading, especially the possibility of advertising on social media, stores can connect to a vast source of relevant audiences. Audiences who ironically may have a ready-to-buy mindset.
3. Significant Reduction in Operating Costs
A relatively significant investment is needed to buy or rent a store location to set up a traditional store.
In addition, there are side costs such as purchasing and installing shop signs, external and interior design, and sales requirements, which you do not face in an online business.
Without the need to have a physical store, there will be no need to have many personnel and employees. Thus, eCommerce allows sellers to set up their online store with minimal operating costs.
4. Selling Products, Based on Personal Experiences
With the help of rich customer profiles, you can provide first-hand offers to your customers.
Also, displaying products related to customers' recent purchases or their geographic location increases the probability of purchasing. Also, the customer feels that you understand him.
5. The Possibility of Buying from Anywhere
With an online store, the whole country will be your field of activity. If you are a traditional business owner, you are facing space limitations.
In other words, you can provide services only within the geographical area of your physical store.
Disadvantages of eCommerce 
Having an online business is not all advantages and superiority. Like any advantage, there are also disadvantages, and this type of business also faces challenges.
When starting an online store, it's essential to be realistic. Therefore, we have listed some disadvantages eCommerce may have but may not apply to traditional businesses.
1. Limited Interactions with Customers
Not being face-to-face with the customer makes understanding the customer's needs and concerns challenging.
Of course, there are methods (such as support or after-sales service) to remove these limitations, but face-to-face customer interaction still needs to be compared.
2. The Impact of Technology Failures on Sales
If your online store is slow or unavailable to customers, you can only sell once you fix the problems. Therefore, it is essential to use reliable hosting service providers.
3. There Is No Possibility of checking the Product
For consumers who want to try and test a product with their own hands when shopping, especially in the realm of physical effects such as clothing, shoes, and beauty products, the eCommerce experience can be limited and inconvenient.
The Future of eCommerce
E-commerce is an environment that is constantly changing and improving along with technology. Companies are busy competing with each other to get more shares.
So, if you look at eCommerce statistics and analysis, you will find that this industry is witnessing significant growth and change every year.
Regardless of what kind of online business you are about to start, it is safe to say that you have a bright and promising career ahead of you.
In this section, we briefly discuss the predictions made about the way and performance of this industry in the Future and see its possible changes.
1. Drones Delivering Services
By placing drones instead of employees, you will significantly reduce the delivery time of orders.
Its cost is much lower for business owners, and customers receive their products quickly.
2. Role of Social Media in eCommerce
Social networks now play a vital role in the sales of products and services, and this role becomes more colorful and essential each year.
With time, the features of these networks will also improve and maintain their essential position in the eCommerce industry.
3. Voice Search Possibility
You are probably familiar with voice search assistants like Siri or Bixby. The technology can also be used in the eCommerce industry due to the popularity of these assistants among users.
4. Artificial Intelligence and eCommerce
Using artificial intelligence instead of humans will improve many things, including eCommerce.
Artificial intelligence can give precise answers to customers' questions and solve their concerns. It can enhance the user experience.
5. Introducing New Audible and Visual Content
One of the best ways for business marketing is undoubtedly content marketing. Typical contents primarily include text, audio, image, and video. Over time, this list will continue and expand.
6. Product Identification Through Images
You are probably familiar with facial recognition programs by now. Programs that unlock the device by seeing the owner's face.
Recently, their use has expanded, and it is likely that in the not-so-distant future, it will be possible to search the Internet based on images.
This technology will hugely impact the eCommerce industry, and users can access its information only by using the product photo.
The Impact of eCommerce on Consumers
eCommerce intends to seek the convenience of consumers. It is no longer necessary to leave the house to go to shops and stores for shopping.
So, searching online for the product you want is enough, especially for buying products unavailable in nearby shops.
eCommerce has allowed customers to buy a wide range of products and save time. Consumers can research products and compare prices.
Also, it is possible to use discount codes, which makes it possible for consumers to buy more economically.
In addition, eCommerce provides detailed information about products that even store staff cannot offer.
Although, in eCommerce, there is no possibility of human interactions, which could be more convenient for people who prefer face-to-face communication. Some consumers may also have concerns about the security of online transactions.
The Impact of eCommerce on Employment
Although eCommerce may cause some jobs to disappear, it also creates new job opportunities. E-commerce development creates jobs requiring highly skilled people with specific knowledge.
Furthermore, eCommerce requires multiple warehouses for storing, packing, and delivering orders. So, warehouses are an essential element in this industry.
Each of these warehouses needs staff to manage, supervise and organize purchases. For this, people who need to gain the technical skills to do digital stuff will be fine getting a job.
Final Words: What is eCommerce- Beginners Guide 2023
If you are looking for an answer to your question, "What is eCommerce?" read this article.
We hope that all the information in this article has given you a correct view of eCommerce and its advantages and disadvantages compared to traditional business.
eCommerce is one of the changes that the emergence and expansion of the Internet have brought to humankind. The Internet has cast a shadow on almost all dimensions and aspects of human life and transformed them.
As you have mentioned, life will only be possible with the Internet. All modern societies today have either moved in this direction or are moving.
We should move towards electronification along with these changes.
Starting an Internet business or eCommerce is available for everyone. Then make the best use of this article's information, resources, and guides and create your own digital business.
It is enough to consult knowledgeable people and find experts in this field to start a digital business.