20 Actionable Ways to Increase Sales for Your Small Business in 2023: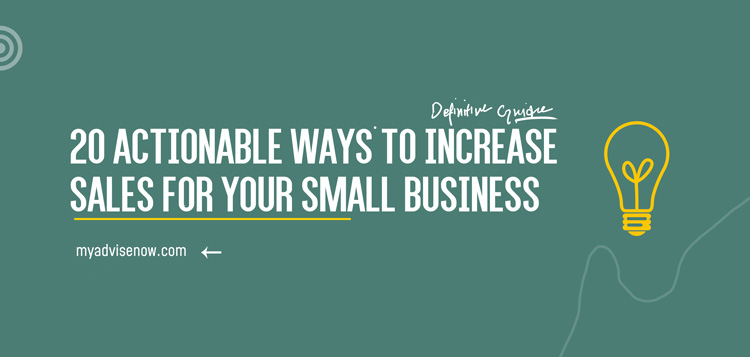 Increasing sales is the first concern for all new or old small businesses. Although, there are many tips and advice related to online business, most of which are general,  and do not provide the much value.
So, in this article, you can learn the fundamentals and ways to sell more online. If you applied these points correctly to your business, it could assure your success in sales.
After a long time of research and research in the field of online sales and in-depth investigation of this field, we have achieved many results. And we intend to continue with the results and tell you the relevant points in this comprehensive article.
In this article, we mention the ways and means of increasing online sales. The mentioned methods include specialized and general ones, and all of them will help you to increase your sales strategically and in the long term.
20 Ways to Increase Sales for Your Small Business in 2023
1. Be Honest in Sales and Services
Above all, being honest in your work will be the key to your progress, and a sales start. Such advice may seem ridiculous, but many new starters pay little attention to this.
For example, many people begin to purchase and prepare products they cannot pay the complete price for. So, they use checks and other installment payment methods. In case they may not have good sales and their products sell much less than expected.
In such a case, several unsold products and heavy installments remain. This issue has been the reason for the bankruptcy of many businesses.
At first glance, this is a kind of ambition in business, and there is no problem at the beginning, but ignoring the facts can get you down.
You should not confuse ambition with ignorance, and accept reality under all circumstances. There is nothing wrong with starting small and gradually increasing your orders and sales online.
Sometimes you may have heard that you can travel a hundred years overnight, but do not pay attention to these words. Success requires continuous effort.
Another thing related to honesty in work is people's trust in your business and brand. Never claim that you cannot do it, and avoid exaggeration and unnecessary definitions.
Today, consumers are alert and do not get fooled by such promises. So, be honest and try to be open and transparent in all areas of your business.
The mistake of many people working in this field is that they think that they have to expand their business as quickly as possible to be considered among the established brands.
So, constantly trying to achieve this goal will easily make you disconnected from more targets. Another point is that consumers also care about small businesses and prioritize them for providing more personalized services. So, under any circumstances, try not to pretend to be something you are not.
Read more:
2. Use Ad Plugins to Get More Clicks
Click-based ads are among the most important methods of effective advertising for a business. As the largest source of click-based ads, Google has provided a suitable platform for ads with the help of Google AdWords.
There are other similar platforms, such as Bing webmaster by Microsoft. This method of advertising has a great impact on gaining traffic and ranking for any website. But the point that is less noticed by webmasters is that you can also benefit from Ad Extensions to make your ads more targeted.
Such plugins help you to allocate more space from the search engine results to your ad and get a higher click-through rate. These plugins are offered as a suggested package along with click-based ads. And their use does not include a separate cost. With the help of such a system, you will be able to display more links as advertisements. Which could turn into an increase in sales.
3. Display the Consumers' Satisfaction and Trust
feedback about your products and services has never been more important than now for any business. Because these days you can connect with hundreds and thousands of users through social networks in a fraction of a second.
Fortunately, such a feature makes your satisfied customers become your most powerful tools to increase sales, popularity, and ranking of your brand globally.
Internet marketing experts believe that happy and satisfied users of your brand are legions that can boost your sales more than any other means. So, make sure you make the most of these people.
The best solution is to publish the satisfaction of your loyal customers in the form of reviews or brief descriptions of your business, products, or services.
For this, you can set up a dedicated section on your website or blog and share tweets or comments from your consumers. Many successful websites have used this method to increase the quality, and value of their products and brand. You can add some of these comments on the product page or landing pages.
Another thing you can do to gain credit is the use trust symbols known as Trust Signals. Almost in all successful eCommerce websites, such symbols are also used to gain credibility. If you have such symbols, be sure to put them in the footer or even in a separate section.
These icons give users a sense of confidence and make your business seem trustworthy. Another way to in this regard is to participate in the web festival and display it on the website if you get a rating.
So, you can introduce your customers' satisfaction in a separate section or a section of your main page in the form of a list. Especially if some of these customers are big and reputable brands, your credibility will increase greatly by introducing them as customers. Many different businesses even introduce their clients on social networks and summarize the services they have provided for them.
4. Take Advantage of Current and Limited Offers
One of the ways to encourage consumers is to use instant offers or special offers, which are also referred to as emergency offers in internet marketing. This type of offer should be visible on the main page of your website and in a very clear section.
For example, you can display and sell one of your products with a discount. But what makes users buy that product or service is the feeling of the urgency of this offer.
In such a case, you should announce that this discount will end soon by placing a timer (countdown). Or setting a specific time so that users will focus more on buying it when they see this announcement.
Another similar method that many online stores, such as Amazon have successfully implanted is the sale and offering of limited products and services. For this type of sale, the number of products or services that you offer is limited.
And if you put this as an advertising text on the first page, users will feel that the desired product may be out of stock soon. This makes the users encouraged to visit the page of that product and buy it before the inventory of that product ends.
In some cases, the above methods may not be applicable. In this case, there is another suggestion that can be used to increase sales with existing customers. By using this method, consumers and customers can be motivated by offering secondary offers along with the main purchase.
For example, next to a product, you can also put another small and related product as a gift so that consumers are eager to buy that product.
Also, offering free shipping or participating in weekly or monthly raffles are other very practical ways that can significantly increase your sales. These methods are one of the most important and best ways to increase sales.
Back to the advertisement, Google has provided a feature on AdWords to personalize your ads. One of these features is the possibility of adding a timer for sales.
In this case, next to your ad in the search results, the expiration time of your offer will also be displayed. It has proven that this move could have very useful feedback in selling products online.
5. Include an Unconditional Money Pay Back Guarantee
It may not seem like it, but many times, the only reason customers do not buy a product is that there is no guarantee. Still, most internet users consider online shopping risky.
In this case, most of the time users abandon their purchase due to the lack of a valid warranty. Undoubtedly, the first reason for this fear and mistrust is the risk of buying due to financial issues and the possible risk of losing money for nothing.
Of course, the consumers are right, because they do not know the product, and they always think about what will happen if they buy the product. If the quality of the product is different from its description
Or what if the wrong product is sent? Such questions make every user more cautious about online shopping on Amazon or Shopify.
So, to deal with this issue and reassure consumers, you should provide them with a professional support system and return the purchase money.
Even the smallest purchases include these parameters for users. Therefore, by providing quality products along with strong support and money payback assurance, you will not only experience more sales but also gain the trust of your customers.
It has been proven that if they find a suitable and reliable source for their purchases, they go to that source anywhere else. In this case, you will not only stabilize your sales, but also more regular customers. At the same time, you will be known as a reliable store among users and customers.
The exact opposite is also true. If a customer is not satisfied with his purchase from you and your support cannot restore his lost satisfaction, that buyer will regret it and not only will not come to your store again but also will not recommend buying from you to anyone.
6. Reduce the Range of Similar Products
Of course, offering as many products as possible is one of the ways to increase sales for a small business. But this is not appropriate in all situations. In fact, in many cases, offering more products can have the opposite result.
Considering this, if you have too many similar models of a product, this issue can easily cause the buyer to hesitate and be unable to choose a suitable item from the wide range of products. Which may eventually lead to reduce your final sales.
You should try to reduce your offers to consumers as much as possible so that it may not confuse them. If you have a wide range of products, you have to divide them into more detailed categories. Too many products not only complicate your store but also makes it much more difficult for the buyer to find the desired product.
7. Find Targeted Audience with Facebook Lookalike Audiences System
The best thing that a particular business or store can do is to expand its loyal customers in different ways. And target others who have the potential to become new consumers.
So, you can find potential and targeted customers using the Lookalike Audiences tool. Lookalike Audiences are very attractive and practical. There are many active and professional contacts on Facebook who are can share the features and specifications of your business with a large database of users.
We all know that there is a huge amount of personal information is on Facebook. These people share this information and in this way, tens, hundreds, and thousands of eager users come to you to get more information.
This smart advertisement is one of the most targeted and practical advertisements, which, unlike similar methods, requires very little cost. This tool helps users who have similar tastes find each other. So, it is another essential way to increase sales in a business.
8. Use Easy Payment Methods
According to Business Insider, an amount of 4 trillion dollars was left in shopping carts in 2017, and 63% of this amount was reusable! These statistics prove that people do not have the patience for complicated online shopping processes and quickly give up on their purchases.
Considering this, it is one of the most important reasons for the decrease in online sales of a website or online store is the purchase process. Which many websites are currently struggling with.
E-commerce websites where it is easy to buy and the ordering and payment process are without complications, have much more sales than similar websites. Considering this, you should facilitate the process of ordering, payment, and buying products through your store as much as possible.
For this purpose, avoid any unnecessary steps in the shopping cart process. Avoid forcing users to fill out unnecessary forms. Try to create a system where purchase steps are stored and users don't have to do everything from scratch if they make a mistake. Many websites do not even require you to create an account.
Such websites, on the other hand, use the Google or Facebook login system. Using this system allows users to not waste their time creating and filling out the user account form. And at the same time, they maintain the security of their user account and can easily access purchase reports, invoices, and payment receipts.
9. Offer Different Payment Methods as Much as Possible
Another important method to increase sales online is to offer different payment methods. Note that although almost all financial transfers are made by credit cards these days, there is still a significant percentage of users who prefer cash on delivery.
You must provide your users and customers with every possible payment model. These methods can include credit payment or the so-called wallet, online payment through a bank portal, international payments through credit accounts. And transfer of funds from card to card or account, and finally cash on delivery.
10. Provide Quality Images for Your Products
The appearance of a product is directly related to our understanding of the quality of that product. Showing an ideal image of the products not only makes for better and more comparable decisions and clarification, but it is an attractive item in itself. These definitions prove the high importance of product images.
You should invest in it seriously and professionally. All reputable websites and online stores have a photography room where they can take pictures of their products from different angles.
Even if the images of the product you want are available on the internet, you must prepare your exclusive photos. This is one of the most effective ways to gain the trust of consumers and increase sales for a small business.
Try to use relevant experts for this, because various issues in this profession will have a direct impact on the final images. Make sure to take several photos of your product from different angles.
Experience has shown that almost all Internet users and customers want to see the real image of a product from different angles before buying it. If you fulfill their request, you will have a much better chance of increasing your sales in 2023.
11. Delete the Extra Landing Pages
Landing pages are among the old items in the design of store sites, and we have mentioned many times their advantages and positive points. But these pages cause many webmasters to exaggerate on uses of the landing page.
It is better to deal with this issue a little more professionally. The presence of unnecessary and non-standard landing pages will not only not give a positive impact, but may also have an unfavorable effect on your online store.
Usually, the most important purpose of using Landing Pages is to show a specific product or promote a collection. Instead of using this old page model for all products, you can use Facebook or Google AdWords advertising campaigns.
These advertising systems can be a great alternative to old and traditional landing pages. One of the most important reasons for this is that users don't want to scroll through landing pages and prefer to communicate with your products and services much faster and easier.
The new generation of Google AdWords ads, called Call-Only Ads, is a good way to replace the old methods of such ads. With the help of this simple tool, your main ways of communication, such as contact numbers, will be demonstrated for contacts in the search results. So, they can contact you with one touch.
Such advertisements have very good feedback. In fact, by using this system instead of landing pages, you can display a much wider range of your products in the shortest possible time. And you will find your target audience much more easily to increase sales for a small business.
Read Also:
12. Use Gmail Advertising Tool
After years of testing, Google has finally released the final Gmail Ads system for public use. With more than a billion active users in Gmail, this email system is one of the best places to display your ads. This is a very intersayidea to display your ads in message boxes in addition to social networks and…!
Of course, this professional platform will have many competitors for you. Therefore, you should choose your effective words purposefully and carefully. One of the best ways to succeed in this field is to pay attention to the keywords used by competitors.
You can get a lot of results with a little searching and checking others' ads. Then you can join the competitors by using those keywords and have a large share of users for yourself.
13. Use PPC Advertising
You must come across many video or text advertisements. After clicking on ads, you will be redirected to other unrelated pages, most of which are the landing pages of some sites.
These types of ads are only to increase clicks, and it is a form of tricking. Although it cannot be said that all these advertisements are used for this purpose, a large part of them is embedded in different websites with the same purpose.
By using this model of ads, you may make good money due to a high number of clicks. But be sure that it will be once because users who lose their trust in you will not come to you again.
Try not to be part of this category and avoid false PPC ads. It doesn't matter what your advertising style is, but every advertisement you make should be related to the content of the same advertisement.
If users click on an ad for a product, they should only be directed to that product's page. Not too related products, or special products, etc., but only to the same product. If you are honest about this and don't try to take advantage of users, you will strengthen their trust and build up credibility and increase sales for your small business.
14. Pay Attention to Customer Feedback to Increase Sales
Always and under any circumstances, many questions, suggestions, and criticisms are raised by customers in online sales. You must make these things clear so that there is no doubt about your activity and the products and services offered.
This issue is one of the biggest challenges in Internet marketing, which ironically, is much less than expected by brands and stores.
Many businesses have faced many problems due to neglecting this issue. Many of these small businesses mistakenly think that customers are aware of the specifications of the products and services.
But the truth is that almost most of the users and consumers are looking for sufficient information about the product or service they want. Even if users and customers have a lot of information, they still want to find answers to their reassurance.
This is where webmasters neglect this issue, leaving hundreds or thousands of unanswered questions. The research results show that more than two-thirds of these customers stop buying from that store. Because of this issue and go to a store that has applied the necessary clarifications.
Therefore, you must create a suitable platform to receive and answer the users' concerns and be receptive to their criticisms, complaints, and requests. By doing this, you will not only gain their trust, but also increase sales online, and provide credibility as a professional store among competitors.
In the second step, you must deal with the requests, complaints, and criticisms of the customers. So, you must do it as soon as possible and solve the possible problems. The more you address this topic, the more chances you have to increase online sales.
Most webmasters believe that the appearance of a website helps to make it credible. While what makes your online store powerful and profitable is just paying attention to the wishes and needs of customers.
15. Be Kind and Forgiving
People everywhere in the world love free stuff, and the more generous you are in this matter. The more popular you will be among people, and this will ultimately help increase your sales. Providing free goods or services can attract users in different ways.
For example, you can send various offers along with the main orders of users or benefit from discount codes and free shopping coupons.
In this sense, you can offer free services and products more than other stores. Because there will be no special costs for them. Sending two products for the purchase of one product, participating weekly or monthly raffles for purchasing certain products, etc. are other similar methods in this field.
Sending products together with gifts to customers not only increases the awareness and interest of customers towards your brand. But also it is a way to introduce them to your products by receiving samples of your proposed products. Get to know them directly and encourage them to buy. As a result, the chances of buying these products will increase.
16. Use the "Buyer Persona" Research System
Buyer Persona is a practical method for websites and online stores to identify the best and most profitable customers. In this method, webmasters start collecting information from a hypothetical buyer through a default form and complete this information in a form. The final information obtained will be your target customer.
This information includes personal details of a buyer, interests, jobs, etc. By having this information and creating an imaginary customer that has these characteristics, you can identify your contacts in a targeted and intelligent way.
This process seems a little complicated and unusual, but it is one of the practical ways to identify and target an audience. So that can directly help increase sales for a small business. In fact, with this method, you identify customers who are most likely to buy.
The performance of this platform is similar to the Facebook Lookalike Audience system. It can be said that the implementation of this system will be of great help in finding ideal customers according to the work field of your site.
Buyer Personas can be created by your research or your team, or by collecting general information through surveys for customers. Analyzing competitor websites and observing the behaviors and opinions of customers of other stores are also among the practical methods for creating such hypothetical characters. You can also take help from service agencies that operate in such fields.
17. Use Tiered Pricing to Increase Sales
Usually, when we all go to a restaurant, we tend to prefer moderately priced dishes. We often skip the very cheap foods and at the same time go for the expensive foods for much less. With this account, the best choice is the average menu. This method is a marketing technique that is used in many businesses. This technique is called decoy pricing.
This technique can also be used to increase sales online by grading prices. The procedure is simple. Just price your similar products in three price ranges and place your target products in the middle range, the average price.
By doing this, you encourage customers to buy mediocre products, that is the same products that you want them to buy.
Although some buyers will go for more expensive products (which will also increase your revenue and profitability). Most buyers prefer not to do this and prefer products that are in your price range.
18. Use the Pop-Up Offer (Opt-In Pop-Up Offer).
One of the ways to increase online sales is to use instant offers to users and customers. Opt-In/ Pop-Up offers open in a small window on the home page of websites are among the methods.
These days, most websites and online stores use such promotions and offers. However, this issue requires special attention, and overdoing it will annoy users.
With pop-up offers, you advertise a product in a pop-up window on the website. And the consumers can enter the relevant page by entering their email or clicking on the product link.
This system also helps e-mail marketing significantly.  Because with this solution, you can receive e-mails from users to send offers, and then run successful e-mail marketing campaigns.
This model of offers should not be repeated and remain on your website for a long time. You should, for example, repeat an offer for a few days during a month on your website and then delete these offers. By doing this, you will keep other users eager to see more offers and you will prevent users from disturbing this page.
Which product to promote with which type of text and image is a matter that requires your trial and error (A/B tests). On some websites, these pages are displaying to users just before closing the page.
The implementation of this system can be done with a simple code in the coding section of the template. In this case, when users click on the cross button and close the page, the desired message will be showing.
I repeat you may not use this system more than the standard. Because then your website will not be much different from a spam and advertising website. Also, remember to include a button to close pop-up ad pages so that users can quickly close these pages if they wish. If this process is even the slightest bit difficult, users will most likely abandon your store and website.
19. Increase Sales with Mobile Optimizations
Today, smartphones have such a large share of our digital life. So, it is impossible to win in internet marketing without paying attention to them. However, many stores still focus on the desktop version and not much on the mobile versions of the websites.
This can be a good opportunity for you to take the lead in this field by optimizing your website, store or developing your exclusive application.
Due to the presence of more than two-thirds of active Internet users on smartphones today. Mobile marketing has taken on a very serious tone. A large part of the share of online activities belongs to mobile searches, and this shows the great importance of mobile phones. Therefore, whether you want it or not, you must have a mobile-friendly (responsive) website.
In the first step, the most important thing in optimizing a website for mobile is accessibility as easy as possible. This makes users feel comfortable and reach their search results without any trouble.
Paying attention to the two important principles of user experience and simple yet attractive design alone will give you a great chance to attract new customers.
But other things, such as slow page loading, quick access to all sections, proper zoom-in to view texts or photos. And finally the possibility of easy searching are the critical issues in this field.
In the mobile version of your website, try to avoid forcing users to register unnecessarily. Or fill out heavy information forms, and do similar things. With mobile phones, everything can be easy and quick.
20. Do not Forget Your Customers After Shopping
Forgetting and neglecting customers after completing the order is one of the worst habits that many online stores commit. By the way, your main work starts after the customer order.
I have said many times about the importance and value of regular customers. And this neglect makes it less likely that the customers who receive the first order from you will become regular customers.
But what do you have to do not to face this problem?
You should try to attract customers from the very beginning of the purchase process. As soon as the customer places an order, try to send all the necessary information to the customer via SMS and email.
You can even send them the smallest details about the order. After completing the order, repeat the information related to sending the order. Including the day and date, the method of delivery, and similar issues.
Another attractive and practical method in this topic is the possibility of tracking purchases by customers. So, the customer can follow the process of purchasing their products in this store.
Amazon also informs the customer about the order completion process through SMS. It creates a good feeling and confidence in the customer. Which can help a lot in turning regular customers into regular customers. So, this way you will be able to increase sales for a small business.