As you know, nowadays, many people have thought of making money from YouTube. People with different skills somehow publish their experiences and knowledge on YouTube, and followers, by watching videos generate income for content producers. Suppose you are one of the people who are skilled in language teaching (any language). In that case, you can use this opportunity to earn money.
In this article, we have focused more on the English language. Still, you can relate the content of this article to other languages ​​as well.
Creating a channel for teaching English on YouTube is not a difficult task at all. Still, the growth and strengthening of the channel require your hard work as a language teacher. Suppose you need to learn about the basic strategies of a language-teaching YouTube channel.
In that case, only some of your efforts will give a good result. Failure of efforts will ultimately lead you to discouragement and make you stop producing content for teaching English on this platform. You will need help to experience making money from YouTube as an English teacher. But do not worry!
We at MyAdviseNow (MAN) are here to remind you of tips that will help you teach languages ​​on YouTube and make good money. Stay with us.
Why should I teach languages ​​on YouTube?
Before we talk about the essential and practical points of creating a channel for language teaching, it is better to talk about the advantages of teaching on YouTube. The most important benefits of this platform for teachers and teaching, in general, can be summarized as follows:
1. The high speed of videos becoming viral on YouTube
YouTube is a popular social network in the world that is used by billions of people around the world. YouTubers share general videos on all walks of life that are suitable for almost everyone, from children to the elderly, and have educational content.
When you publish a video on your YouTube channel, anyone in the world can watch and share your video in an instant. So, you can have a chance to gain fame and an audience for sharing anything, including making a YouTube channel about the English language. If you are creative in your work, your video will spread faster among YouTubers and become viral.
2. Easy, fast, and convenient to use
Creating a YouTube account is very simple and quick compared to many other online training programs. It is a positive thing for language learners. You don't need to have an account and log in to watch YouTube videos. A user account only helps you use many features like saving video watch history, sending videos, and other features.
3. You can earn money from YouTube with the lowest cost
YouTube provides free educational content to viewers and allows language teachers to earn money on YouTube with the most basic video content creation facilities. To teach English on YouTube and make money from it, you only need a computer, an innovative mobile phone, and the Internet. You can easily share your knowledge with everyone in the community and earn money.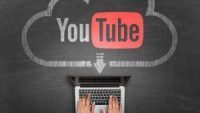 Read more:
11 essential tips for teaching English on YouTube
If you want to earn money by teaching English on YouTube, the following tips will help you have a better experience:
1. Start teaching with a topic
Teaching English has many topics, and there are many topics in one case. To be disciplined in teaching, it is better to start with one subject and only go to another topic once all its points are finished. Beginning with a specific topic conveys a clear message to your audience and focuses their minds on one topic.
You can make 100 different videos with detailed tips and details on the same topic, for example, verbs in English.
2. Create content for a specific audience only
Choosing the target audience for learning English on YouTube is very important. For example, suppose your goal is to conduct IELTS courses. In that case, it is better to produce your content only by teaching the critical points of the IELTS test. Your audience should be students who want to participate in this international language test.
You have to choose your target audience wisely. Preparing teaching tips and presenting the lesson and the level of content on your channel will vary according to your target audience. It is why deciding on your audience and what language you speak is essential before investing in content creation. What people to teach?
3. Create at least 100 videos
Now that you are familiar with the importance of choosing a topic and determining your target audience and have carefully reviewed and confirmed these two steps, it is time to start producing language-teaching content on YouTube. Start teaching languages ​​and share them on YouTube, and don't stop making educational videos until you reach 100 videos.
This number may seem high to you, but 100 videos for YouTube is the first step to success. Learners look for complete language learning channels on YouTube because only a full package will help them achieve their goals. That's why it's so essential to make all the content on the topic you've chosen for your language learning YouTube channel fully accessible to your audience. In this way, you will gain the language learners' trust in your channel's content, and you will be successful.

4. Determine your teaching style
Record 3-4 videos and try them out before committing to producing a language learning video. Feedback from students, other teachers, and people with video production experience can help you improve the quality of your instructional videos. Reviewing the first 3-4 videos will help you make 100 good-quality videos. Today almost everyone is creating videos on various social networks and being creative in their videos. That's why audiences and students expect quality videos.
In addition, you should determine your video content production style from the beginning. Your content should be separate from one video or formal in another. Start a type and stick with it. Within the first 3-4 videos, decide what style you want to continue with.
5. Don't change your teaching style for the first 100 videos
Each language teacher model differs from another; people who subscribe to your channel may have subscribed to your channel because of your video production and teaching style. You may lose your subscribers if you try changing the teaching model and typing in every video. So, keep your style the same for the first 100 videos.
6. Publish all videos as soon as possible
Students' video viewing patterns are different from entertainment and social video viewing patterns. As soon as the learner receives the video release notification on the YouTube language learning channel, he will not go to watch it. But when he goes to study and wants to learn a subject, he watches hundreds of videos by searching on YouTube.
That's why we never recommend waiting for the right time to release a video or setting a specific time for a video, like gaming and entertainment channels. As soon as you have a video ready, publish it. This topic is required for the first 100 videos on the language learning YouTube channel. After you have posted 100 videos on your channel and attracted your audience, you can schedule your videos and announce them to your subscribers.
7. Follow SEO rules when publishing videos
Follow SEO rules when publishing videos. YouTube SEO helps your video content to be seen better. Write attractive titles, detailed descriptions, and appropriate and searchable keywords. Design an exciting interview for your video, and remember to put a chapter on the videos.
Read Also:
8. Wait at least three months to see the results
After you have published 100 videos on your YouTube training channel, wait and be patient to see your desired result; No success is achieved overnight. Wait at least three months before making any decision. Following all the rules from #1 to #6 will show significant growth in your YouTube training channel within three months.
9. Take time to learn SEO, digital marketing, and related things
SEO is a crucial topic in today's digital world. After making your first 100 language learning videos on YouTube, take the time to learn SEO, website building, blogging, digital marketing, and other information about social media. These learnings will help you continue your English teaching videos on YouTube with more power.
10. Interact with learners
Don't try to be the only one teaching. By asking questions during language learning on YouTube, ask your language learners to leave the answers for you in the comments. Could you encourage them to interact? At the end of the video, ask them to subscribe to your channel, like the video, and share it with other language learners. It will improve your channel in the long run.
11. Check other teachers' channels
Try to follow the language teaching channels of other teachers and consider their points. These channels will be a source of ideas for you. Check out today's language teaching techniques on YouTube and add your creativity to create engaging content for your audience. See which content learners like the most and what motivates them to subscribe to your channel.
Final Words
Creating a channel for teaching English on YouTube and teaching this language is the best way to make money. Be creative in teaching, be patient and follow the essential tips for teaching Language on YouTube so that you will feel successful step by step after at least three months.