Online Marketing Strategies for Small Businesses in 2023: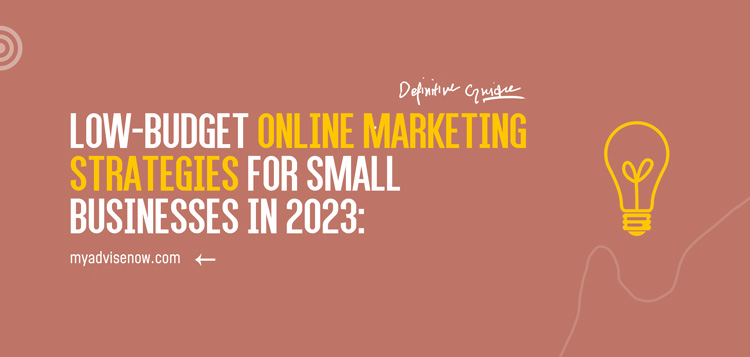 Starting a business is not easy.
Especially, if you are a new entrepreneur.
Besides everything needed for a business, you also need a creative marketing approach. After choosing your tactics, you can influence your audience, and think about increasing sales. Here are some examples of these strategies.
Without a proper plan in place that will enable your business to grow, it is almost impossible to achieve sufficient profits and withstand market fluctuations.
However, identifying effective solutions that suits your business is often a difficult task.
For example:
Do you know how to deliver your impactful message to the right audience?
Or do you know how you can increase your sales by offering suitable offers?
Do you know how you can improve the site traffic and be more profitable?
If you feel that you are stuck at a certain level, you need to step up now. Most entrepreneurs get so overwhelmed by the sidelines of their business that they fail.
We often neglect to use the right solutions for the development of our business to deal with the daily issues such as the demand with the doubts of the customers, the quick and chain supply of these demands, etc.
Now, the question arises, what should be done to achieve this goal? It is enough to reflect a little and take only one step back.
It is necessary to find out the main and basic mechanisms of sending a message and the ways it can be more effective in the direction of sales and acceptable profit.
The secret to success is knowing what kind of marketing strategies you use, if you don't have an effective sales funnel and message, you're wasting your money and time.
Low-Budget Online Marketing Strategies for Small Businesses:
Most businesses are dealing with complex issues. So, after facing these problems, they have no way back and neither forward. In this case, they need to be noticed to increase their sales significantly.
But, to be perceived and noticed, they need to spend more money.
Now, the question arises, what to do if there is no money?
Well, there is no comprehensive answer to this question. But there are things that you can do with the lowest cost and attract more contacts without having to steal.
So, despite the little time we have, it is better to roll up our sleeves and get to work.
Before doing anything to create a close and authentic relationship with your contacts, you need to work tirelessly. There are many types of tactics you can  the advantage of to promote your business.
1. Identify Your Audience 
You are wrong to think that "everyone" is a buyer of your products or services. large companies may tap into bigger markets for more profit, but they say "the money is in the small untapped niches of the market." That is, instead of focusing on the whole market, focus on the so-called cozy and profitable niches of the market.
Develop these small profitable niches to attract consumers. So, you must first identify the pain points, problems, priorities, and needs of your audience.
For example, when using your products or services, your customers will encounter certain problems, and if you are not able to take care of these problems and concerns of your customers in time, the customer may suddenly leave your business.
To avoid this, you can continuously support your products and services. Or survey your customers to identify these problems and pain points regarding the provision of your goods and services.
Amazon supports its products at any hour of the day or night or surveys its audience from time to time about the delivery method, product quality, etc. Don't you think why use such marketing methods?
Thus, find out what factors lead the audience to make a purchase decision. By realizing these things, you can have more control over your audience and you can provide good solutions for the prosperity of your business.
From now on, focus on your current customers and find out what your current customers' needs, pain points, and priorities are, then create a customer persona for yourself and gradually penetrate the minds of your customers.
2. Focus On Value Proposition
The value proposition is a very important part of successful business tactics. For example, If there is no difference between you and your competitors, then there is no reason for a buyer to be convinced to buy from you.
Your business value proposition differentiates you from your competitors.
The value proposition means what is the reason that the consumers or the customers differentiate you from other competitors or what is the unique feature that makes the customer choose you.
For your business to gain a good position, focus on your value proposition and constantly ask yourself why the customer should choose your brand over other competitors. What special features do you have that will make people choose your brand?
Consider the two giants of eCommerce, Amazon, and Shopify. In your opinion, what are the unique features of these two companies that make people welcome them?
In the minds of people, which feature of these two companies has made them stay loyal to them? So, build features for your business that will keep the audience loyal to you.
3. Determine Your Brand Identity
Brand identity is essential in online marketing strategies. Having a solid brand identity to grow your business will make you stand out as a professional and help you attract new customers.
According to a study on Facebook, 77% of people are loyal to brands.
Jeff Bezos, Amazon founder described a company's brand as: "Your brand is what people say about you when you're not in the room." In other words, your brand is the feelings and emotions that people have, when they hear the name of your company.
Thus, It is a combination of your brand name, logo, aesthetic features, and design of all your assets.
4. Focus On Specific and Unique Goals
If you venture into the world of digital marketing, you may find that there are thousands of paths you can take to succeed.
Perhaps, considering that you may succeed in all fields and reach an important position, enter the labyrinth of these paths and jump from one branch to another.
But in order not to get confused, instead of jumping from one branch to another in the world of marketing, find out where your business is most effective and productive.
As a strategist, find out what your biggest weaknesses are that are hindering your progress, then set high-yield short-term goals around a key area of your business and focus your resources on efforts and tactics that will achieve that high-yield short-term goal.
Once you've made progress toward that short, high-yield goal, you can increase your efforts.
5. Use Social Media
The role of social media in online marketing strategies for small businesses is undeniable. These networks are a magical and favorable place for business growth, and some businesses are built solely by relying on social media.
Of course, it may seem a little scary at first, but as you start working on social media, it becomes easier and easier to make interesting content.
So, if you have the extra money and capital, you can hire someone to handle social media. Otherwise, just be yourself and provide your posts in an authentic and friendly way to your audience and discuss with users about opinions, products, and any other relevant and useful topic.
In this way, the audience gets to know more about you and your business. For this, you can use social networks, such as Facebook, Instagram, Telegram, LinkedIn, or Twitter, and deliver your messages directly to the audience.
This will connect you with potential audiences who are looking for similar services or products.
Read more:
6. Host Video Contents
Making educational content is one of the most effective ways of online marketing. So, pick a useful and suitable topic and teach it to people.
Today, videos that teach thoroughly (or serial content) are very popular. So, hold the hands of your audience with as much sincerity as possible and guide them through this path.
In this context, the better you appear, the more value you will create, and the faster you will gain traffic and audience. Which will ultimately increase your sales.
Thus, YouTube is the most popular search engine in the world after Google. Whenever someone decides to learn something visually, he turns to YouTube. You have probably done the same thing many times.
So, just ask yourself, what is there about your business or product that you can teach and help your audience overcome one of their problems? Find the topic, prepare your video and post it on YouTube, after a while you will see the result.
The hardest part is hearing your voice and seeing your image! Of course, You don't have to be in front of the camera. But talking is something you have to do. Read how to make money from YouTube.
Don't worry, you will gradually get used to hearing your recorded voice.
7. Start a Blog to Boost Online Marketing
If you haven't started a blog about your business, you should start right away. Of course, you don't have to publish your content only on your blog. Most people consider creating a blog as a trivial task because they face little traffic.
The reality is that your blog can be completely useless. Unless you do it yourself and understand what, you are doing. So, it's not just about sharing your point of view. It is better to create regular blogs post for the need.
It is better to use tools like Medium to publish your content. Participate in Q&A sessions on Quora and Reddit or have a strong presence on LinkedIn. These are authentic portals that have countless audiences and anyone can share their content.
When you create a blog, make sure that you create valuable and effective content and be sure that they create additional value. If you're worried about your business secrets being exposed, don't be!
The more you value you provide to people, the more you will be in their eyes and the more successful your online marketing strategies will be.
8. Utilize SEO- Search Engine Optimization
Search Engine Optimization is one of the most interesting and useful parts of your free marketing tactics. But at the same time, it is an area where people are afraid to step in.
SEO can indeed be intimidating, but it is also a powerful tool for your bossiness to grow on the front page of Google.
Once you created a blog that ranks on the first page of Google search, nothing will stop you from growing.
Some companies teach how to use a network of private blogs and other links to fool Google. This may work in the short term, but in the long run, it will be problematic for you.
So, there are no shortcuts in site optimization and SEO, and just like you do in business, you need to work and spend time to get the desired results.
In this regard, it is necessary to consider some points. Don't overuse keywords and don't turn your content into spam. Instead of creating your content just for the search engine, keep your audience in mind and adjust it in a way that will be fruitful for them.
But the most important thing is to make sure that your content is valuable, effective, unique, and passionate, and at the same time, it adds to the value and price of your products and services.
9. Do More Keyword Research
There is nothing more important than keywords in online marketing strategies in 2023. The keywords you use are going to decide where your post should rank in search engines. 
if your keywords do good then your site will rank higher in the Google search engine. This means you will get more traffic and sale more eventually. 
There are plenty of tools that can help you rank higher in the search engine, such Moz, Semrush, and Ahrefs. 
Of course, you have to pay to use them. But it does not end here. There are also some free tools for you too. Such as Google AdWord and Ubersuggest. 
So, use such tools to find keywords that you can rank higher than your competitors to boost your sale and revenue. 
10. Monitoring Your Website
If you have never launched a website before and you have no knowledge about its technical issues, don't worry at all. There are a variety of web analytics tools and services to help you get started. Below we introduce some great tools for website analysis.
Woorank: It is a well-known site analysis tool that examines and analyzes your site in detail.
GTMetrix: Another powerful website analysis tool that has many fans for measuring site speed.
Ahrefs: If you want to check your site's backlinks. This tool does this for you exclusively.
The Web Checker: This analysis tool helps you analyze your website for SEO, performance, mobile design, security, and efficiency.
So, monitoring your website continuously will lead you to improve the quality of your site.
11. Collaborate with Other Influencers
If you intend to be noticed on social networks without spending years, it is necessary to cooperate with influential pages and sites (influencer marketing). Of course, the key is to find the right influencers.
It doesn't matter if these pages and sites don't have millions of followers. You can find influencers with tens or hundreds of thousands of followers.
It is enough to find the right people, pages, or sites that target your target audience. Just sending a message is not enough. What matters is who you are communicating your message to.
If you do it right, you can claim to have reached the right audience and made a good profit at the right time. So, collaboration is part of low-budget online marketing strategies that can undoubtedly bring a lot of users to your site.
12. Create the Necessary Attraction:
An effective marketing technique requires creating the necessary attraction. Experience has proven that creating the right attraction for the right audience can produce amazing results.
The best way to do this is to find your audience's weak points and problems and offer a suitable solution. In this case, you can claim that you are paving your way to success.
What kind of problems is your audience involved in?
What led you to this business?
Consider the answers to these questions when creating an attraction for your audience. Knowing better and more about the problems or weaknesses of the audience leads to providing a better solution and creating more attraction.
13. Do Advertisements on Social Media
One of the best marketing methods that you can use today is advertising on social networks. With the help of social networks, you can easily stay in touch with your audience.
You can choose your audience depending on the topics of interest, age, gender, geographical location, and many other factors.
But in this context, only increasing the traffic and the number of clicks is not important. Rather, the point is that you should focus on talking to your audience and using feedback software.
If you don't know how to install this software, and don't know how to work with them, you need to learn it as soon as possible.
The task of software like Pixel is to monitor which part of your site or page your visitors are following.
In this way, you can publish their favorite content and attract them.
14. Use LinkedIn Appropriately
Have you posted a video on your LinkedIn profile?
Do you know how easy it is?
It is better to spend some time and introduce yourself and your product. You can put the relevant video link in your profile. This is one of the best passive marketing methods and it has amazing results.
How to make money on LinkedIn? 
If you are in contact with a large audience, it is better to post and share content from time to time. Posts that go viral can increase your audience.
LinkedIn is one of the best places to share your experiences, discuss your challenges, and tell your story. The more interesting your stories are, the more likely they are to go viral and attract an audience.
In addition, you can find and interact with like-minded entrepreneurs on LinkedIn.
15. Take the Advantage of Affiliate Marketing
Most people underestimate the power of affiliate marketing. This type of platform can create a lot of driving forces and boost your business. Of course, suitable and reliable partners often can be out of reach.
You must spend enough time organizing serious and appropriate affiliates. Read here for more about Affiliate Marketing.
16. Build an Email List
One of the best ways to use the right sales funnel is e-mail marketing. When people subscribe to your site or page, you can regularly and automatically send them newsletters and notifications.
Be careful that you need to have a responsible and transparent performance. Some people think that e-mail is obsolete and it is no longer possible to promote business in this way.
But this view is completely wrong and e-mail is currently considered one of the best online marketing methods.
So, you can set up a campaign and then send it to your target audience where you can get good feedback.
Read more:
17. Automate Everything
Automation is the way that wins fast. It can do things faster, cheaper, and more accurately than humans. There are a lot of automation tools that can help you boost your low-budget online marketing strategies,  Such as,
MailMunch
MailChimp
Constant Contact
HootSuite
HootSuite is a social media automation tool that allows you to automate social media posts. So, using such tools will allow you to do things more quickly.
It is not the end. Many other tools will help to automate posts across multiple platforms. Just Google phrases and you shall plenty of them.
18. Utilize Facebook LIVE
If you are already on Facebook with a profile, page, and group.
Start Live streaming to make it more efficient.
According to Social Insider, 18.87 percent of Facebook videos are LIVE. So, Live Streaming on Facebook is another online marketing strategy that you can take the advantage of, and many brands are winning at this. Why not you?
You may be worried about equipment.
Well, it does not need any fancy setup. Almost all Facebook Live is happening on a smartphone.
19. Consultee With Digital Marketing Agencies
If you are at the beginning of your field of activity and have just entered the world of digital marketing, it is better to seek advice from agencies for the prosperity of your business.
20 Provide Free Webinars
A webinar allows potential customers to sign up for a short online course hosted by you. These courses are usually between 30 minutes and one hour.
Through these courses, you have the opportunity to provide information about your brand to the questions and doubts of your users and potential customers.
In addition to helping your brand and business reputation with this method, you can also attract new customers.
For example, you can refer to webinar sites and sources, such as Adobe Connect, Zoom, Google Meet, and online webinars, with which you can communicate with your audience.
21. Provide Support Services
After you have launched your business on the internet, it is necessary to respond to any questions, problems, and comments of your users and customers through messages or comments.
This will make you and your business gain credibility and trust in the heads of customers, and they will identify you as a responsible business.
Amazon with its 24-hour support has been able to gain significant popularity over years. Therefore, it is crucial to have solid customer care for successful online marketing strategies for small businesses
Conclusion: Low-Budget Online Marketing Strategies for Small Businesses
You should know, until you have not done each of these low-budget strategies and targeted your audience, you will not know which of these methods is more effective.
So, it is better to act faster and apply different methods one by one and measure the audience's reaction. Doing this will make you communicate better with your audience and more and better sales will be generated very quickly.
What online marketing strategies have you used to promote your business in 2023?
Answer below.