Impressions on YouTube show the number of times the audience sees the thumbnail of your video on YouTube. Of course, it should be noted that this data only includes YouTube, and there are special conditions for its calculation, which MyAdviseNow (MAN) will mention below.
On the other hand, click-through rate (CTR) is another data measurement that shows how many people clicked and watched your video after viewing the thumbnail.
Using this data can give you a better view of YouTube channel analysis and how to create content on YouTube. You can get to know your contacts better by checking this data. Also, impression on YouTube helps you to understand what kind of idea can make more audience to click on the video and watch it.
Must Read: Five Practical Ways to Increase Impressions on YouTube
How are impressions calculated?
YouTube impressions are calculated under two conditions. Suppose the audience sees more than one second and at least 50% of the thumbnail of your video. If these two conditions are met, an impression number will be calculated for you.
Guide To Calculate Impressions on YouTube
In the following conditions, if users see your thumbnail according to the above situation, an impression will be considered for you:
YouTube on computers, TVs, game consoles, Android, iPhone, and iPad
YouTube search section
YouTube homepage
YouTube feeds
The "Up Next" section in the YouTube suggestions section
Playlists
In what conditions is your impression NOT calculated?
YouTube has announced that it does not count impressions in the following situations:
Websites and applications outside of YouTube (for example, videos on another website's article or blog page.)
The mobile version of the YouTube website
You tube Kids application
YouTube music application
The content in the YouTube video player (such as the cards in the video's end screen)
Emails or notifications
Videos playing in the background of a screen
Videos whose thumbnails are less than 50% and less than 1 second can be displayed to the audience.
Read more about YouTube on MyAdviseNow:
YouTube Video Impressions Very Low?
One of the most important reasons for this issue can be YouTube Safe-search.
YouTube's algorithm can filter inappropriate content using the Safe-search feature and not show it to users. Using this feature, YouTube can analyze your thumbnail and not show it to users if there is inappropriate content.
Safe-search is a technology used in Google Search, YouTube, and Google Image and automatically filters content that includes pornography and deviant items.
When a thumbnail has inappropriate content, and YouTube recognizes it as unacceptable, the way the video is displayed on YouTube and Google searches may be affected. Also, in this case, the video has less chance of being displayed in YouTube suggestions and inquiries. It means that the video will get fewer impressions and fewer views.
To solve the issue, change the thumbnail of the problematic video as soon as possible and use content that does not have a problem. By doing this, you have increased your chances of increasing the number of impressions, and your video will be seen in more parts of YouTube and Google searches.
How to check the impressions on YouTube channel?
You can check the impressions of your videos from the Content section of YouTube Analytics. From this section, you can see the amount of incoming traffic to your videos and check to see how many of them have led to visits.
Follow the path below to see the impression and click rate:
Enter YouTube Studio
Enter the Analytics section from the left menu.
Select content from the tabs above.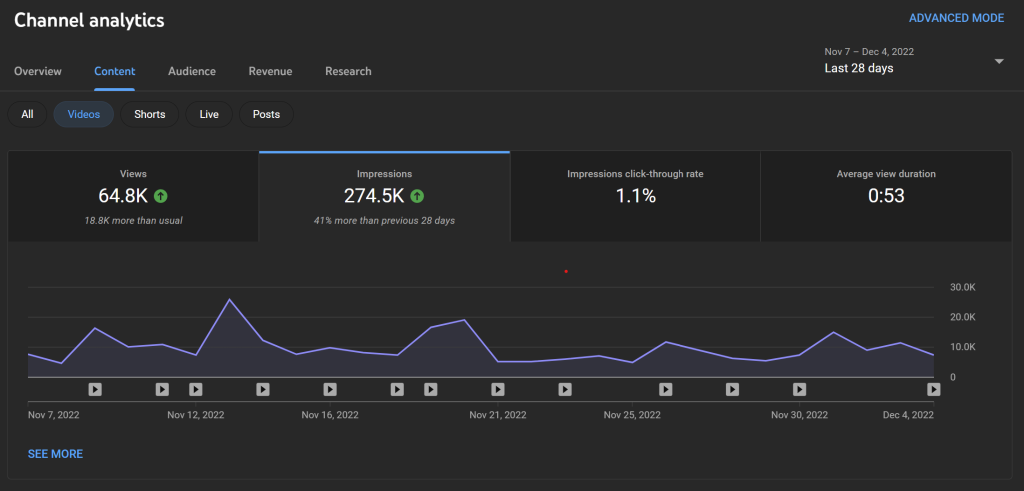 You can also see the number of impressions and how to convert them to watch time from the All tab. In this report, you can see information showing how users have converted since they saw your video thumbnail and clicked on it. Also, this report shows how many viewers reached your video through YouTube offers.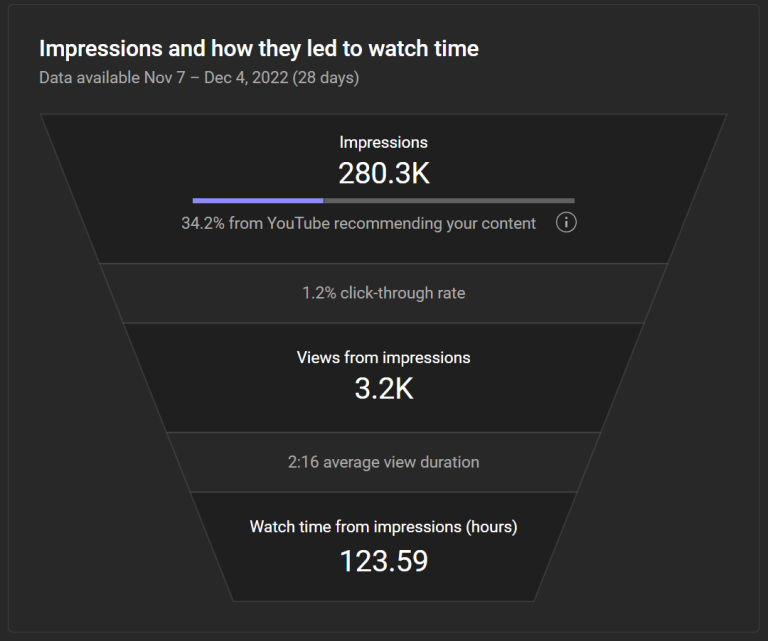 In the video, short, live, and post tabs, you can access more information to analyze your content. Information such as click rate, average view duration, subscribers, likes, and share rate for short videos are also displayed. This information will be visible hours after publishing the content.
Source: Google