If you have ever published content on YouTube and visited the YouTube analysis section, you are probably familiar with the term Impression. In this article, MyAdviseNow (MAN) talks about Five Practical Ways to Increase Impressions on YouTube

If you want more eyes to look at your content, you should check the impression more seriously.
The impression rate of your videos on YouTube shows how engaging your content is to the audience at first glance.
Must Read: What are impressions on YouTube and why are they important?
But What are the ways to increase impressions on YouTube?
What are the ways to increase impressions on YouTube?
So far, we assume you have created the appropriate content for your channel and shared it on YouTube. But how to convert the scrolling audience into visitors?
In the first step, you should know to steal the audience's attention and increase the impression. Everything should look great at first glance. Elements such as thumbnails, titles, and video descriptions are among the essential things you should pay attention to increase the impression.
Here are five ways to increase impressions on YouTube:
1. Design stunning thumbnails
If you don't design a particular thumbnail for your videos, YouTube will consider one frame of your video as a thumbnail.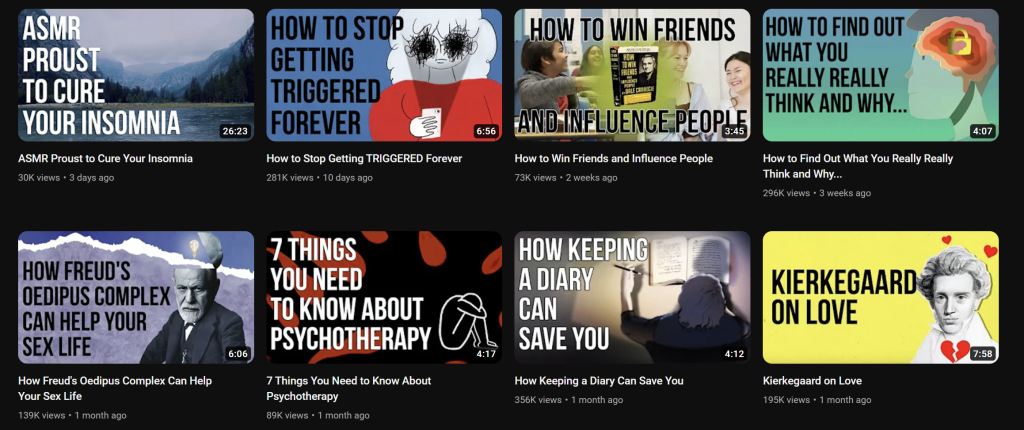 You don't want to leave the impressions of your videos to chance because a thumbnail is more than a frame of your video. Of course, thumbnails can be a frame of your video, but they must be chosen very intelligently. When an audience views your channel's home page, is browsing YouTube, or sees your video's thumbnail in the suggestions section, the design of the thumbnail likely plays a significant role in the click or non-click. The audience plays.
How can I make my thumbnails attractive?
Design an offer that meets the needs of the audience
If you want to design a good thumbnail, look at the School of Life channel. The thumbnails of this channel are intended in a way that makes you think for a moment. Using catchy titles that talk more about the hidden parts of your life and combining them with colorful and quality images will increase the likelihood of clicking on the videos.
Use a distinctive design to get to know your audience better.
When your thumbnails are designed in a personalized way and use the same format, the audience can easily recognize you when they see your video thumbnails.
For example, we at MyAdviseNow (MAN) have tried to design thumbnails with a general design, and the user will realize that this content is related to MyAdviseNow (MAN).
Finally, Red Bull is an excellent example of thumbnails that use bold text, high-contrast colors, and realistic images that compel thrill-seekers to click on videos.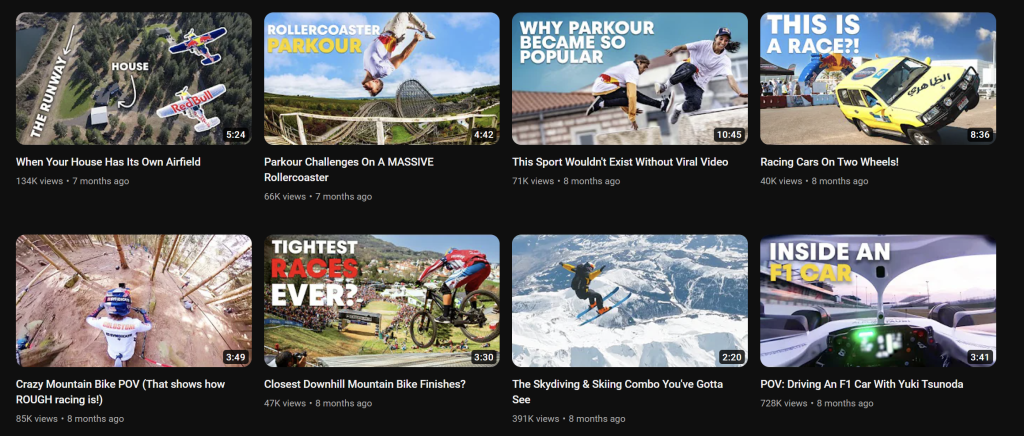 Read more about YouTube on MyAdviseNow:
2. Use the right keywords
Another way to attract more people to your videos is to use keywords suitable for the type of content you have produced. SEO also applies to YouTube. Many audiences use YouTube as a search engine for videos, bypassing Google and other search engines.
For example, if you want to find the best Australian series on YouTube, you would probably use a search phrase like "best Australian series." By searching for this phrase on YouTube, you will see videos that use this phrase in the title.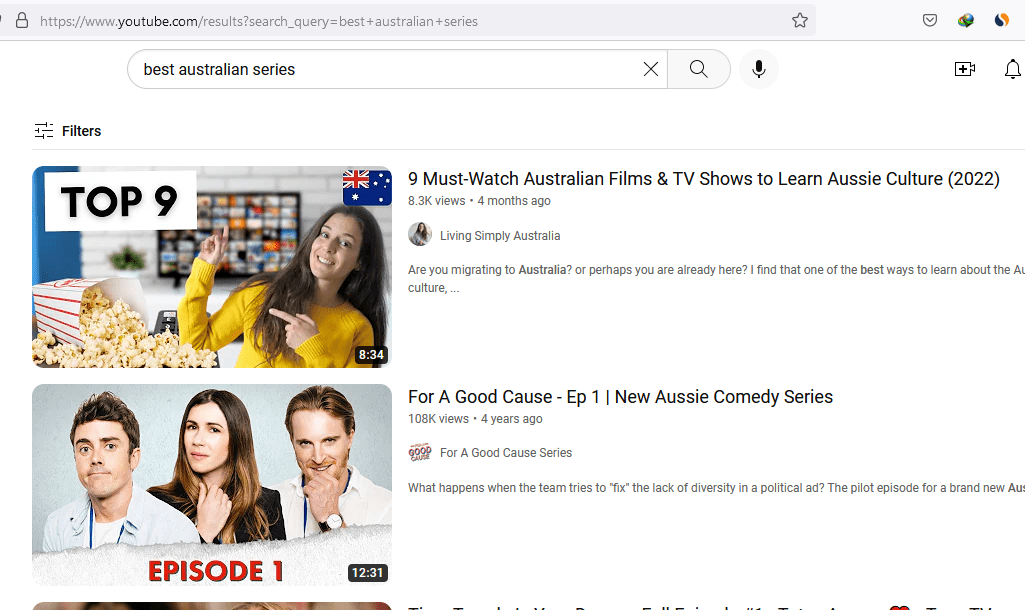 As long as you use keywords, you can track your content based on these terms and check its performance over time.
3. Use catchy titles.
Now that you have chosen the right keyword, you need to entice your audience with a catchy title. Use keywords that are worth clicking on. If you have visited the School of Life channel, you will realize that it is a perfect example of titles worth clicking on.
You don't need to be a well-known brand to use catchy headlines worth clicking. Any channel can use attractive and clickable tags for its videos.

MyAdviseNow (MAN)
Remember that catchy titles can help attract the audience to your video's content. You can choose more clickable titles for your video by considering the audience's main need for that content.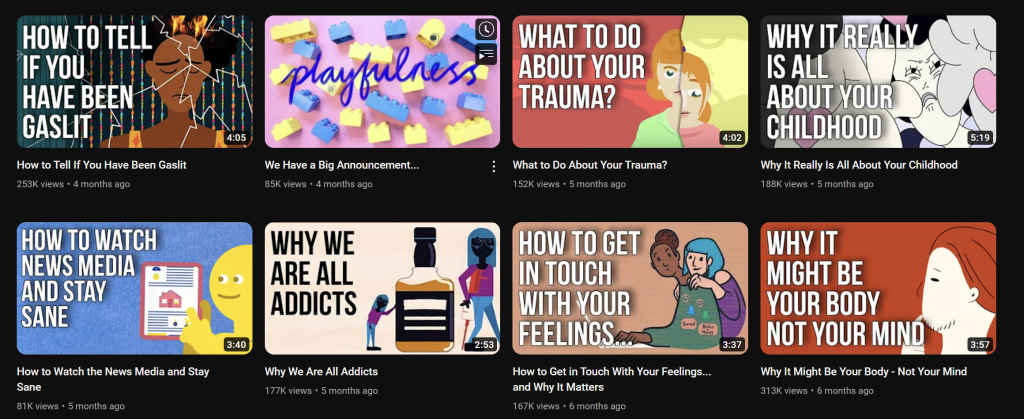 For example, suppose you search "how to become a YouTuber" on YouTube. In that case, you will come across titles related to earning money from YouTube because users become YouTubers to make money from YouTube.
Be careful in choosing the title because it can quickly increase your videos' impressions and views. Be careful. It will help if you put the audience's desire and their main goal as a priority for your title.
4. Write a video description for your audience
The audience notices the video description on YouTube. But just like the title, a catchy video description can attract the attention of those looking for the same content.
When we search for a phrase like "make money fast" on YouTube, we come across videos that deal with this topic. But with a closer look, you can understand why, for example, a particular video is in the first search result. Using the phrase "earning money without investment" provides far better explanations than other explanations, and it is more likely that the audience will click on it. Of course, the title and thumbnail's importance cannot be ignored.
5. Publish content consistently and at the right time
Finally, you need to engage your followers with consistent content creation. In this case, even if your contacts do not pay attention to your notifications, they know that they can always access the new content you have produced on your channel page.
Read Also:
Slowly you will realize the right time to publish a video on YouTube. This time can be different according to each channel's audience because YouTube is a global platform, and your audience may live in another country at an additional time. You can also get more detailed information for publishing content and the number of content to publish by checking competitors in your field of activity.
Final words about ways to increase impressions on YouTube
Finally, it would be best to keep in mind that you can be successful on YouTube only by producing the right content, using trial and error, and checking the correct YouTube channel analysis criteria. The impression does not rise by itself. You can expect to do nothing, and your channel statistics will improve daily. You should know that successful channels are only successful with continuous content production.