How To Make Money with Spotify in 2023: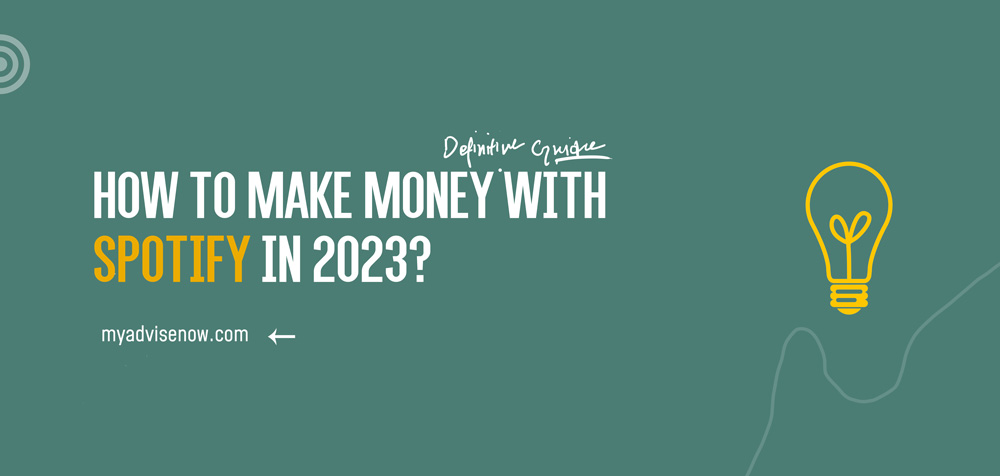 Over the past years, Spotify has taken over a large part of the music industry. Almost 200 million people use the streaming service worldwide, making Spotify one of the biggest players in the music industry.
Spotify offers many new ideas and features. So, as an artist, you can get the most out of Spotify monetization and increase your income.
Success in music does not happen overnight, but nowadays, it is easier for anyone to monetize podcasts on Spotify, and make money with their music without becoming so famous.
While it is true that you will need to pay a small amount per stream, a good marketing strategy, correct playlists, and public relations are the tools to achieve your goals.
In this article, we talk about how Spotify works and everything you need to know to make money with Spotify.
You can get a lot of information and statistics through your profile. Even more, data that we can provide you with your music distribution service. Use this data to guide your marketing strategy and monetize Spotify.
From an artist's point of view, this is important if you want to plan an online advertising campaign and monetize Spotify.
Share Your Song on Instagram Story
One of the most important things you can do is promote your song. Spotify wants to make this as easy as possible for you.
So, Spotify has introduced a brand-new feature that lets you share your favorite albums, songs, artists, and playlists directly to your Instagram story.
The user will be directed directly to the Spotify app through a link and can listen to your music immediately. All you need is the Instagram app and Spotify on your smartphone.
In the "Share" menu, you can choose "Instagram Story" and share your music with your audience.
Of course, you can edit your story with text, stickers, links, etc.
Change Your Profile to Artist
When you change your profile to Artist, it going to have several advantages for you. This makes it easier for your users to find you in the search.
Also, the interaction between you and your audience will increase. And you can even prepare a playlist and attract more people through it.
Plus, you will get verified (blue tick), so your audience is free from confusion. So, It is enough to register (Spotify) in the first step, and after that, you can verify your account through Spotify for Artists.
As soon as you register, you will be automatically verified.
Moreover, do not underestimate the role of the bio in Spotify. You can write about yourself and your music, which you can update at any time. Whenever you release a new album or track, your fans will be notified.
In case of collaboration, you can link directly to them or even other artists. If other artists link to your profile or songs, you can get more views on your streams.
Remember, the first thing that attracts the attention of users is your profile and artist selection. So, it is important to promote your latest release, concert, or playlist.
Select a song, album, or playlist, insert a suitable photo and write a short message. Your artist selection will be displayed at the top of your profile for two weeks.
Read also:
How To Make Money with Spotify Playlist?
Be careful with compelling the playlist. Create a Spotify playlist of songs that you enjoy listening to right now. You can use a mix of your songs as well as songs from other artists and bands.
Another important thing is to create a playlist for different moods and seasons. This way can promote your song, get listened to by people who don't know you yet, and you will get more followers.
It is also an easy way to get more streams for old songs that others don't know about.
There are ways you can think to monetize your Spotify, and  make money with Spotify. So, It is enough to have a suitable playlist first. Do not assume that Spotify will send you money directly based on the number of likes you see on your playlist.
You have to think about how beneficial it would be for an emerging artist if a song is on your playlist. Most listeners to your playlist are going to hear that new song too. Which means you will get more stream views.
You can charge a certain rate for the artist to review the song and only publish it if you like the song. Always focus on keeping your playlist quality high. Do not poison it with spam ads.
As a result, users may bounce, and your Spotify monetization model may be disrupted.
So now that you have quality songs on your playlist, and thousands of stream views you get daily, it is time for you to think "about how you can make money with Spotify.
Before you begin, you must provide some contact methods such as email or Instagram username so that artists can reach you easily.
There are many platforms like PLAYLISTPUSH where artists come to showcase quality playlists. So, you can take the advantage of such a platform to showcase your playlist to other artists.
Now, each time someone requests to view your playlist, you will make some money.
A Comprehensive Guide to Make a Unique Playlist
You should note that one of the best ways to increase your income on Spotify is to optimize your playlist. Because it causes the number of streams to increase dramatically.
Everything that we are going to review, is ideal for beginners. It should also be noted that the best way to use and make money with Spotify is to increase the number of audience and followers in your playlist.
The thing is by getting your followers to subscribe to your playlist, you can get an instant viewer whenever you add new music. This can help the users on other platforms to get notified immediately when the playlist is updated.
So, no more waiting for people to actively search for you on Spotify.
Imagine if you grew your playlist to 100,000, 500,000, or even 1 million followers. This is a huge audience that will play your new releases, and your Spotify earnings will increase dramatically.
Use Your Creativity
Playlists have been around since the 70s. So, if you are thinking of making a golden playlist, you'll need to be creative. Think outside the box so you can act differently.
In every field, we have witnessed that the presence of creativity has been able to make a significant impact and cause the success of a person or a team. So, be creative with covers, arrangements, songs, playlists, etc.
Choose a Name for your Playlist and Songs.
No one likes to come across unknown names in a playlist. So, choose a good name for your playlist rather than leaving it unknown.
It can help your audience search, find and listen to your playlist. Playlist even songs with no little will bounce the user from your playlists.
Put Enough Songs
Not less and not too much, just enough music. We have passed the CD era, so some new oversight is necessary.
Remember not to turn all your favorite songs into a giant 10,000-song playlist. Instead, think about a different model of 30 and 50 songs in a playlist.
Do Something Different
Your playlist should stand out from the others, and tell the people to only listen to my songs.
So, do not choose your vague and meaningless artwork. In other words, you should provide playlists that are formed only with high-quality artwork.
Plus, if your artwork is good enough, you will end up being featured as the main playlist on the Playlist of the Day (where you will get tons of new followers and more playlist exposure).
Read also,
Playlists Are the New Generation of Radio
Now that Spotify streams count towards the official singles chart, playlists are more important than ever.
We have already seen the most innovative and creative artists contacting us and wanting to be featured on a playlist. This helps them to be seen better. So do not underestimate the impact of the playlist.
Update Your Playlist
As a general rule of thumb, update more than once a week and certainly less than once a month. The idea is to keep the playlist fresh and encourage users to come back and listen more.
So, keep it fresh and give your audience a reason to keep listening to your playlist.
A thousand Streams, Make Money with Spotify in 2023
Have you ever wondered how much it costs to make money on Spotify for a thousand streams? You want to make money with Spotify.
Maybe you immediately ask how to increase our stream. Of course, this depends on how good your song is and how many followers a playlist has.
I know an example where individual playlists can generate around 100,000 weekly streams per song. 100,000 streams every week from just one popular playlist!
Monetizing Spotify comes in handy when we notice stream sharing. Stream sharing works by seeing the total monthly streams in a country and what proportion of those streams you own.
So, Stream sharing determines how much you can earn money. Let's say there were 100,000 streams last month, and all of them are yours. If that happens, you have made 10% of it. The amount you will be paid will vary and depend on various factors.
While writing this article, I reviewed many articles that varied in the amount Spotify had paid per stream. Because its number is not fixed, and as mentioned, your income depends on a percentage of your total streams.
So, the more streams you have, the more you will be paid per stream. But in general, I can say that the approximate rate of each stream is $0.003.
You can expect your Spotify earnings to be in the range of $0.003 to $0.005 per stream. Therefore, To earn a dollar, you need to receive 250 streams.
For a better understanding of making money with Spotify, look at the image below. With the help of this image, you can find out the minimum monthly income.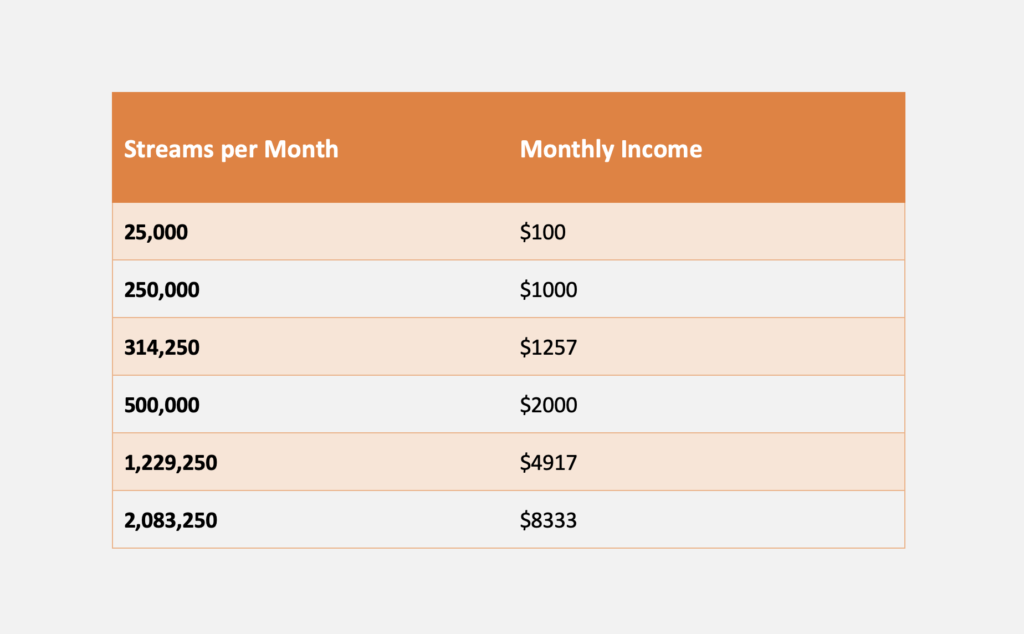 Nowadays, side income has become a common thing all over the world, and many people are trying to have a second income.
So, based on the above picture, let's conclude that the growth of streams can increase the number of earnings on Spotify.
Compare Spotify to Other Platforms
Now you might be wondering how other platforms like Amazon and YouTube are different when it comes to paying compared to Spotify. Other platforms like YouTube pay more, but they work differently than Spotify.
Therefore, many still think that making money with Spotify is one of the best options.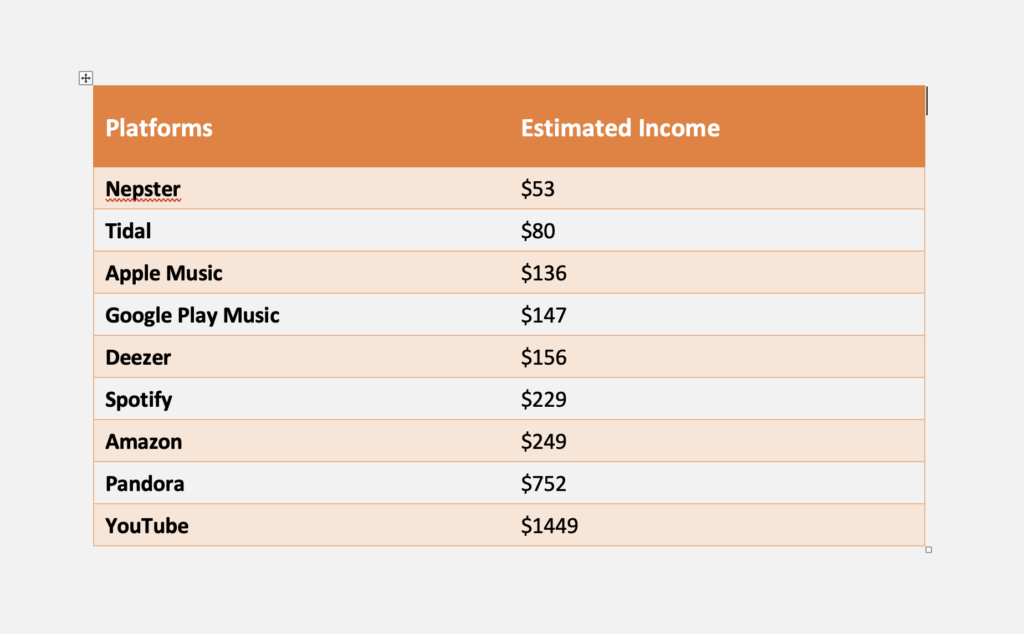 Make Money with Spotify | Easy Way to Get Rich!
As you have probably deduced by now, making money with Spotify every month requires many streams. But it is possible to feature your songs on a playlist.
You can notice the possibility of earning money without spending. It is enough to increase the speed of growth of your streams and learn the mechanism of the Spotify algorithm.
What experience have you had with Spotify? Have you ever wished to make money with Spotify? Share your thoughts below.
How to Monetize a Podcast on Spotify?
Are you planning to start podcasts?
or you have already started, but looking to monetize your podcasts on Spotify, and make extra money?
it does not matter which one, because I will guide you thoroughly on how you can start, and get instant podcast monetization.
So, let's get started.
1. Affiliate Marketing
with affiliate marketing, you promote products or services by sharing the affiliate links with your audience. in case, your audience purchases a product through the affiliate link you provided on your podcasts, the company will give you a commission for the sale.
So, the money you are going to make depends on the product and company. Some companies like Amazon or ebay may consider a higher commission rate than others.
Therefore, one of the ways you can monetize your podcasts on Spotify is through affiliate marketing. basically the more your audience purchases the products, the more you get paid.
2. Sponsors
Another way to monetize podcasts on Spotify is through sponsorships. Basically, sponsors are companies and individuals who would pay you to promote their products or services on your podcasts with your audience.
Of course, in the beginning, you may not get enough sponsors or even none. but as your podcasts keep growing, and you find enough loyal audience, there will be plenty of sponsors who will knock on your door.
There are different ways sponsors may pay you. it can be on monthly basis or per episode. So, this way you can monetize Spotify podcast to make money.
3. Courses
Online courses have become the modern face of teaching. today, not everyone needs to attend school, or seats for hours to learn something. instead, many students prefer to stay at home and learn online whatever they need to.
So, you can the advantage, and make e-courses that relate to the topic of your podcasts. it is something like a premium version of the podcasts you offer to your audience.
So, e-courses are another way to indirectly monetize your podcasts on Spotify in 2023. There are many platforms you can offer your premium e-courses. For example, you can the popular ones like Udemy and Skillshare.
4. Advertisements
There are many advertising networks you can use to monetize your podcasts on Spotify, such as Midroll, PodGrid, and Advertise Cast.
These networks act like google AdSense and display advertisements on your podcasts. So, when your audience interacts with these ads, you will revenue.
Frequently asked questions on how to make money with Spotify
What do we need to make money from Spotify?
If you are an artist and produce music, you must first have a Spotify artist account, and if you are a simple user, you can earn money by popularizing your playlists.
How can an artist make money on Spotify?
Earning money from Spotify is much easier for artists because they can make money by streaming, creating playlists, sharing on social networks, and collaborating with other artists.
Which websites are suitable for submitting playlists?
Which website is suitable for your playlist is a matter of taste, and you can find the best website with a quick Google search.